October 2006
Chrysler PT Cruiser Cabrio 2.4 Limited
Roof down, the PT is quite stylish
October 2006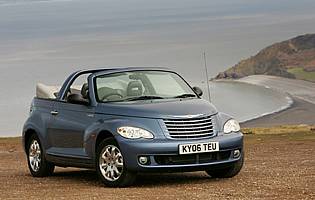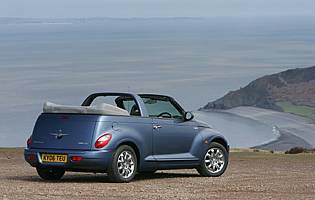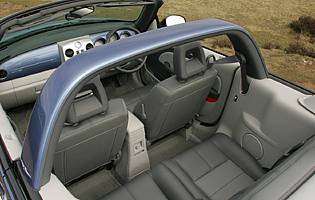 Overall rating

Likes:
Distinctive exterior styling
Feels and sounds refined at speed
Cabin quality better than first generation cars
Looks good roof up or down
Gripes:
Ride can feel a little choppy on uneven road surfaces
Rear three-quarter vision is minimal with roof up
Back seat occupants given only modest amounts of space
Roof cover occupies valuable boot space and is fiddly to use
The compact convertible, once a dying breed, is very much in rude health thanks to an upsurge in models from a variety of manufactures. But in order to stand out from the crowd, car makers have been forced to tempt buyers with unusual offerings: glass roofs, metal roofs, performance variants, diesel variants and, in the case of Chrysler's PT Cruiser Cabrio, retro-styled variants.
It's no longer unusual for a manufacturer to take its five-door hatch and turn it into a convertible. What is unusual is Chrysler's PT Cruiser - the American firm's retro-styled family hatchback. Looking like nothing else on the road, let alone anything else in its class, the PT contains all the design cues fans of 1950s American car can relate to.
And it's this attribute that has, remarkably, kept the car's appeal at a level that few critics thought was possible. The PT's appearance, along with the similarly retro-styled interior (long, slim gearshift, old-style dials and thin rim, multi-spoke steering wheel), stands out in a sea of me-too hatchbacks.
The same is true of the PT Cruiser Cabrio. The designers have cleverly managed to emulate the look of the original post-war 'chop-top' convertibles to come out of America. The PT's low roofline and two-door outline is, again, like nothing else in the fiercely competitive drop-top sector.
It's not without its quirks, though. The modest amount of rear legroom and sloping roofline conspire to limit rear space to children or small adults on very short trips. The lack of a roof has meant a slight but noticeable reduction in body stiffness, but the upside is you do get a retro-looking roll over hoop - something of a rarity thee days.
Our verdict on the Chrysler PT Cruiser Cabrio 2.4 Limited
You've got to put some practical demands aside when opting for the PT Cruiser Cabrio, but there is the charm of its retro looks to consider. In a market sector bursting with models boasting wild innovations, the PT is a breath of fresh air. It's not the perfect choice, but a convertible will always be a compromise. Yet the PT manages to sugar-coat its various shortcomings in its uncompromising styling, making it difficult to find genuine fault. In the end, like the five-door variant, you either like it or you don't. And if you do, you won't want anything else.
Costs
Asking price aside, the only regular expense will be fuel for the PT Cabrio. Being a petrol model you'll need a fair bit, but things like insurance and servicing should be minimal in comparison. And the car's value isn't likely to go south anytime soon thanks to its relative rarity.
Space and practicality
The car's front cabin is just like the regular five-door; reasonably spacious and practical, boasting a good-size glovebox and some handily placed cupholders. The rear is less spacious, but would suit children. At least the rear windows can be wound down to reduce the enclosed feeling. A similar compromise is made at the rear, as the car's boot has remained a decent size despite the need to accommodate a folding roof. However, the boot lid opens out and up, which can prove problematic when loading heavy items and when the car is backed into a car park.
Controls and display
It's difficult to fault the car's basic controls and displays; the main dials are easy to read, the gearshift slick, the column stalks intuitive and the centre console ventilation controls straightforward. The lack of steering wheel mounted audio controls is a shame, but the trip computer proves useful. The over-large steering wheel can prove annoying around town, as it requires a bit of effort to manhandle when parking. Thankfully the convertible roof is electrically powered and demands little physical assistance.
Comfort
On smooth roads the PT Cabrio is an impressive performer. Ride quality is good, as is the support offered by the seats. At modest speeds road and engine noise is minimal, but wind noise increases at motorway speeds. Roof down, the PT remains composed, while wind noise is surprisingly bearable - even up to the national speed limit.
Car security
The standard fit remote central locking is more of a convenience than a safety feature on a convertible - the fabric roof will offer little resistance to a determined thief or vandal. That said, it's good to see that the boot can be accessed and locked separately from the rest of the car. A steering lock or even an electronic tracking device might be worth considering.
Car safety
The twin front and side airbags are a welcome if predictable sight. Antilock brakes are also standard, along with electronic stability control - although you'll it's not a car that provokes the system often. The very obvious roll hoop that divides the cabin should offer reasonable protection if the car lands on its roof.
Driver appeal
The simple truth is that the PT Cabrio isn't a sports car. The absence of a conventional roof, and the extra stiffening it brings, means it prefers to be driven with a bit less vigour than the regular five-door variant. However, the car is a wiling performer, helped in part by the smooth 2.4-litre petrol engine. Swift progress can be made, and motorway journeys are one of the car's specialities. Poorly surface urban roads can upset its composure, though.
Family car appeal
Unlike the five-door variant, the PT Cabrio isn't really a family friendly car. A pushchair would be a squeeze in the car's boot, while accessing the rear seats is always going to be a drag in a two-door car - especially so in something with a low roof and strengthening hoop in the way. It might suffice as an occasional family runabout or second car, but that's about it.
First car appeal
On the face of it, the PT Cabrio would make a fine first car, albeit an unusual one. It's not that quick, is easy to drive and relatively cheap to run - all good first car qualities. A novice would have to be careful when reversing with the roof up, but that's about it.
Quality and image
There's a definite step up in terms of quality with this second generation PT Cruiser. Be it the five-door or the convertible, fit and finish plus the choice of materials used are much improved. That said, the overall ambience still lags behind the mainstream European opposition. As for image, the PT - especially in convertible format - is certainly distinctive. And it's this attribute that has made it something of a cult hit.
Accessibility
Front seat access is pretty good; the raised seating and large, wide opening doors all help. Only the PT Cabrio's low roofline spoils the party, as it means tall occupants will have to duck before getting in. As for the rear, the seats and legroom are ideally suited only for children, especially as you need to be pretty flexible to access and egress the rear when the roof is up.
Stereo and ICE (In car entertainment)
The standard fit unit performs well. It's conveniently located high up in the car's central fascia and the various controls are large, clear and intuitive. The same goes for the display. Sadly, you don't any steering wheel mounted controls - no doubt a trade off for the retro-styled steering wheel.
Colours and trim
Light exterior colours work well, and show off the car's distinctive lines and details. Inside, the second generation cabin is a welcome step forward over the original (five-door hatch) car's interior. Opting for leather seats results in tastefully trimmed chairs, but the materials used don't look especially expensive.
Parking
The view forward is good, which is partially helped by the slightly elevated, MPV-style seating. Steering assistance is good, and the rear facing mirrors are all of a decent size. The view rearwards isn't as great, but that's due to the wide roof pillars and small rear screen. The problem largely disappears when the roof is lowered.
Spare wheel
Space saver fitted as standard.
Range information
Engine options - 2.4-litre (143bhp) petrol; 2.2-litre CRD (119bhp) diesel. CRD fitted with five-speed manual gearbox. 2.4-litre petrol comes with either the same five-speed manual or four-speed auto box. Trim designators are: Classic, Touring, Special and Limited.
Alternative cars
Vauxhall Astra TwinTop Stylish and well built, good to drive and affordable
Volkswagen Eos High quality Golf convertible; desirable and distinctive
Ford Focus Coupe-Cabriolet Affordable and stylish, but car is not as sporty to drive as a regular Focus
Renault Megane CC Elegant Megane is more of a GT cruiser than sports car. Equipment and quality levels are high