January 2007
Chrysler Crossfire Coupe
Sleek exterior makes Crossfire a distinctive sight on the road
January 2007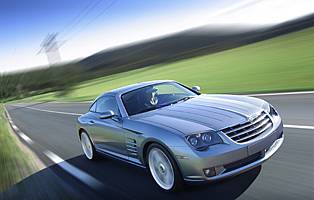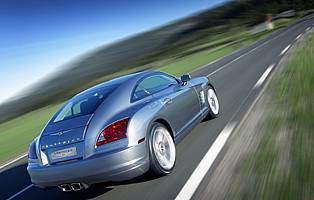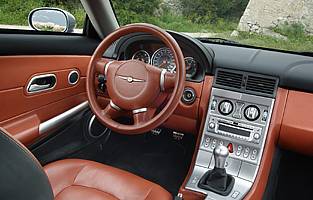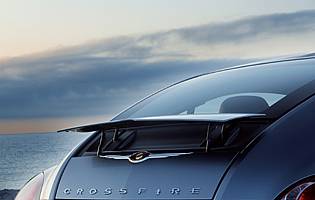 Overall rating

Likes:
Radical exterior design is attractive
Solid mechanical underpinnings promote confidence
Driving position is low and suitably sporting
V6 engine is tuneful and potent
Gripes:
Lacks cabin ambience thanks to average cabin quality
Not as rewarding to drive as its looks suggest
Compact dimensions mean compact cabin
Cannot match rivals for badge heritage and sporting abilities
Chrysler's Crossfire has a distinct advantage over its coupe rivals - its looks. And while most definitely not European in appearance, the car also boasts on paper at least a respectable performance CV.
Although it may be a relatively uncommon sight on British roads, the Crossfire will turn heads on the high street. Yet for all its 'look at me' looks, the car shares much with the first generation Mercedes SLK - Chrysler being part of the mighty Daimler Chrysler group.
One bonus of the marriage is the presence of a V6 petrol engine, which not only makes for relaxed progress in traffic, but also even with small throttle openings gives the Crossfire a fair turn of speed. There's a choice of manual or auto gearbox for the Chrysler coupe but, like with so many Mercedes offerings, the auto proves to be the better option and cements the car's rapid cruiser image.
Yet for all the musings over the car's on paper credentials, it's not a car that likes to be pushed hard. Its SLK underpinnings are obvious once you've escaped the city limits, and it's best to waft along. The car's big steering wheel, lack of feedback and unhurried auto gearbox all conspire to deter any thoughts of serious B-road attacks.
And given the car's styling, such activities feel perfectly appropriate. The Crossfire's exterior hints at boulevard cruisers from a previous era, and thanks to its low numbers its presence on the road guarantees it head turner status.
Our verdict on the Chrysler Crossfire Coupe
Most rivals will offer a more focused driving experience and fewer compromises in terms of performance and practicality. However, few can offer the visual appeal of the Crossfire. Recent years have seen Chrysler come out as company offering something different from the mainstream car makers in a bid to snatch market share, and its arresting coupe is a perfect example of this bold direction.
Costs
The Crossfire's 3.2-litre V6 petrol engine is, as you'd expect, not terribly economical, making fuel a significant expense. Factor in a premium insurance rating and Chrysler's coupe is up there with the main European marques. It's well equipped, rare and boasts a sensible screen price, all of which should help to offset the running costs.
Space and practicality
The Crossfire's practical attributes are modest, which is understandable given its two-seater layout. Cabin storage space is minimal - slim door pockets and an average glovebox are the main factors. The boot's small load aperture hides a reasonable space, but it's no match for a traditional saloon-based coupe.
Controls and display
For all the criticism of the colour of the Crossfire's fascia, at least the controls are sensibly placed and intuitive. Like a Mercedes, the Crossfire uses a single column stalk for all the major functions. It can feel over-complicated at first, but with familiarisation it becomes straightforward to use. The warning lights are housed in a pair of separate displays mounted either side of the instruments, although these can be obscured by the steering wheel.
Comfort
Ride quality can affect the comfort levels - smooth roads create no issues, but rougher roads do transmit noise and movement into the cabin. The car's sports seats are supportive though, and despite the cabin's compact dimensions it never feels cramped.
Car security
For such a distinctive car, the Crossfire gets the expected alarm and immobiliser package. You might want to supplement this with a visible deterrent such as a steering lock, as at least it should deter the opportunist thief.
Car safety
As you'd expect with a car of this calibre, the Crossfire comes with all the important safety kit. It has ESP and ABS fitted as standard. In addition, Brake Assist boosts performance in the event of an emergency stop. Twin front airbags are fitted, which all give the Crossfire a good level of active and passive safety.
Driver appeal
Powered by the V6 petrol engine from the first generation Mercedes SLK, the Crossfire is no slouch in a straight line. Pushed hard, the engine sounds suitably throaty, while restraint is met by smooth throttle responses. Despite this, an auto only Crossfire is better suited to brisk cruising, an observation backed up by the steering's lack of feedback. Firm suspension means that some urban roads will contribute to a stiff ride, although high-speed motoring always feels stable and safe.
Family car appeal
Two-door coupes are rarely ideal for family motoring, and the Crossfire is no different. With only two seats and a modest boot, space is at a premium. The better option would be a five-door hatch or a people carrier - like the company's PT Cruiser or Voyager respectively.
First car appeal
Difficult to recommend as a first car, the Crossfire is quick, suffers from poor rearward visibility and is not that cheap to run. Better to work up to something like the Crossfire after a while behind the wheel in something more sensible.
Quality and image
There's little to suggest from the Crossfire's exterior that it's anything but a quality car. However, the interior is something of a letdown thanks to the dominant fascia - it might be ergonomic but it's not quite up to the standards of rival cars. That said, the Crossfire is a rare sight, which is what makes it special.
Accessibility
The car's low-slung driving position does mean that you sit down into the Crossfire's cabin. If you're anyway less than flexible you might find this to be a chore. It's not all bad though, as the large doors open easily to aid access and egress. Access to the boot is also simple, although the actual opening is small.
Stereo and ICE (In car entertainment)
Standard fit unit is a good quality combined radio and single CD player. It boasts a large display and large control knobs. The buttons across the bottom perform different operations depending on the display screen, make the unit easy to operate quickly and safely.
Colours and trim
Dark colours best suit the Crossfire and add a welcome premium feel to the coupe. Inside, the compact cabin boasts decent quality upholstery and the dominant, silver fascia. This treatment helps to lift the ambience but the plastic feels less than special.
Parking
Reverse parking the Crossfire can be a little tricky, thanks in the main to the small rear window and the car's wide rear track - not that you can see any of it. Thankfully the doors mirrors are a good size, although there is still some guesswork involved.
Spare wheel
Emergency tyre repair fitted under boot floor.
Range information
Petrol engines: 3.2-litre V6 (215bhp) and supercharged 3.2-litre V6 (330bhp). Standard V6 available with six-speed manual or five-speed automatic gearbox, supercharged V6 available only with automatic. Trim level dependent on performance grade.
Alternative cars
Honda S2000 Enjoys cult status but is an acquired taste - fast but edgy and convertible only
Nissan 350Z Coupe Good value, rapid and stylish. A compelling choice for the enthusiast
Audi TT Coupe Front or four-wheel drive, current TT is much improved over its predecessor
BMW Z4 Coupe Impressive handling coupe is, like the Crossfire, a compact car. Not cheap, though