Ssangyong Korando Sports EXT Auto
June 2013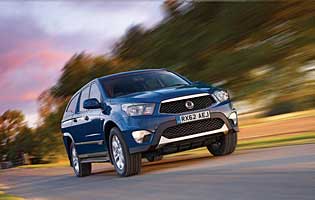 Handsome Korando Sports looks more expensive than it is
Ratings
Overall rating
Value for money
Costs
Space and practicality
Controls and display
Comfort
Car security
Car safety
Likes
Manages to look smart and tough
Powerful and acceptably refined engine
Decent cabin quality
Huge amounts of space
Gripes
Vague, slow steering
Occasionally wobbly ride
Confusing automatic gearbox override
Rear door overhang can catch the unwary
Korean manufacturer Ssangyong has made a continued effort to establish a firm footing in the UK, following in the footsteps of its successful neighbours and thanks to the likes of the Korando SUV and Rodius MPV it has done just that. Now the Korando Sports aims to build on that in the pick-up sector.
Far from being the workman's tool of old, the modern pick-up has become a valid choice for people looking for the most amount of versatility with the lowest possible costs. Thanks to their tough construction and generous dimensions they are ideally family vehicles but modern diesel engines and equipment make them comfortable too.
The Korando Sports is the latest offering from Ssangyong that aims to please both commercial customers and the private buyer. Although it wears the Korando tag it actually shares nothing with the smaller SUV aside from the 2.0-litre diesel engine fitted as standard. The Korando Sports is a proper pick-up, with a separate chassis rather than unitary construction.
All Korando Sports models come with full-size cabs, which means a proper bench seat across the rear that can accommodate three adults with plenty of head and legroom. At the rear there is a proper pick-up bed, although optionally this can be covered with box to give proper security and weatherproofing.
Mechanically the Korando Sports comes with a choice of automatic or manual transmission with selectable four-wheel drive. Many pick-ups come with leaf-spring rear suspension designed to manage heavy loads but the Korando Sports has a more sophisticated multi-link offering that should deliver better ride quality as well as the essential load capacity.
Our verdict on the Ssangyong Korando Sports EXT Auto
The Korando Sports is an honest and tough pick-up that also manages to look after its passengers with comfort and safety. The driving experience is reasonably comfortable with few compromises and with this much space on offer, it makes a lot of sense for the practically-minded.
Costs

The Korando Sports is a large vehicle, but the efficiency of the diesel engine means that driven with care it can return respectable fuel consumption figures. Servicing costs may be a little higher than a conventional car, but otherwise it should not be an expensive car to own.
Space and practicality

There is a huge amount of space in the Korando Sports, both in the passenger cabin and in the rear luggage area. Storage space for oddments is only average however, but there is sufficient space elsewhere to cope with anything.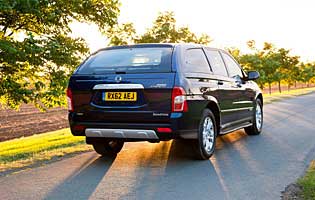 Optional rear box adds security
Controls and display

The layout of the Korando Sports is very simple and is all the better for it. The touchscreen audio and navigation system takes care of many functions, whilst the buttons on the dashboard and steering wheel are clearly labelled and easy to understand.
Comfort

The seats front and rear offer decent support, wind and road noise are comfortably kept in check and although a little bouncy at times, overall the ride quality is more than acceptable.
Car security

An alarm and immobiliser is standard on all models, as is automatic door locking which activates once the Korando Sports gets up to speed.
Car safety

Despite being a humble pick-up the Korando Sports has ABS and ESP as standard which includes automatic rollover protection, especially useful for a pick-up that may well be used for towing. There are also twin front airbags but none elsewhere in the vehicle.
Driver appeal

Even though they are commercial in conception modern pick-ups offer a decent drive and the Korando Sports is no different. The diesel engine is impressively smooth and offers decent performance even when fully-loaded. The automatic transmission works well too, though it offers a pseudo-paddleshift mode which merely locks out driver-selected gears. The only downside is the steering, which needs more than four turns lock to lock.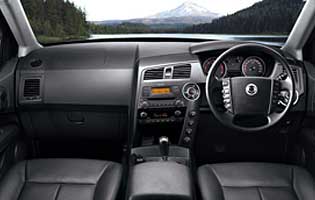 Decent quality, spacious and comfortable interior
Family car appeal

Conversely the Korando Sports is ideally suited to family duties, with acres of space for the rear and the ability to swallow children and their baggage without any problems. The only issue is that the centre belt on the rear seat is of the lap variety rather than a three-point belt, making it unsuitable for most child car seats.
First car appeal

The Korando Sports isn't the kind of car that would suit or likely appeal to a newly-qualified driver, particularly due to its size.
Quality and image

For what is generally perceived as a value brand the Korando Sports offers decent quality. Although the materials inside are clearly not the best available its pick-up rivals offer a similar level. Image-wise the Korando Sports looks smart, and achieves beyond what the relatively little-known badge may achieve.
Accessibility

With big doors front and rear it is a simple thing to climb aboard the Korando Sports, particularly with the large running boards down both sides. The same goes for the boot space, the traditional pick-up tailgate giving two options to access the rear space. The only demerit is the shape of the rear doors making it very easy to catch an arm on when closing them.
Stereo and ICE (In car entertainment)
The Korando Sports uses an aftermarket audio system that has a full range of inputs including Bluetooth and USB, plus DAB radio and even video playback. It is a touchscreen system but it lacks some of the accuracy of manufacturer systems and so can be a little fiddly to use.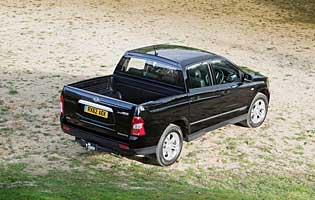 Interesting styling is more obvious without rear box
Colours and trim
The Korando Sports manages to comfortable straddle the two types of customer, offering a cabin that is clearly hard-wearing but swathed in respectable leather. On the outside it looks best in the brighter blue shade although the black offering is also smart.
Parking
It is certainly a large vehicle, but the Korando Sports' squared-off design makes it relatively easy to judge the extremities. Rear parking sensors are fitted on EX models upwards which are also a big help.
Spare wheel
Full size spare wheel mounted underneath the load area.
Range information
Diesel engine option - 2.0-litre (155bhp). Transmission options: six-speed manual or automatic gearbox. Trim levels: SX, EX, EXT.
Alternative cars
Mitsubishi L200 Ageing but capable
Nissan Navara Smart-looking and well equipped, decent on-road performance too
Ford Ranger Handsome and versatile, less kudos than some rivals though
Toyota Hilux Popular choice at global level and impressive performer
Over 1,200 more car reviews online
All the reports since 1990 are available on this site, just search by make and model below.
Other products & services
Related information
June 2013