Ford Fiesta Zetec 1.5 TDCi 3dr
February 2013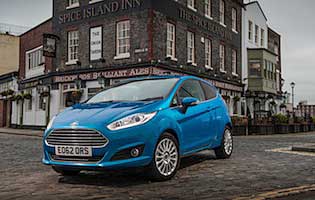 Bold new look ensures Fiesta compliments the rest of the Ford range
Ratings
Overall rating
Value for money
Costs
Space and practicality
Controls and display
Comfort
Car security
Car safety
Likes
Varied engine range with bias towards economy
Engaging driving experience a step above the competition
Surprising amount of space in the rear of the cabin
MyKey system novel and genuinely adds value
Gripes
Bold facelift won't please everyone
Cluttered fascia lacks the ergonomic simplicity of certain rivals
Some cabin materials could be of a higher grade
As with many three-door cars, opening doors in tight spaces can be tricky
It might be an all-new car but Ford's latest Fiesta certainly looks like one. Key to the car's transformation is a particularly bold grille, which is part of Ford's new design language and can be seen on an increasing number of models. Subtle upgrades to equipment grades and the inclusion of a parent-friendly MyKey system ensure that the car appeals to a wide audience.
Some things don't change; Ford's Fiesta might look dramatically different thanks to a bold design-led facelift, but at heart it remains a competent and rounded supermini. Sitting one class above the Ka and one below the Focus, the Fiesta is one of the mainstays of the Ford range.
Keen to appeal to families, Ford's MyKey technology allows a considerable level of parental control over the likes of elements such as the car's speed limiter and default audio volume control. The reasoning is that such elements could kerb the enthusiasm of novice drivers and help prevent accidents.
The owner retains a master key, while the user - a teenage new driver - inherits a programmable key with the parental presets. In practice this level of control could prove appealing to both parents and insurance companies, especially if the latter appreciate the safety benefits of the user programmable elements of the car's systems.
Opting for diesel over the traditional petrol power associated with superminis demonstrates Ford's confidence in a car that can do more than simply take you to the shops. In its current form the Fiesta is every bit is good as something twice its size, meaning that racking up the miles and benefiting from the associated fuel savings shouldn't be the preserve of much larger cars.
Our verdict on the Ford Fiesta Zetec 1.5 TDCi 3dr
It's always been a challenge to find fault with Ford's Fiesta. It's a best seller for a reason and for years the car has done more things right than the competition. This revised version of an existing model is no different. The car's bold looks bring it into line with the rest of the current Ford range, while updates to the safety and entertainment systems allows it to deliver an attractive ownership proposition in the face of some accomplished rivals. Furthermore, the Fiesta's 'big car' feel allows you to rack up the miles with ease and in comfort, making the decision to opt for diesel and sensible one.
Costs

No Fiesta is likely to break the bank, but you can improve your fortunes by choosing the lowest CO2 emitting engines if you want pay even less. Diesel only makes sense if you plan on racking up the miles, and the Ecoboost petrol engines are great for low mileage users. Ample standard kit should reduce the need to dip into the options list - and your bank balance.
Space and practicality

The moderately sized boot can be expanded by folding the rear seats down, and although they don't quite fold flat the resulting space is much larger than the boot alone. A modest amount of cabin oddment storage space is available, and the door bins could be a little bigger. Overall, though, there's sufficient space for adults in the front and, at a stretch, rear seat grown-ups could tolerate short journeys if they're flexible.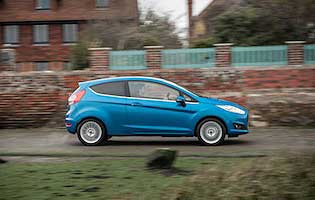 Three-door Fiesta is a popular and attractive choice
Controls and display

There are a mixture of displays, from the simple but stylish instrument dials to the optional sat-nav and reversing camera screen. The latter looks a little dated compared to some of the Fiesta's rivals, though. It's also a small screen that is recessed a long way into the dashboard, shielding it usefully from the sun but making it harder to read and control at a glance. The rest of the controls, including the relocated electric mirror switchgear, display Ford's usual attention to detail.
Comfort

Overall the Fiesta's seats are on the firm side of average, with the trade off that there's no shortage of lateral support. On the move the cabin is pleasingly quiet at speed, with little wind and road noise to speak of. Rear passengers in the three-door models can't compete with those in the front for space.
Car security

Along with the standard issue alarm and immobiliser packages, the inclusion of keyless locking and ignition for selected models eliminates the need to fumble for a key in a dark street. High spec models also have darkened glass around the rear portion of the car to keep out prying eyes.
Car safety

Don't expect all the fancy high-tech systems to be available on the entry-level cars, but it's good to know Ford isn't neglecting its small models when it comes to innovation. Along with a good crash test rating, there's the usual electronic stability systems plus extras such as an SOS function that contacts the emergency services in the event of an impact, plus MyKey highlights such as speed and audio volume limit settings to reduce driver distraction.
Driver appeal

The Fiesta has always had a solid reputation for delivering driving enjoyment and this latest car is no different. Easy to drive smoothly yet capable of entertaining you on your favourite backroad, the Fiesta is proof that you don't need powerful engines to get the job done. What you do get is a selection of small capacity, frugal and willing petrol and diesel motors, with the latter offering refined and economical progress best suited to long distance journeys.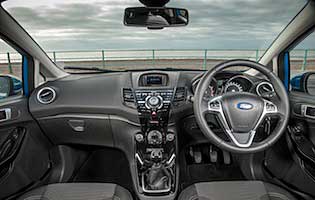 Sombre ambience illustrates Ford's focus on refinement
Family car appeal

For those just starting a family the Fiesta would suffice for a while but you'll soon need something bigger despite the car's accommodating nature. However, as a second car the Fiesta is versatile and, crucially, inexpensive to run.
First car appeal

It may be bigger than its Ka city car stablemate but for many the Fiesta is the stereotypical first car. It's easy to see why as it's affordable to buy and run, easy to drive, has only modest performance and the potential added safety of the MyKey system allowing parents to restrict the performance and potentially distracting features of the car in the name of safety.
Quality and image

The Fiesta has been a popular choice for some time. It looks good, it has a good reputation for being fun to drive and can be had in bright colours. A dependable car from one of the most dependable brands around, Ford and the Fiesta have rightly generated a considerable amount of goodwill over the years.
Accessibility

The long front doors on the three-door make it harder for rear passengers to enter and exit, while also pushing the seat belts further back and making life harder for front seat occupants. As you'd expect, the three-door car is mainly focused on accommodating front seat occupants - something it does rather well. The boot loading aperture might not be the widest in the class but it's unlikely you'll struggle with shopping or a pushchair.
Stereo and ICE (In car entertainment)
A modest level of kit is available for entry-level cars, with a higher spec reserved for cars further up the ladder. Bluetooth, MP3 player connectivity and a sophisticated voice control option are available, but the sea of buttons and small display fail to make the experience as pleasant one.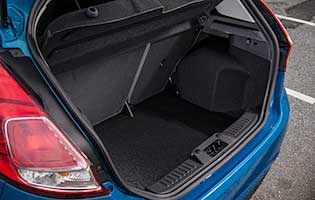 Modest boot can be extended by folding rear seats
Colours and trim
Befitting a car with a bold new face, bright colours give the car the visual boost it deserves. The interior trim on high-end models can now be specified in colours to match the paintwork, but although it can look great it's not compulsory.
Parking
Although easy to park, for a little extra confidence rear parking sensors can be specified as part of options packs along with a rear-view camera for high spec cars. That said, even without any aids the Fiesta is small and narrow enough to park almost anywhere.
Spare wheel
Emergency tyre repair kit supplied. Space saver spare wheel available.
Range information
Petrol engine options - 1.25-litre (59bhp, 81bhp); 1.0-litre (79bhp, 99bhp, 123bhp); 1.6-litre (104bhp, 182bhp). Diesel engine options - 1.5-litre (74bhp); 1.6-litre (94bhp). Transmission options: five-speed manual gearbox and six-speed automated manual on selected models. Trim levels: Studio, Style, Zetec, Zetec S, Titanium, Titanium X, ST.
Alternative cars
Vauxhall Corsa Showing its age but remains a good value proposition
Volkswagen Polo High quality alternative but lacks driver involvement
Renault Clio Bold looks combine with high levels of fun and refinement
Hyundai i20 Good value and easy on the eye but not for ken drivers
Over 1,200 more car reviews online
All the reports since 1990 are available on this site, just search by make and model below.
Other products & services
Related information
February 2013