Cadillac BLS Luxury 1.9TD
April 2006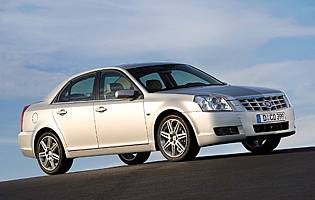 Trademark modern Cadillac grille and angular headlights help make the BLS stand out
Ratings
Overall rating
Value for money
Costs
Space and practicality
Controls and display
Comfort
Car security
Car safety
Likes
Rakish styling helps make the BLS stand out from the crowd
Cabin is spacious and accommodating - especially in the back
Strong performance from diesel engine option
Refinement levels are high - notably an absence of road noise
Gripes
Not a driver's car - more suited to brisk cruising
Leather seats offer little in the way of lateral support when cornering
Cabin plastics feel hard to the touch
Dealer support network is small - cannot match the mainstream opposition
If you're fed up by the compact executive offerings from European car makers, Cadillac would dearly like to hear from you. Its small premium model, the BLS, is styled to catch the eye and deliver a different luxury experience to the likes of Audi's A4 and BMW's 3 Series.
Cast aside any preconceptions you may have of American cars. Cadillac, once synonymous with lashings of chrome, softly sprung behemoths and poor quality control, is on a long road to conquer Europe with its rakish model line-up.
While the company does have quite a few cars in its inventory, challenging the compact executive sector is the priority for Cadillac's - especially in right-hand drive markets. As such, the UK gets the BLS, a slightly smaller and newer model to partner the older CTS - itself originally 'toe in the water' exercise.
With help from Saab and the use of a number of 9-3 components (Cadillac, like Saab is part of General Motors), the BLS is a rounded product with a focus on ride comfort, refinement and value for money. Front-wheel drive and offered with a broad spread of engines, the car is easy to drive briskly although it doesn't match BMW's 3 Series for dynamic driving appeal.
What it does do well is offer a spacious cabin and a level of on-road refinement that would put many rivals to shame. Rear legroom - or lack of - is still a problem with some cars, but not the BLS. Any business executive who regularly transports clients will understand how important this attribute is.
Our verdict on the Cadillac BLS Luxury 1.9TD
It might not be the most dynamically entertaining car or the one with the best quality interior, but Cadillac's BLS does a lot of things very well. Add them up, factor in the generous levels of standard kit, the car's looks and the competitive pricing structure and we finally have a genuine American alternative to the European executive club.
Costs

When rated alongside European rivals, the BLS turns in an impressive value for money performance. Opt for a diesel variant and you're guaranteed to further boost this important factor. With proven mechanicals under the BLS' skin, running costs should be modest. However, Cadillac's equally modest dealer network might mean a lengthy trip for routine servicing. And only time will tell if residual values will stay buoyant in the long term.
Space and practicality

For a car in the compact executive sector, the BLS would put a few rivals to shame. The car's cabin is surprisingly spacious, and boasts a reasonable amount of all-important rear legroom. Staying at the back, the rear seats fold forward for added versatility while the boot itself is a good size. Elsewhere inside the BLS cabin you get the usual door bins and useful glovebox.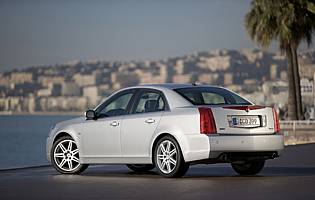 Unusual chiselled rear is like nothing else in the premium compact sector
Controls and display

The car's main dials are easy to read and the major controls are intuitive to use. The quality of the column stalks is a little disappointing, while some minor switchgear lacks the premium, weighty feel of the traditional competition. That said, the steering feels fluid and responsive, and the brakes require little effort to operate.
Comfort

One major plus point with the BLS is the noticeable absence of road and engine noise when on the move. The car's spacious cabin adds to the high levels of comfort. However, opting for leather seats might prove disappointing for some - the front chairs offer little in the way of lateral support. Stick to the regular fabric items if it's important for you. In keeping with the BLS' bias towards comfort, the car's suspension does a good job of smoothing out road surface imperfections.
Car security

Unlike with the car's exterior, there's nothing unusual about the security package. As with so many cars, the BLS comes with remote central locking plus a fully integrated alarm system. Being an unusual car that's destined to attract a fair bit of attention, something visible like a steering lock or even a tracking device would be smart investment.
Car safety

Along with the option of powerful xenon headlamps and the standard fitment of ABS, traction and stability control, the BLS gets the usual package of twin front, side and curtain airbags.
Driver appeal

For the record, the BLS isn't entirely a new car from the ground up. Taking the basic underpinnings and engines from Saab's 9-3, it's fair to say that it doesn't quite match the performance of the likes of BMW's 3 Series or Audi's A4. While a confident steer, the BLS is at its most entertaining when driven at a brisk - not overly quick - pace. Ride comfort and refinement take priority over serious thrills, but the diesel and flagship petrol V6 units stand out as the best of the available engines.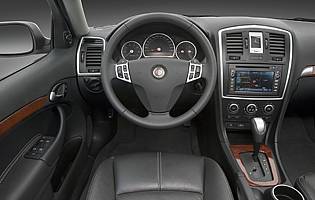 BLS interior is fuss-free but not all the materials used are of premium quality
Family car appeal

If you're in the market for a plush family car but don't fancy a people carrier, the BLS will do the job. Granted, you will have to sacrifice any major seating flexibility. The upside is a roomy cabin and presentable exterior - the latter is important if you're in business and need to present a confident, corporate image to clients. And the boot is a good size, making the BLS surprisingly family friendly.
First car appeal

Regardless of the car's abilities, something like this is unlikely to appeal to a newly qualified young driver. Simply put, it's doesn't have the right amount of youth appeal. More mature drivers will probably warm to the baby Cadillac's refined demeanour.
Quality and image

Steadily becoming established on this side off the Atlantic, the modern day Cadillac is a world away from the cars remembered fondly by older generations of motorists. Sharp looks and good value are the order of the day, with styling that's designed to provoke conversation. On the quality front, much has improved over examples from past decades, although the company still has some way to go to rival the best European models. Cabin plastics feel hard and switchgear lacks a distinct quality feel.
Accessibility

At its launch, Cadillac's claim that the BLS was the largest in its class has an element of truth in it - access to the cabin via both front and rear doors is pleasingly straightforward. At the rear, the car's boot is also impressive. The lid's angular shape, combined with a wide aperture, ensure that loading is rarely a problem.
Stereo and ICE (In car entertainment)
The standard audio provision is a good quality unit that sounds good and accepts MP3 compatible CD discs. This seven-speaker system boasts intuitive controls, but the display can be difficult to read in direct sunlight. The flagship Sport Luxury variant includes a Bose branded nine-speaker upgrade plus a CD disc changer. Standard fit on all cars includes steering wheel controls for the basic audio functions. Sat-nav is an option, as is a Bluetooth handsfree mobile phone kit.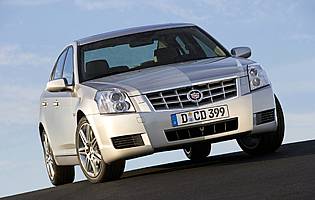 Underneath the Cadillac's radical exterior lies the underpinnings of Saab's 9-3
Colours and trim
Strong, bold colours suit the BLS best, as they help to accentuate the car's distinct lines and angles. Inside, the default dark fabric looks classy and hard wearing, while the leather options add a welcome premium feel to a cabin fitted out in hard, black plastic.
Parking
While not a large car, reverse parking a BLS can be a challenge because it's difficult to see where the boot ends. Thankfully parking sensors are available (standard on Sport Luxury, optional on other variants). Also welcome is the good level of steering assistance when parking, along with generously sized rear view mirrors.
Spare wheel
Space saver fitted as standard.
Range information
Engines - 2.0T (175bhp) petrol; 2.0T (210bhp) petrol; 2.8 V6 (255bhp) petrol; 1.9TD (150bhp) diesel. Six-speed manual gearbox standard across the range (five-speed fitted to 2.0T 175bhp model). Six-speed auto available on 1.9TD, all others get a five-speed gearbox. Trim levels: SE, Luxury, Sport Luxury.
Alternative cars
Honda Accord Premium Honda is well built, good to drive and well equipped
Alfa Romeo 159 Stylish 159 is well built and refined. Rear cabin space is disappointing
BMW 3 Series Sector benchmark is good to drive but looks are controversial
Audi A4 Outstanding build quality and brand image. Cabin not especially roomy
Over 1,200 more car reviews online
All the reports since 1990 are available on this site, just search by make and model below.
Other products & services
Related information
April 2006