Seat Leon 2.0 TDI Sport
August 2005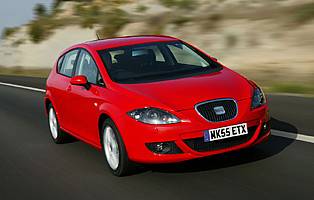 The Leon's new Seat family face is obvious
Ratings
Overall rating
Value for money
Costs
Space and practicality
Controls and display
Comfort
Car security
Car safety
Likes
Volkswagen levels of build quality in the cabin
Surprisingly spacious interior
Handling is sporty and enjoyable
Styling is not your usual bland 'Euro Box' effort
Gripes
Dark cabin plastics contribute to a dull ambience
Although sporty, the Leon's ride is a touch harsh around town
Petrol engines require a lot of work to maintain a decent level of performance
From the front, Leon is too similar to the Altea and Toledo
Seat's transformation from budget brand to one boasting VW-like levels of quality without the price premium continues with the Leon. And the similarities with the Toledo and Altea are not accidental. This trio is spearheading the Spanish firm's attack on the affordable family market. The Leon is the sportiest of the three cars, although it's also a solid performing family hatch.
Only a few years ago Seat was pedalling a distinctly average range of cars. Although far from rough around the edges, they lacked style and desirability. Since taking the decision, in marketing terms at least, to focus on Latin flair and a sporting bias, the firm has enjoyed more success.
This latest Leon follows on from the Altea and Toledo in terms of the corporate 'look' yet it would be cruel to suggest that the car is merely a small version of the Altea. Look closely and the Leon's lower profile is evident, as are the Alfa Romeo-style hidden rear door handles. The car's squat stance also hints at a more sporting bias than its stablemates.
On the road the Leon does indeed feel more responsive and playful than the taller Altea and Toledo. Seat is reserving its most powerful engines for the Leon, along with the Cupra moniker. And yet, away from the hot hatch pretensions, the Leon is a fine family hatch for those who don't want to go down the mainstream route with a Focus or an Astra.
But here's the rub: the Altea and Toledo are also fine family cars, which casts a shadow over the Leon. In an age where families want more space and expect more versatility from their cars, the Leon cannot deliver in the way the other Seats can.
Our verdict on the Seat Leon 2.0 TDI Sport
As it stands, there's too much overlap between the Leon, Altea and Toledo - both in terms of looks and ability. The Leon's status as default performance hatch within the Seat brand and the company's modest pricing structure could be enough to convince buyers who would otherwise opt for a less than sparkling Focus or Astra variant. If so, they will get an affordable car that's fun to drive quickly.
Costs

The Leon's screen prices are modest when you consider what you're getting. Factor in the diesel variants' better fuel economy, decent build quality and moderate insurance ratings and the Leon is a car that's unlikely to break the bank.
Space and practicality

This is no compact people carrier - Seat's got its slightly less attractive Toledo to fill that role. As a family hatch the Leon is a good effort, however. A growing family would have little trouble getting comfortable in the cabin, although there isn't the same level of oddment space as you'd find in, say, a Renault Scenic. The rear seats do split and fold - although not completely flat, and the boot is a reasonable size. The load lip isn't flush with the bumper, which could prove annoying when transporting heavy or awkward objects.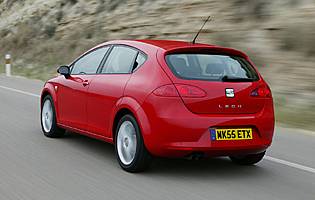 Unlike at the front, the Leon's rear styling is separates the car from the rest of Seat's line-up
Controls and display

The Leon's main dials do the job and shouldn't prompt complaint. The steering wheel adjusts for both rake and reach, and the height adjustable driver's seat is useful. The car's main fascia is large but the standard fit radio's small display shows up a missed opportunity: wasted space. Also, the LCD display is difficult to read in even modest light levels and is backlit at night in red, which doesn't help either. The optional sat nav display is much better, but that is mounted low in the fascia. In contrast, the ventilation controls are mounted high on the fascia, despite the fact you'll rarely need to adjust them.
Comfort

Supportive seats and good levels of head and legroom fore and aft make the Leon's cabin an attractive place to spend time in. For the driver everything is close to hand, while rear seat passengers will rarely feel cramped. The car's firm ride might prove tiresome for some though, and the noise from the low profile tires is noticeable.
Car security

Nothing surprising to report here, just that the Leon comes with what you'd expect: remote central locking and an immobiliser. Stylance and above models also get locking bolts for their alloy wheels. In truth, this package is all you'll need, although a high visibility steering wheel lock would add another, inexpensive, level of protection.
Car safety

As with all modern Volkswagen Group cars - regardless of price - there is a reassuring solidity to their construction. This is true of the Leon, and is backed up by six airbags as standard and the option of adding a further two. ABS is also standard, though ESP and enhanced electronic braking assistance is only fitted to the Stylance variant and above. Tyre pressure monitors are fitted to all models in lieu of there being no spare wheel. Options include those extra rear side airbags and powerful bi-xenon headlamps.
Driver appeal

This is where Seat hopes it has the edge over rivals. You'll instantly notice that the car's suspension is of the firm variety, and while this is for spirited cornering and helps to reduce body roll, the downside is an firm ride around town. On the more powerful models, the choice of wide, low profile tyres will lead to a fair bit of road noise. On the plus side the Leon goes where you point it, the FSI petrol engines require plenty if revs and the gearshift is short and slick. Realistically the high power diesel proves more flexible, refined and economical, and you loose nothing in terms of overall performance.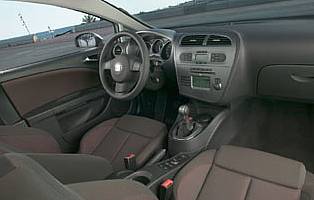 Although a little dark, the Leon's cabin is spacious
Family car appeal

Being realistic, a compact MPV would be the better choice, as such cars boast more oddment storage, flexible seating arrangements and easier access to the rear cabin - a major plus point when parents need to belt in small children. The Leon isn't completely out of its depth, though. Cabin furnishings look hard wearing and, for a modest hatchback, space in the rear is good. If you really want a family-orientated Seat you'd be better off with the firm's Toledo or Altea.
First car appeal

It's reasonable to think that novice drivers would be attracted to the Leon: it's affordable, easy to drive and park, comes with good levels of equipment and shouldn't cost much to run. Its sporty image is another attractive element, although in practice only the high value models actually deliver on that promise. In that sense lesser models shouldn't cost the earth to insure.
Quality and image

Seat is viewed as the sporty, affordable brand within the Volkswagen Group, and that's how the Leon is being promoted. Quality-wise the car is on a par with products from Skoda, although Seat is rarely held in the same high regard as the Czech manufacturer. That said, many young potential buyers find Seat products more enjoyable and less 'sensible' than those from Skoda.
Accessibility

Front seat occupants will have no trouble accessing and exiting the cabin. Despite the car's low-slung stance, the front seats aren't bolted to the floor sports car-style. Rear passengers will also be pleasantly surprised; rear head and legroom is pretty good even though the Leon sports a sloping roof. As with many five-door hatchbacks though, the actual rear door aperture could be larger. No problems at the back - the car's boot shouldn't cause any major issues.
Stereo and ICE (In car entertainment)
A good sounding radio/CD combination is standard fit. Remote control audio buttons on the steering wheel are available on Stylance and above models. While the unit sounds good, the fascia controls could be better - they're a little small and the LCD is easily obstructed when light shines directly on the display. An optional sat-nav and Bluetooth handsfree phone interface boasts a much bigger colour screen, but is positioned a little too low in fascia.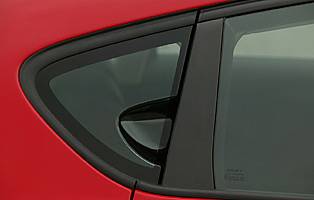 Unusual Alfa Romeo 156-style rear door handles add an extra layer of desirability to the Leon
Colours and trim
Bright, bold colours are the order of the day, after all the Leon is supposed to be the sporty, rebellious model in the range. Inside it's not quite as exciting. In typical Volkswagen Group style the cabin is furnished with dark plastics. The quality's not bad, but the Leon's interior could be a little more upbeat.
Parking
It's not that difficult to park the Leon; it's steering is light at low speeds and the car's mirrors are of a good size. The car's turning circle is pretty tight, but the thick rear pillars can block your view when exercising a particularly tricky manoeuvre.
Spare wheel
Standard equipment is a tyre repair kit. A temporary spare wheel is a cost option.
Range information
A choice of five engines: 1.6 (102bhp) petrol; 2.0 FSI (150bhp) petrol; 2.0 TFSI (185bhp) petrol; 1.9 TDI (105bhp) diesel; 2.0 TDI (140bhp) diesel. 1.6 and 1.9-litre engines get a five-speed manual gearbox while 2.0-litre units come with a six-speed manual gearbox. Petrol models can have an optional Tiptronic auto and diesels a Direct Shift Gearbox (DGS). Trim levels; Essence, Reference, Reference Sport, Stylance and Sport.
Alternative cars
Vauxhall Astra Stylish Astra is good to drive and boasts an adventurous exterior
Ford Focus Although hugely competent, second generation Focus is a more mature experience
Peugeot 307 With 407-influenced nose 307 is now more daring. A competent and spacious family hatch
Volkswagen Golf Boasts a prestigious badge, but also boasts an expensive price tag
Over 1,200 more car reviews online
All the reports since 1990 are available on this site, just search by make and model below.
Other products & services
Related information
August 2005