Used Vauxhall Antara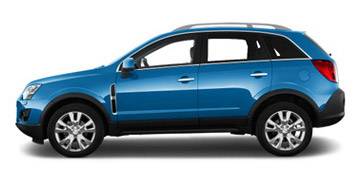 AA Cars works closely with thousands of UK used car dealers to bring you one of the largest selections of Vauxhall Antara cars on the market. You can also browse Vauxhall dealers to find a second hand car close to you today. All used Vauxhall Antara on the AA Cars website come with free 12 months breakdown cover.
Expert Opinion
The successor to the popular Frontera, the Vauxhall Antara is a competent softroader which sometimes struggles to be noticed in an increasingly saturated crossover market. Comfortable inside, although not the most spacious in its class, the Antara is at its best when on the road, where it handles far better than many of its similarly soft 4X4s. This isn't quite as true when it comes to the ride, but performance in the 2.2 CDTi rivals some of the best, taking 10 seconds to achieve 0-60, and returning relatively good efficiency figures. Although not quite as good as the leaders in its class, the Antara is a capable crossover SUV to add to the ever growing number available.