Used Rolls-Royce Ghost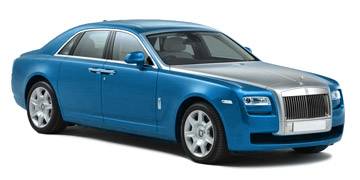 AA Cars works closely with thousands of UK used car dealers to bring you one of the largest selections of Rolls-Royce Ghost cars on the market. You can also browse Rolls-Royce dealers to find a second hand car close to you today. All used Rolls-Royce Ghost on the AA Cars website come with free 12 months breakdown cover.
Expert Opinion
Although the Rolls-Royce Ghost is the smaller brother to the Phantom - for many the epitome of ostentatious luxury - it is by no means a compact car. A big handmade grill adorns its sizeable front, while huge doors open up to reveal a typically cavernous, luxurious interior covered in a mix of leather, chrome and wood. Under the bonnet, the Ghost defies its smaller, entry-level image, and in fact boasts an engine bigger than its flagship sibling. A massive 6.6 litre, twin-turbo V12 brings about ferocious power, and accelerates the hefty car to 60mph as fast as the Aston Martin Rapide, while up to 100mph it is only a touch slower than the Audi R8. As undeniably impressive as the figures are, the price tag is likely to put 99% of the car buying public out of the fold, but it's a rare thing to have something so expensive actually be worth every penny.