March 2012
Suzuki Kizashi 2.4-litre CVT AWD
Familiar Suzuki styling cues when viewed from the front
March 2012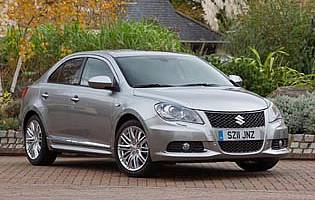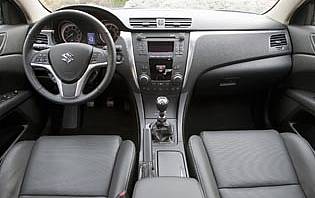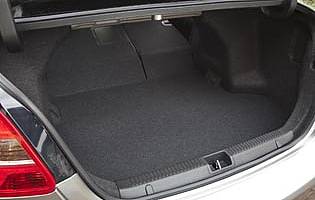 Overall rating

Likes:
Exterior design is conservative yet attractive in a low-key way
Sophisticated ride copes well with poorly surfaced urban roads
Good level of standard equipment
Cabin refinement equal to many European alternatives
Gripes:
Petrol-only range limits its appeal
CVT gearbox can struggle when engine is asked to accelerate hard
Running costs exceed that of a comparable diesel model
Despite its abilities, Kizashi will be overlooked by badge snobs
Compact saloons are minority players in the UK market. Historically buyers have preferred hatchbacks, while saloons have largely been positioned as higher value propositions. This is opposite to European and beyond, where such cars are often more popular, and it's why the Suzuki Kizashi exists - a small, booted car is perceived to be a premium choice.
With small saloons attracting only modest interest in the UK, Suzuki's closest comparable rivals are few. Volkswagen's Jetta is an obvious choice, but since the likes of Ford and Vauxhall exited the market with the Focus and Astra respectively, the Kizashi's other rivals were more familiar German, and premium, badges.
That said, the traditional buyer profile for compact saloons is a conservative one and, in many cases, a mature one. As such, Suzuki's positioning of the Kizashi as a conservative character, well equipped model fits well with sections of its buyer demographic.
There is a twist to this story, however. In a bid to differentiate itself from the, albeit, limited mainstream competition, Suzuki has added switchable all-wheel drive and a CVT auto gearbox to the mix. Predictably the all-wheel drive element is a useful add-on for the winter months or when towing, while the continuously variable transmission is an alternative to a conventional auto gearbox.
Overall, this combination along with the car's 2.1-litre petrol engine works well, although it's not for the keen driver. A relaxed but brisk pace is easily achievable, something that's likely to appeal more than outright pace to its target buyer.
Our verdict on the Suzuki Kizashi 2.4-litre CVT AWD
For some, the Kizashi is a difficult car to pigeonhole. It's a compact saloon, but one that offers higher than average levels of comfort and refinement than its price tag suggests. It's something of a leftfield choice, though, as the inclusion of all-wheel drive and a CVT gearbox plus the lack of a diesel engine will limit its appeal. However, viewed in isolation the Kizashi is a polished performer.
Costs
In rear times the Kizashi isn't an expensive car, but it does sit near the top of Suzuki's price point tree. That said, you do get a rather well-equipped motor, although this is offset by the petrol engine's thirst, which is more than you might think - especially when driving around town.
Space and practicality
Compact saloons will never rival the traditional family hatchback for practicality, but the Kizashi's spacious boot and folding rear seats do offer some welcome extra versatility if you need to transport the occasional odd-size load. In the cabin, Suzuki's saloon offers a good level of oddment storage space - some of it covered.
Controls and display
Easy to read displays and intuitive controls are a Suzuki trademark and it's no different here with the Kizashi. Factor in the easy to use CVT auto gearbox and the steering's ample power assistance, and it's no hardship piloting the Suzuki.
Comfort
Road and tyre noise in the cabin is usually at a pleasingly subdued level, although pushing the engine hard - and, subsequently, the gearbox - can result in a considerable amount of engine noise in the cabin when accelerating hard. That aside, the car's plush yet supportive seats and ample head and legroom fore and aft go along way to compensating for any aural misdemeanors.
Car security
Aside from the Kizash's convenient keyless entry an ignition package, the car's security provision is pretty unremarkable. Remote central locking is the obvious one alongside the imobilisor, while the benefits of the saloon bodystle are obvious as locking items out of sight is an easy activity.
Car safety
On the surface the Kizashi doesn't appear to offering anything more than it's main rivals. The Suzuki is, however, a little different as it comes with switchable all-wheel drive, allowing drivers to tackle adverse weather conditions with confidence. That aside, the Kizashi is like the competition in offering a good number of airbags and electronic active safety devices.
Driver appeal
Despite the car's large petrol engine and generous power output the Kizashi wasn't built for keen drivers. Smooth, fuss-free progress is the usual outcome, and suits the car's relaxed character well. The same is true of the car's CVT gearbox, which doesn't like to be rushed, as engine revs and noise will rise disproportionately to road speed. Ride comfort is also biased towards comfort, which is a good thing given the car's unsporting pretentions.
Family car appeal
This is one area where the Kizashi will struggle against the stereotypical MPV or family hatch. The compact saloon template works well if you're on your own a lot, but belting up children in the back is easier in an MPV as there's simply more room. Also, the boot being a fixed size, there might not be enough space for shopping and pushchairs to coexist in comfort.
First car appeal
Focusing on the car's ease of use attributes, there's no reason why it couldn't be used as a first car. With power steering and an auto gearbox, it's not a challenging car to drive, and it's not fast in an intimidating way either. Only the above average running costs could scupper any purchasing decision, as it won't match a small engine city car for CO2 or fuel economy.
Quality and image
Suzuki's image in Europe leans more towards the value end of the scale, what with the Alto city car and Swift supermini. The Kizashi offers a different sort of value - low cost, premium feel - and some prospective buyers may be confused as this will be territory more commonly occupied by the likes of Volkswagen, Ford and Honda. The end result is good, just not what you might expect.
Accessibility
Up front there are no issues here as the car's doors open wide and you simply slide into the cabin. At the rear the car's doors don't open quite as wide but the result is almost as good - impressive considering that compact saloons are rarely this accommodating in the back. At the rear the car's boot requires little effort to close.
Stereo and ICE (In car entertainment)
The high-spec Suzuki boasts a fully-featured audio unit. Its controls are intuitive and they're supplemented by basic controls on the steering wheel. Sound quality is perfectly acceptable, and there are Bluetooth phone MP3 player connections for good measure.
Colours and trim
The Kizashi is pitched as a conservative car, which makes the equally conservative colour options entirely predictable. In truth, such a choice doesn't hurt the Kizashi at all, and adds a welcome premium touch. Inside it's the much the same - conservative styling and dark cabin materials.
Parking
Being a saloon, you initially need to take extra care when reversing to accommodate the car's boot. Rearward vision is acceptable, while parking sensors take the guesswork out of parking. With plenty of assistance, the car's steering is also helpful in tight spaces.
Spare wheel
Space saver fitted as standard.
Range information
Petrol engine options - 2.4-litre (178bhp). Transmission options: CVT auto gearbox. Trim levels: one specification.
Alternative cars
Volkswagen Jetta The Golf with a boot offers a wider choice of engines, including diesel
Ford Mondeo Size-wise a class above but similar in terms of cabin ambience
Volvo S40 Swedish alternative closer in size but less luxurious inside
Lexus CT200h Compact Lexus hatchback boasts hybrid power and compliments Kizashi's 'outsider' status