January 2006
Subaru Impreza Sports Wagon 2.0 R Sport
A radical nose is an Impreza trademark
January 2006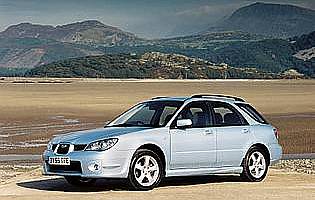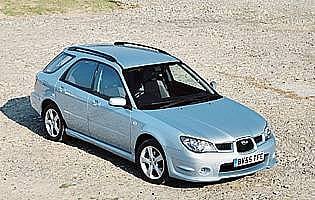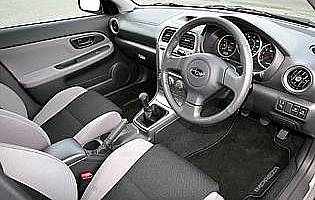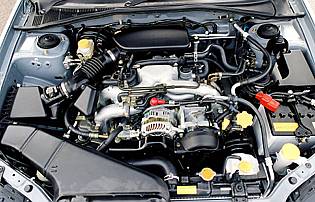 Overall rating

Likes:
Cabin quality is much improved over previous generations
It's no STi rally replica but the regular 2.0-litre car is brisk
Subaru's reputation as maker of reliable, durable cars shouldn't be underestimated
Combination of estate bodystyle and four-wheel drive is almost unbeatable
Gripes:
2005 model year facelift won't appeal to everyone
Standard creature comfort count is modest
Range is petrol only and real world fuel consumption isn't impressive
Running costs (fuel consumption, modest service intervals) can be on the high side
You could be forgiven for thinking that Subaru only makes one type of Impreza - fast ones. Thankfully, for people without bottomless pockets, the maker of rally replicas offers detuned versions of its sturdy saloons and estates for the masses. Thankfully the firm's key attributes - all-wheel drive, nimble handling and excellent build quality - are still present in abundance.
In a similar way to Mitsubishi, Subaru is often only remembered for one product. With the former it's the Lancer and, coincidently, Subaru is also better remembered for its fast car, the Impreza. However, look past the bulging wheel arches and monster exhausts and there's more to the Impreza than meets the eye.
Over the years Subaru has built up an enviable reputation for building cars that last a lifetime. While such a statement is probably sailing too close to the wind of poetic licence, the Japanese car maker's products always fare well above average in reliability, durability and customer satisfaction surveys.
And it's on this note that the 'lesser' Imprezas should be considered. Looking almost the same as their rally-replica counterparts - save for the bulging panels and outsize wings - they're built to the same standard and deliver the same surefooted ride - albeit at a slightly slower pace.
The regular Impreza Sports Wagon is a good example of a rugged compact load lugger. As an owner you're buying into the trademark Subaru design and also benefit from all-wheel drive, but you're not being fleeced by insurance companies or spending too much time at the filling station. Granted, running costs are fractionally higher than for a mainstream car. But with less volatile residuals, greater longevity and standard all-wheel drive, for some this package is worth paying a modest premium for.
Our verdict on the Subaru Impreza Sports Wagon 2.0 R Sport
With so many compact load luggers around, you've got to be a real enthusiast to want an Impreza Sports Wagon. With no diesel option and modest service intervals, the car costs a little more than average to run. The upside, though, is a practical, versatile and stylish all-weather holdall. If you value good dealer service and durable cars, the Impreza is a breath of fresh air in an otherwise crowded market.
Costs
On paper the regular Impreza looks like a sensible buy. Affordable, reasonably well equipped and boasting an enviable reliability record, the car - and to the same extent, the brand - makes a lot of sense. If you're not swayed by fancy marketing tactics and prefer a solid car, the Impreza is an excellent choice. However, its thirst and modest service intervals can prove costly over a lifetime of ownership. Despite all that, residual values have historically remained firm.
Space and practicality
The Impreza Sports Wagon is on the compact side, so don't think that it can compete with something like Ford's more capacious Mondeo estate. On the flip side, it is more versatile than the Impreza saloon, if only because awkward items can be slung in the back without fear of being squashed. Also, the Sport Wagon's low loading lip and wide tailgate aperture makes loading and unloaded easy. At the front the cabin boasts a few modest cubbyholes, while rear legroom is, predictably for a car this size, on the short side.
Controls and display
Straightforward controls and instruments mean the Impreza is easy to get on with. The main dials are easy to read and the steering, gearshift and pedals require little effort to operate. The car's centre console features good-size ventilation controls and an easy to use audio unit. The minor controls to the right of the steering wheel could be better designed and the column stalks are let down by their budget appearance.
Comfort
You don't need to buy a super-quick Impreza variant to benefit from Subaru's choice of sports front seats. They certainly hold you in place, but they can be more of a hindrance if you're on the large side. Although compact, the cabin will accommodate two adults up front with ease and headroom is reasonable - even in the back. Aft legroom could be better, though. At least engine and road noise is suppressed to modest levels, right up to motorway speeds.
Car security
Subarus of all types can attract the wrong sort of attention - call it a knock-on effect from the firm's hot Impreza WRX and STi variants. With that in mind, the firm should be commended for supplementing the standard spec on all cars (remote central locking and deadlocks) with a Thatcham category one alarm and immobiliser. That said, it would pay to add a visible deterrent such as a steering lock, and even a tracking device.
Car safety
Driver and front passenger airbags are a welcome sight on the Impreza's list of standard equipment, although the base 2.0R estate does without side airbags. These mainstay items are joined, albeit predictably, by anti-lock brakes and Electronic Brakeforce Distribution. While you don't get the fancy, electronic stability controls that appear on more pricey executive models, dismiss Subaru's all-wheel drive system at your peril. Even when fitted to the modest 2.0R variants, the extra grip will prove invaluable on damp, greasy and leaf-strewn roads.
Driver appeal
They might lack the outright thrust of the performance WRX and STi models, but the 2.0-litre R models can be enjoyable to drive briskly. The four-wheel drive system adds a welcome level of safety, while supple suspension, direct steering and a slick gearchange complete the often underrated but enjoyable experience.
Family car appeal
The Impreza would make an ideal companion for a growing family. Its compact size means it won't be a burden around town and the Wagon's ability to swallow pushchairs and other awkward items puts it ahead of a compact people carrier. With rear occupant space only modest, the back seats are well suited to transporting children. It's not all good, though, as cabin oddment space is limited and the car's thirst could eat into the family budget.
First car appeal
It's unlikely that any Impreza will be on a novice driver's radar, if only because running costs - fuel, servicing, insurance - are slightly higher than average. Examined in isolation car doesn't disgrace itself; it's easy to drive, boasts plenty of grip and the Sport Wagon is adds a useful load carrying element to the package.
Quality and image
From an image perspective there's little to touch the Impreza brand. The quick turbo models might steal the limelight but the 'slower' cars also command a loyal following. Key factors include good dealer service, excellent reliability, solid residuals and the often-underestimated benefits of permanent four-wheel drive. Sadly, the car's tangible quality has rarely kept pace. Although there have been improvements, it has always lagged behind that of mainstream cars from the likes of Ford and Vauxhall.
Accessibility
The Impreza is a compact car and, as such, is more comparable to something like Ford's Focus estate than anything else. Front seat occupants will have no trouble accessing the cabin, while rear seat passengers will notice that the door aperture is less generous. You'll have no problem accessing the car's load bay though, as the tailgate doesn't require much effort to raise or lower.
Stereo and ICE (In car entertainment)
Subaru has never been a company to lavish its car with expensive audio equipment and this Impreza doesn't break with tradition. The only difference between the 2.0 and faster 2.5-litre cars is the inclusion of two extra speakers for the latter. The combined radio and CD unit in question is easy to operate, delivers a decent quality sound and, from a security perspective, won't fit other cars.
Colours and trim
Most exterior colours work well, with red an unusual but flattering option. Conventional executive hues - silver, black - aren't quite as successful. Inside it's silver that dominates the cabin, and although the quality of the plastics used has been improved the result can't match its rivals. More appealing dark fabrics compliment the cabin trim.
Parking
The Wagon is a little easier to reverse park than the saloon because you know exactly where the car ends, as you can see the tailgate. Sounds obvious but it makes a huge difference. Elsewhere the Impreza's steering is light enough at low speeds so as not to cause a problem, and the same is true of the car's easy to modulate clutch. Being four-wheel drive, the Impreza's ability to make a tight turn is a little compromised as all the various drive shafts add an extra layer of resistance.
Spare wheel
Space saver fitted as standard.
Range information
Petrol engines: 2.0-litre (160bhp); 2.5-litre (230bhp). Five-speed manual gearbox is default item, with four-speed auto available only four 2.0-litre cars. Trim levels: (2.0R) base, Sport; (2.5) WRX, SL WRX.
Alternative cars
Audi A4 Avant Available with quattro four-wheel drive, better built but much more expensive
Ford Mondeo Estate A fleet favourite and extremely capable. No four-wheel drive option, though
Honda CR-V Japanese compact 4x4 is well built and has a diesel option. Handling not that great
Volvo XC70 Chunky styling and all-wheel drive make this estate a close contender on everything but price