November 2014
Skoda Superb Estate Outdoor Plus 4x4 2.0 TDI 140PS
Subtle but important design tweaks differentiate this version from the regular Superb load-lugger
November 2014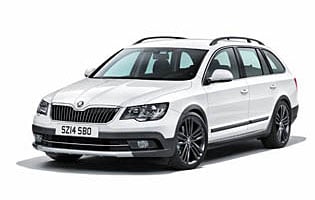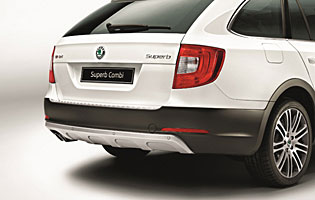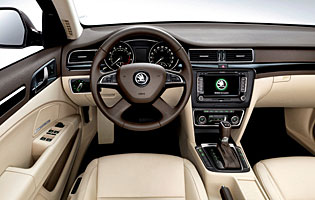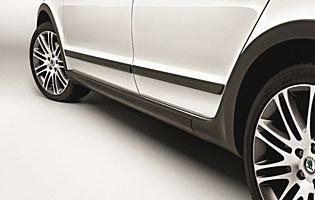 Overall rating

Likes:
Impressive level of quality given the price tag
Well equipped in both Outdoor and Outdoor Plus forms
Smooth driving experience and fuss-free four-wheel-drive
Vast rear load space is versatile, practical and rarely beaten
Gripes:
Outdoor brings little more than visual changes to 4x4 Estate
Limited engine options
Automated parking assistance technology isn't foolproof
Short owners will struggle to reach the extremes of the car's load deck
Often unfairly overlooked, Skoda's Superb is arguably one the best value cars that money can buy. Offering huge amounts of space and versatility alongside refinement and efficiency, it has the ability to deal with a wide range of tasks. Adding an Outdoor model with four-wheel-drive brings yet more capability and increases its appeal still further.
Substantially revised in 2013, the Skoda Superb in many ways is the car that best expresses the key Skoda values; it is very keenly priced, comparing favourably with key rivals, it is well-equipped regardless of the model and it is very spacious; in Estate form the Superb is one of the most capacious cars at any price.
The Outdoor model is a new addition to the Superb range although there are Outdoor models elsewhere in the Skoda stable. In this particular iteration the Outdoor tag brings with it a unique specification that includes alloy wheels, plastic body protection and hill hold control, although it is worth noting that there is no change in ride height over the regular 4x4 model or other Superb models.
There are two version of the Outdoor model, Outdoor and Outdoor Plus. The regular Outdoor model also includes heated washer nozzles, front headlight washers and 'sunset' tinted glass over and above the SE model, while the Outdoor Plus adds leather upholstery and DAB audio with satellite navigation as standard.
The Superb Outdoor is available in Estate guise only, but the focus is clearly on increased traction rather than serious off-road ability. Even so, the additional plastic body panels at least do provide some protection should you decide to venture on to green lanes.
Our verdict on the Skoda Superb Estate Outdoor Plus 4x4 2.0 TDI 140PS
The underlying excellence of the Superb Estate is still present here; its space, quality and refinement are all very impressive. The 4x4 drivetrain also works seamlessly and provides extra traction only when needed. However the regular 4x4 model offers most of the Outdoor's qualities with a slightly lower purchase price and so probably makes the more sensible choice.
Costs
On of the Superb's main selling points is its ability to undercut the competition. While Skoda slowly moves upmarket and that gap has narrowed, the big estate car remains a steal when in the company of high price German rivals. Opting for diesel power should ensure meaningful running cost savings.
Space and practicality
Few things come close to the Superb estate when it comes to space. At least, not for the same money. Powered tailgate or not, access to the load area is easy, and the ability to fold the rear seats improves carrying capacity to an impress 1,865 litres. It's the same good news story for occupants, with acres of space fore and aft plus a good smattering of oddment storage options.
Controls and display
The convention and operation of the Superb's controls and displays should be familiar to fans of the Skoda brand. Well thought out, clear and intuitive, from the main dials to the ventilation controls it's difficult to find fault. When fitted, even the large touchscreen sat-nav display proves easy to navigate.
Comfort
With its long wheelbase, supportive seats and compliant suspension capable of expertly dealing with all manner of poorly surfaced roads, occupants fore and aft are unlikely to feel uncomfortable in the Superb. Factor in high levels of soundproofing and it's clear that Skoda's engineers have succeeded in creating a luxury ambience at an affordable price point.
Car security
For al the car's impressive abilities, don't expect a miracle here, as it's the usual items such as remote central locking, alarm and an immobiliser package that will keep your pride and joy safe. Belongings in the back are shielded from prying eyes by a sturdy load cover for added peace of mind.
Car safety
With numerous airbags and electronic stability systems to keep you safe the Superb is up there with the best in its class. There's even the option of headlamps that follow the direction you steer in, and change their beam pattern depending on the presence of oncoming traffic to improve visibility.
Driver appeal
So subtle are the actions of the on-demand four-wheel-drive system fitted to the Superb Outdoor that it's easy to forget the system is actually there. Only when grip deteriorates is power switched to the rear wheels and it does this seamlessly and unobtrusively. Otherwise the driving experience is no different to a regular Superb; smooth, relatively refined and easy-going.
Family car appeal
It's no people carrier in the conventional sense, but the Superb does offer an unusually spacious cabin. That said, the car's various plush fittings might be at odds with the sticky fingers of young children and the messy paws of the family dog, although there's no shortage of space for Fido in the boot. And he'd still have ample room alongside pushchairs, shopping and even a bicycle.
First car appeal
There's nothing challenging about the Superb Outdoor in respect of the driving experience, other than its overall size. It's more likely that the cost and practical image will put off newer drivers.
Quality and image
The Superb might not be smart enough to qualify as a premium brand but the level of quality is very good for the price tag, with smart materials, a good standard of build and attractive design. Skoda's have always had a well-deserved reputation for good value but in the last 20 years this has been cemented by a reputation for quality and reliability too.
Accessibility
As you'd expect from a car of this size, the Superb's doors fore and aft open wide to reveal easy to reach seats. Headroom is also good throughout the cabin. At the rear, the car's tailgate opens wide from a low lip position, making loading straightforward. There's even a powered option for added convenience. You will have to stretch to reach the distance corners of the car's vast load area, though.
Stereo and ICE (In car entertainment)
From the basic but more than acceptable CD and radio combination to the hi-tech full colour, touchscreen sat-nav and multimedia system, there's a level of entertainment to suit ever pocket. The touch-screen sat-nav unit is versatile and easy to use and the oversize option is even better. Supplementary buttons on the steering wheel are a welcome addition. Sound quality is good, too.
Colours and trim
With the addition of grey plastic panels to the exterior the Superb Outdoor becomes a little more colour sensitive. White and other light shades give a pleasing contrast, whereas darker shades hide the extra bodywork. On the inside the addition of standard leather on the Outdoor Plus does much to lift the otherwise somber ambience.
Parking
Leaving aside the estate car's size, thanks to light but direct steering and a smooth throttle the Superb is not difficult to manoeuvre. Parking sensors make life much easier, although the oft-promoted self-parking option remains far from foolproof - sometimes it's still quicker to do it yourself.
Spare wheel
Tyre repair kit fitted as standard.
Range information
Petrol engine options - 1.8-litre (158bhp); 2.0-litre (198bhp); 3.6-litre V6 (260bhp). Diesel engine options - 1.6-litre (104bhp); 2.0-litre (138bhp, 168bhp). Transmission options: six-speed manual gearbox, six and seven-speed DSG depending on engine choice. All-wheel drive is an option on selected variants. Trim levels: S, SE, SE Business, SE Greenline, Elegance, Outdoor, Outdoor Plus, Laurent and Klement.
Alternative cars
Mercedes-Benz E-Class Four-wheel-drive option but only in expensive hybrid form
BMW 3 Series Touring xDrive Smaller than Superb, no four-wheel-drive option in equivalent 5 Series
Volkswagen Passat Alltrack Affordable premium estate with added all-wheel drive
Vauxhall Insignia Country Tourer Offers reasonable value and a good driving experience, noisy diesel engine