June 2014
Skoda Rapid Sport
Larger wheels help to give the Rapid a more assured stance
June 2014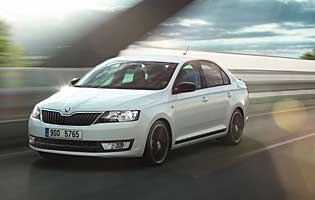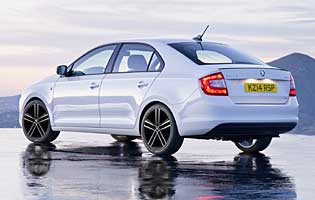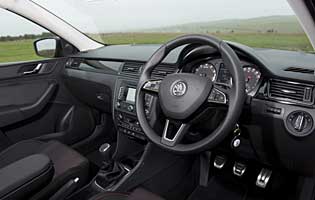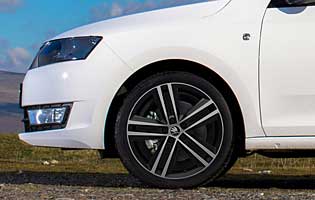 Overall rating

Likes:
Smart styling lifts the Rapid away from its budget roots
Huge boot is enough for a family of five
Smooth and gutsy engine is far more impressive than it sounds
Practical everyday touches improve real-world usefulness
Gripes:
Large wheels are vulnerable to kerb damage
Sports seats offer little extra shape or support
Five-speed gearbox feels old-hat against some rivals
Inert driving experience at odds with Sport name
The Rapid is a clean-cut, straightforward family car with few frills to speak of. Its trim grades are simply structured, its options list is modest, and most importantly for many families, it offers a tremendous amount of space for a very modest price. The Sport model attempts to add sports car-inspired style into the mix for an extra cost.
Trying to combine the Rapid's down-to-earth honest approach with bells and whistles like big alloy wheels and darkened glass seems a little incongruous at first, but British buyers have long been susceptible to the charms of the sportiest model in a range. The Rapid Sport is an attempt to woo those buyers whose budgets are limited but ambitions less so.
There is very little else that can be compared to the Rapid Sport at the same price point. Using older-generation parts to reduce costs, this car is like last year's model of television - it still works just the same and only the real enthusiasts will be able to tell the difference. Upgrades to the aesthetics don't harm its everyday usability, either.
Rather than being a unique standalone model the Sport is based on the mid-range SE-spec Rapid, but with different seats, pedals and wheels, black door mirror housings, darkened 'sunset' glass, a boot lip spoiler and leather contact points including the steering wheel, gear lever and handbrake arm. Collectively it smartens the car's appearance and gives a more premium look.
To keep insurance and running costs reasonable Skoda only makes the Sport with one engine; the more powerful of two 1.2-litre turbocharged petrol models that are offered in the Rapid SE. It retains the same impressive boot area and additional practicality touches that feature in the SE, and is an interesting alternative to a more expensive estate car.
Our verdict on the Skoda Rapid Sport
While the Rapid Sport is not the best value model among its cohorts, it does add qualities missing from the rest of the range that might appeal to buyers otherwise turned off by the lack of sparkle in the ordinary range. With a huge boot and plenty of space for family motoring, the Sport represents an interesting option against much more expensive rivals.
Costs
The turbocharged petrol engine is an excellent choice for real-world fuel economy and cheap road tax, and backs its ambitions up with its low-down punch. It should also hang onto its value in a similar way to the SE model on which it is based. A low purchase price is good for business users and company car tax, but there are cheaper versions of the Rapid that would make better business mileage mules.
Space and practicality
Happily, no part of the Sport's modifications affects its ability to squeeze masses of luggage out of sight in its boot. Few, if any, cars in the same class of hatchback can compete in this regard. There are 19 different 'Simply Clever' solutions included as standard, like an ice scraper on the inside of the fuel filler lid, a reversible carpet/rubber boot floor and a dedicated slot to hold an MP3 player or mobile phone upright. Storage space is in no short supply.
Controls and display
There are no upgrades to the main instrument cluster, which is not overtly stylish or layered with coloured accents, but it's pleasantly undemanding and clear at a glance. The ancillary stalks and headlight control dial are all standard Volkswagen Group items and in familiar places. It's incredibly easy to hop into the Rapid and operate its finer controls immediately, which helps to form a quick bond between the driver and the car.
Comfort
For those lucky enough to live near billiard table-smooth roads the 17-inch wheels don't introduce too much extra noise, but on patchier surfaces the smaller wheels are definitely preferable. Wind and engine noise are reduced to fairly incidental levels. The seats are simple and functional, if perhaps in need of a little more lumbar support, and in keeping with the brand's recent tradition they are slightly firmer than average to make them harder-wearing. Some people may want a slightly softer perch.
Car security
The Sport model is very closely related to the standard mid-range Rapid in its security measures. An alarm and immobiliser are standard fit. The alarm has interior monitoring systems and a back-up connection to the horn in case the siren doesn't work or has been cut off. There is remote central locking and deadlocking, and the large alloys have locking wheel nuts. It's not a list that stands at the forefront of development but it's more than adequate to prevent theft of the vehicle.
Car safety
Along with the SE model's standard safety kit, including front, side and curtain airbags, stability and traction control, a spectrum of warning lights and daytime running lights, the Sport adds grippier tyres and front fog lights. A two-tone horn and towing protection are also standard. Sports-designated pedals may, in certain types of footwear, offer more grip.
Driver appeal
You would be justified to argue that this car is light for its size and nimble with it, even if its steering and outright handling are somewhat lacking. Nonetheless it's predictable and stable to drive and offers an excellent balance of ride quality, grip and smoothness. The five-speed gearbox feels a little old-fashioned in a car of this size with a sporty edge, however contrived, but few everyday urban drivers will find cause to complain.
Family car appeal
Despite the big wheels and different upholstery, family life is the Rapid's heartland, with design features well suited to carrying young passengers. There are child seat mounts, a large boot for accessories and luggage, plenty of rear legroom for older children and a cabin that will withstand knocks and scrapes well. The rear doors give good access to the rear seats, while the abundant storage solutions mean that oddments and gadgets will all find a place.
First car appeal
Young drivers looking for a car with genuine style and features to show off might look twice at the Sport. It's more expensive than most typical first cars but falls into line with expensive Fiat 500s, which are much more stylish but also much less practical. The fact that it's compact enough and inexpensive to own compared to many alternatives means that this Rapid might make a very tempting first car for people who want a great all-rounder that will last.
Quality and image
While the Rapid is unashamedly the Octavia's old-tech cousin, that's no bad thing because its image resurrects much of the appeal that made Skoda so popular in the late 1990s and early 2000s. The Sport, however, has a selection of upgrades that may sway some people's opinions favourably, and in combination with the Rapid's low-tech but proven image could strike a chord with many buyers.
Accessibility
There are few differences here compared to the standard Rapid, with the only caveat being a slightly larger front seat bolster that, to be extremely picky, gets in the way just a little more than the standard seat. The shorter rear doors can theoretically open wider for any given amount of space beside the car compared to the fronts. As it happens the Rapid is very easy to get in and out of thanks to an intelligently shaped bodyshell.
Stereo and ICE (In car entertainment)
Unless upgraded, the stereo is a low-tech affair with a simple selection of buttons and dials operating the key functions and, on the lower models, a thin digital display offering an intuitive but basic interface. An integrated sat-nav and media interface screen is available as an option, incorporating a colour touch-screen. It's all as simple and easy to get on with as it could be, and the ease with which the controls fall to hand will be a boon in day-to-day use.
Colours and trim
The Rapid Sport shares its colour gamut with the rest of the range, so there are a number of light, fresh hues that suit the car's overall look well. The light blues and greens work convincingly, although some may want for a stronger colour to emphasis the bolder styling details. On the inside the trim lines are as clean and neat as they are on the outside, and the updated dashboard is more visually appealing than the original basic predecessor.
Parking
Unless upgraded, the stereo is a low-tech affair with a simple selection of buttons and dials operating the key functions and, on the lower models, a thin digital display offering an intuitive but basic interface. An integrated sat-nav and media interface screen is available as an option, incorporating a colour touch-screen. It's all as simple and easy to get on with as it could be, and the ease with which the controls fall to hand will be a boon in day-to-day use.
Spare wheel
Emergency tyre repair kit supplied as standard.
Range information
Petrol engine options - 1.2-litre (74bhp); 1.2-litre TSI turbo (85bhp, 104bhp); 1.4-litre TSI turbo (120bhp). Diesel engine options - 1.6-litre (104bhp). Transmission options: five or six-speed manual gearbox depending on model, plus DSG twin-clutch auto gearbox (1.4-litre 120bhp petrol only). Trim levels: S, SE, SE Connect, Elegance, Sport, Greenline.
Alternative cars
Ford Mondeo Discounts at the lower end of the range make the big Ford comparable
Kia Cee'd Sportswagon Solid driving dynamics and a long warranty reinforce style with substance
SsangYong Korando Entry-level version of the underrated SUV rides higher but has less boot space
Vauxhall Astra Sports Tourer Estate body style is roomy, is great to drive but commands a premium