June 2006
Renault Clio Privilege dCi86 five-door
Elegant-looking Clio hides its increased size well
June 2006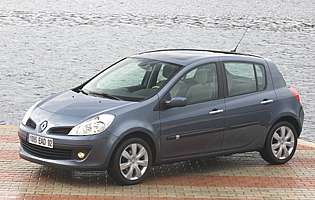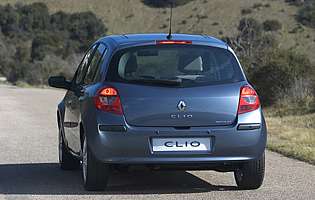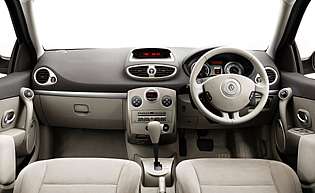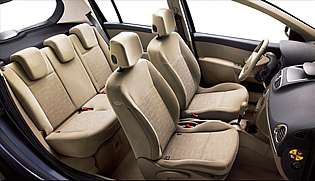 Overall rating

Likes:
Impressive passenger room front and rear
Well-designed and good quality interior
Refined engine provides decent performance
Ride quality is very good for a car in this class
Gripes:
Exterior design is unexceptional
Handling is competent but not very rewarding
Audio unit buttons are too small
Lack of steering reach adjustment on most models is disappointing
To compete in the strongly contested supermini segment, having a range of bodystyles is a distinct advantage. Previous versions of the Clio have been available with three and five doors, and this version is no exception. It also offers a wide choice of diesel engines.
First impressions of the Clio are dominated by its size. It instantly appears much bigger than its predecessor, and the increases in dimensions make it the biggest car in this class. From the outside it also shares clear styling cues with other cars in the Renault range, particularly the Megane, although it is more sensible and toned down than the larger hatchback. Three and five door models share identical styling.
There are significant changes on the inside, with an all-new interior layout. Once again, clear influences from the bigger Megane can be seen, as the Clio III has a simple dashboard layout that avoids looking too cluttered or busy. The Clio has also inherited the option of keycard entry, which removes the need for a key to be inserted to start the car.
Under the skin the Clio uses a familiar range of petrol and diesel engines, although there have been numerous improvements to the power units. The 1.5-litre diesel version comes in three outputs, with the mid-range dCi85 version tested here expected to be a popular choice. In high specification Privliege guise it also has the feel of a mini luxury car, with tasteful use of colours and materials.
The Clio III benefits from a Megane-derived suspension set-up, which combined with the increase in wheelbase and track accounts gives it an advantage in terms of ride quality and grip when compared with its rivals. The long wheelbase also means less intrusion into the passenger cabin, maximising the amount of room to give it genuinely spacious feel, despite the still relatively compact dimensions.
Our verdict on the Renault Clio Privilege dCi86 five-door
Competition may be fierce in this segment, but the Clio III builds on its established strengths and offers even more than before to the private buyer. A wide range with extensive trim and engine options means there is a car to suit most budgets, while the comfort levels and the amount of space on offer are impressive.
Costs
Low running costs should be a key benefit to owning this Clio, with impressive fuel economy a key factor. Low insurance groupings and keen pricing further reduce costs, and the likely popularity of the car should ensure an easy resale with acceptable depreciation.
Space and practicality
The increase in exterior dimensions has brought big improvements in terms of interior space, with the Clio III feeling significantly bigger inside than many of its rivals. Even in the three-door model, rear space is very good, while front seat passengers have very good head, leg and elbow room for a car in this class. There are a good number of storage areas within the cabin and, although the door bins are relatively small, the glovebox is a decent size and other cubbies including under-seat storage are useful.
Controls and display
From the driver's seat the Clio has an attractive layout with all the controls logically placed. The air conditioning controls are quite small but easy to use, as are the steering wheel controls and the stereo column stalk. Smart touches like the 'squash-ball' air vent control are appealing and good to use, with only the small stereo controls letting it down. The instruments are big and clearly labelled, with a useful information display placed between them. There is also a central display carrying time, temperature and audio information, which is easy to read from either front seat.
Comfort
Renault claims to have invested much time in reducing noise levels, and the work has paid off. The Clio is very quiet for a car in this segment, with very little wind, engine or road noise at most speeds. This contributes greatly to comfort levels, as does the ride quality, which is of a very good standard. Minor imperfections are well filtered, and bigger disruptions are contained. Seat comfort is also good, both for front and rear passengers.
Car security
The Clio has a generous level of standard security equipment, including remote deadlocking and an alarm, as well as useful features such as automatic door locking when the vehicle goes over 5mph. The immobiliser fitted as standard is also recognised by many insurance firms, contributing to the lower insurance groupings.
Car safety
Improvements in safety on the Clio III include the use of new materials, especially high strength steel to deliver a stronger safety cell. ABS is standard, with a minimum of four airbags on all versions. A new design of active head restraint has also been introduced which claims to further reduce the likelihood of whiplash in the event of a rear impact.
Driver appeal
The Clio's driving appeal mainly comes from its ease of use and relaxed nature. The 1.5-litre diesel engine is powerful enough for most circumstances, with a wide band of torque rather than a sudden rush in the middle of the rev range. All the pedal actions are smooth and consistent, and the gearshift is light if a little vague. The steering is accurate and is well-weighted, giving an indication as to the actions of the front wheels. When driven with enthusiasm the Clio is consistent and unflappable, but it rarely shares your enthusiasm or rewards a keen driver. A better approach is to relax and enjoy the low noise levels and excellent ride quality.
Family car appeal
Smaller families will find the Clio well suited to everyday use, with the centre rear seat designed specifically for children. There is enough rear seat space and boot room for most journeys; only longer trips with lots of luggage may be a struggle.
First car appeal
First time car buyers are a big market for Clio III, and many will be attracted to its broad range of abilities. Low running costs are likely to be achieved, with good fuel economy and low insurance group ratings the main attractions. The Clio III is a simple car to use, and will cope with long journeys and town driving with equal aplomb.
Quality and image
Renault has made impressive improvements in terms of quality with the Clio III, and in almost every aspect it feels like a high quality car. The exterior has a solid, chunky appearance, and inside all the surfaces feel of good quality and well constructed. The overall design is clean and simple, adding to the good impression. The image of the previous generation Clios has been largely about youthful appeal and good value, and while this version continues that trend, its size and specification signal a focus on more affluent and mature customers.
Accessibility
The doors front and rear have a wide opening for easy access, and even in the rear, the footwell is generous and the roofline is high enough to avoid contact with the head. Access to the boot is also straightforward with a wide tailgate and minimum intrusion from the taillights.
Stereo and ICE (In car entertainment)
All models are fitted with a radio/CD player, with the Privilege model benefiting from a 60W CD/tuner. It provides good sound quality, largely because the Clio is very quiet at speed. The stereo unit itself however is set quite low in the dashboard, and the buttons are very small, although this is offset by the excellent controls repeated on a column stalk.
Colours and trim
The Clio creates a strong first impression thanks to the quality of the interior. The plastics are soft to the touch and look smart. Privilege versions come with a two-colour dashboard, with the lower half finished in a lighter hue. This gives a light and airy feel to the cabin and gives an increased sense of luxury and expense. Elsewhere the interior finish is a dark grey, but it remains an appealing cabin.
Parking
A large glass area is a huge factor in making the Clio easy to park. The steep rear window makes it simple to judge where the rear of the car is. Light steering, well-placed door mirrors also contribute, though the steeply sloping bonnet is difficult to see.
Spare wheel
Full-size steel spare fitted beneath boot floor.
Range information
Six engine options - 1.2-litre petrol (75bhp); 1.4-litre petrol (98bhp); 1.6-litre petrol (111bhp) and a 1.5-litre diesel with three outputs (68bhp, 86bhp and 106bhp). All models have a five-speed manual gearbox except for the 106bhp diesel, which has a six-speed manual. Four-speed automatic also available on 1.6-litre petrol. Trim range is Authentique, Expression, Dynamique, with the five-door only Privilege and Initiale.
Alternative cars
Ford Fiesta Fun to drive and reasonably priced but one of the smaller cars in the segment
Volkswagen Polo Strong image and good build quality but ordinary to drive and average looks
Vauxhall Corsa Cheap to buy and run, now ageing and dynamically average
Toyota Yaris Well built and reliable, interior is grey and plasticky