November 2010
Nissan NV200 Combi 7 Seat 1.5dCi SE Plus
NV200 Combi is an impressive alternative to a regular MPV
November 2010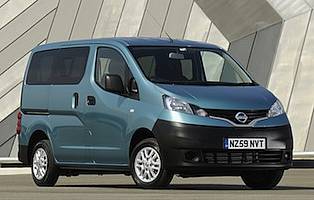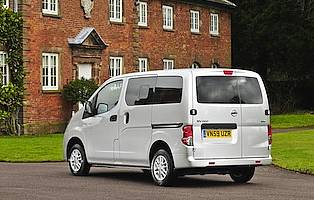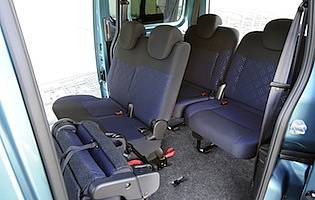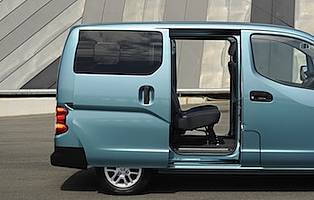 Overall rating

Likes:
Easy on the eye looks
No-fuss interior is durable and practical
Access to third row seats is straightforward
Despite commercial vehicle origins, drives well and is refined at speed
Gripes:
Lacks the creature comforts of a regular people carrier
Ride can be a little firm on poorly surfaced urban streets
Lofty seating positions require occupants to be reasonably agile
Modest diesel engine requires patience when Combi is fully loaded
Recent year s have seen an explosion in the development and use of people carriers. As buyers have become more demanding and sophisticated, the level of choice and abilities have grown considerably. Lifestyle, it would appear, is where it's at. But what if you just want a conventional, affordable and durable people mover?
If your demands are more down to earth, Nissan's NV200 Combi offers a refreshingly different proposition. Visually the NV200 is an upright, slightly boxy vehicle. That's hardly a surprise when you learn that the Combi variant is essentially a van with windows and extra seats.
Should that be cause for concern? In reality the best vans make the best people movers. With plenty of space available for seats, a lofty driving position and sliding side doors familiar core attributes, the NV200 Combi might lack a few frills but its abilities are hard to question.
Available in with either five or seven seats, the NV200 Combi offers a different take on the MPV concept. If you lead an active, outdoors lifestyle or simply want a lower cost and more durable MPV than what's available from mainstream providers, the fuss-free approach taken by Nissan could prove more attractive.
And being based on a van, low running costs are an integral part of the NV200 Combi's appeal. The vehicle's 1.5-litre, 85 horsepower diesel engine might sound modest, but its lowly CO2 and fuel consumption performance should prove attractive alongside its family hatch price tag.
Our verdict on the Nissan NV200 Combi 7 Seat 1.5dCi SE Plus
For anyone spoilt by the plush cabins of MPVs from the major players, Nissan's NV200 Combi is not for them. If, on the other hand, you value low running costs, a durable interior, a versatile cabin and ease of use, Nissan's alternative people mover should appeal. It might be based on a van, but even vans are much improved now and the long-held perception of them being inferior to other modes of transport is just that.
Costs
Nissan's decision to fit the NV200 with a 1.5-litre diesel was a smart one, as the unit emits only 139g/km CO2 and boasts 53.3mpg on the combined fuel cycle. That the vehicle's starting price is comparable to that of a medium-size family hatch, anyone seeking more space and flexibility but not at extra cost should seriously consider the versatile Nissan.
Space and practicality
Available with either five or seven seats, Nissan's NV200 Combi offers buyers seeking a low frills people mover plenty of flexibility. The rearmost seats can be folded, and there's plenty of room for various combinations of luggage and occupants. With a conventional glovebox plus a much larger centre, covered storage area and deep door pockets, accommodating all your belongings up front is not a problem. The twin sliding rear doors make access to the cabin easy - especially in tight car parks.
Controls and display
A simple vehicle, the NV200 driver is presented with few controls. The clear and intuitive displays and switchgear respectively are all you really need. The manual gearshift is close to hand and offers an accurate, short shifting action. The optional sat-nav unit is a little gem, as its small size belies its abilities. It also costs a fraction of the price of rival units and includes MP3 and Bluetooth compatibility.
Comfort
When driven considerately the NV200 delivers a rounded and comfortable experience. Wind noise is noticeable but that's to be expected for a tall, high-sided vehicle and is rarely intrusive. There's no problem with occupant space, as the wide cabin is very accommodating.
Car security
Remote central locking is a welcome addition for the NV200 Combi, as it helps reduce any confusion over what, if any, doors are locked or not - you've got a big tailgate and twin sliding side doors to consider, after all. The optional privacy glass is worth it for added peace of mind in lieu of a conventional rear load cover.
Car safety
Being a van-based vehicle, the Combi isn't quite up to the same standard as a plush, MPV. You do get twin front airbags but no more, although the combined anti-lock brakes and electronic brakeforce distribution are useful additions.
Driver appeal
With its lofty driving position, light and accurate steering plus good all-round visibility, driving the NV200 isn't a chore. Nissan's decision to offer one, 85 horsepower diesel engine is brave, although most of the time it copes well. Only when the Combi is fully loaded or under hard acceleration does engine noise become intrusive. Ride quality is good for a van-derived MPV, although comfort is greatly improved if you take a relaxed approach to driving - brisk motoring or rapid changes in direction are rewarded with a chopping ride and plenty of body roll.
Family car appeal
Some buyers might bristle at the NV200's lack of polish relative to a more conventional MPV, but if you're an active sort or simply want to put space and flexibility ahead of unnecessary luxury, Nissan's offering makes a lot of sense. For some the Combi's durable-looking cabin materials will be viewed as a plus point, while its flexible seating, sliding doors and low running costs could help influence the buying decision.
First car appeal
With its straightforward controls, there's no reason for a novice to feel intimidated by the NV200. Its modest engine isn't going to cause any worries, while the lofty driving position boosts all-round visibility.
Quality and image
Nissan's general performance in recent years has improved greatly. It's no coincidence that a complete product overhaul has prompted impressive sales performance and enhanced brand awareness. The award winning NV200 range is an often-overlooked side of Nissan's activities, but its commercial vehicle arm has also benefited from a newfound sense of purpose.
Accessibility
Unlike some more conventional people carriers, the NV200's cabin is a little higher off the ground. AS such, you do need to be reasonably agile in order to access and egress the Combi. The twin rear sliding doors help though, and gaining access to the vehicle's third row of seats is more straightforward than it looks. The sizeable tailgate does require a determined action to close it though.
Stereo and ICE (In car entertainment)
For a back to basics people mover the NV200 Combi's entertainment provision is surprisingly good. Better than some city cars, the Combi's audio unit is intuitive and delivers a good performance. And with the option of a low cost sat-nav and Bluetooth handsfree unit, there's no need to sacrifice any creature comforts.
Colours and trim
Before you think white would be the perfect choice for a van-derived people carrier, in Combi trim Nissan's NV200 looks more upmarket when chosen in darker hues such as blue. Inside it's very much a modest scene, with durability taking priority over luxury as dark plastics and sturdy upholstery dominate.
Parking
It might be bigger than your average family hatch but the NV200 is surprisingly maneuverable. The combination of a lofty driving position, plenty of power steering assistance and lots of glass means visibility is better than average. The optional rear parking sensors do much to take the guesswork out of task, too.
Spare wheel
Spare wheel fitted under boot floor.
Range information
Diesel engine options - 1.5-litre (85bhp). Transmission options: five-speed manual gearbox. Trim levels: S, SE, SE+.
Alternative cars
Citroen C4 Grand Picasso Conventional MPV offers polished ownership experience but not suited to heavy duty tasks
Peugeot 5008 Agile performer despite its size and boasts practical cabin
Ford Galaxy Upmarket Ford boasts plush cabin and excellent road manners
Hyundai i800 Big and boxy van-derived people carrier offers few frills but plenty of refinement