March 2008
Hyundai i10 1.1 Classic
i10 front end certainly has character
March 2008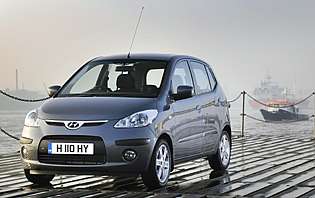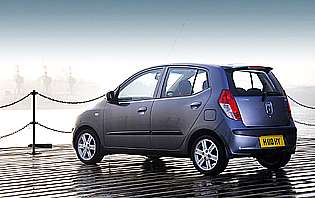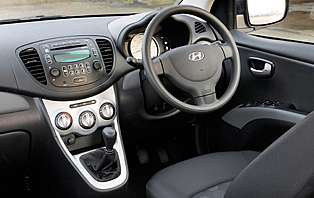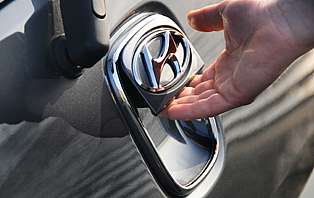 Overall rating

Likes:
Stylish exterior
Chassis copes well with bumps and potholes
Good specification considering price
Excellent driving position
Gripes:
Engine struggles uphill
Excessive engine noise at speed
Lightweight feel to doors and some panels
Dark interior
Hyundai's new super mini has been designed from the ground up to replace the dated looking Amica model. The second of the new generation models from Hyundai to feature the i-prefix moniker, the i10 not only gets a new name but also a new chassis and fresh new looks.
Hyundai has put a great deal of effort into its new city car, and expects big things in return. The Korean manufacturer believes the i10 is good enough to double its sales in the segment. It certainly looks more modern and enticing than the outgoing model and inside it features a better fit and finish than Hyundai's of old.
The new models are tasked with changing public perceptions of the brand and as such feature generous specifications as well as improved build quality. The i10 comes with an impressive raft of luxuries as standard even in the base of the three trim levels. Air-con and a six-speaker sound system are included and safety is well catered for, too, with disc brakes on all four wheels, ABS and EBD. The longest wheelbase in its class means the Hyundai i10 can offer additional rear legroom and the ride qualities of a bigger car when combined with the sophisticated suspension set-up.
Power is provided by the 1.1-litre four-cylinder unit previously from the Hyundai Getz. In conjunction with a five-speed manual gearbox or the possibility of a four-speed automatic if opting for the mid-range comfort model, the engine offers excellent fuel economy and low emissions.
Key to the model's appeal will be the good value for money offered by the high specification and low purchase price and running costs. Hyundai's generous five-year unlimited mileage warranty will also play a strong role in attracting new customers.
Our verdict on the Hyundai i10 1.1 Classic
Better looking, better to drive and better specced than Hyundai's of old, the i10 should certainly prove more successful than the model it replaces. The i10 is let down by the noisy and slightly lacklustre engine performance on the open road, but makes up for it in part with a strong performance around town and with a spacious and airy cabin.
Costs
The i10's big selling points are its low purchase price and excellent warranty, but cheap insurance, tax and low running costs from the frugal 1.1-litre engine are an additional benefit. The i10 makes for extremely cost effective motoring.
Space and practicality
Considering its small dimensions the i10 does not feel cramped, largely thanks to its tall body and large glass area that offers a feeling of roominess. Rear legroom is acceptable for a car of its size and the boot is larger than it appears from the outside, although angular in shape.
Controls and display
The instrument binnacle and centre console assemblies are both extremely well thought out. The instrument dials are well laid out and easy to read with a shroud ensuring there is minimal glare across them. The high positioning of the gear lever makes it extremely comfortable to use and the same can be said of the sound system controls. The steering wheel is rake adjustable and the gear change light and accurate.
Comfort
The i10's carefully crafted driving position means it's a very comfortable car to drive. The chassis and long wheelbase cope well with potholed roads and the seats, although basic, are supportive and comfortable. Road and wind noise are successfully suppressed, however engine noise is a constant in the cabin, particularly at speed. Air-con is standard across the range and the i10 Classic also benefits from electric front windows.
Car security
The i10 classic features little in the way of additional security. Central locking is present but is not operated remotely. Secure interior storage is limited to the glove box.
Car safety
Front and side airbags are standard even on the base specification Classic, as are all-round disc brakes that offer impressive stopping power. They're bolstered by ABS and EBD systems that offer additional safety, as do reinforced B and C Pillars in the event of a side-impact. Pedestrians are also well protected by an absorbent bonnet.
Driver appeal
Although a nimble town car, the i10 is not ideally suited to more vigorous driving. Slow acceleration and a lack of in gear pulling power mean that the driver has to think ahead to maintain momentum at higher speed. In an urban environment however, the i10 is in its element with airy controls, a well-honed driving position and compact dimensions that make it highly manoeuvrable.
Family car appeal
As a second car the i10 makes am affordable and sensible choice, but it's probably not large enough to cope with the more heavy duty demands of family life. A lack of luggage space would be the main bugbear, although the interior should be tough enough to cope with children.
First car appeal
The i10 would make an ideal first car thanks to a combination of low purchase price, running costs and ease of use. The downside for younger drivers would be the lack of street cred, but the i10's modern styling means it's far trendier than Hyundais of old. Smart young drivers would do well to consider it.
Quality and image
The i-prefix models are intended to mark a new era for Hyundai, one in which the quality of its vehicles is considerably improved. The i10 is certainly a step up from the old Amica and its more distinctive styling should give it more kerbside appeal, too. The badge itself is still associated with value for money rather than quality to products however; something the company hopes the new generation of models including the i10 will help change.
Accessibility
For a small car, the i10 has a tall body, making it remarkably easy to enter and exit without stooping. Four doors make it easy to access the rear and the boot door is a good size too, making it simple to get items in and out.
Stereo and ICE (In car entertainment)
The entry level i10 Classic is still well equipped with a six speaker sound system that's MP3 compatible and features an auxiliary plug-in for external devices as well as the CD and radio functions. Sound quality is crisp and the controls placed high for easy access with large, clearly marked buttons and knobs.
Colours and trim
Hyundai claims that the i10 interior is a step up in terms of quality, a statement borne out by the neat fit and finish inside and the use of better quality materials. Despite the silver panelling on the centre console, the interior may still be a little dark for some tastes. A healthy range of exterior colours provides plenty of options.
Parking
The i10 should pose few problems when parking thanks to its compact dimensions and boxy shape. Visibility to the side and rear is good while the turning circle should cope well with tight spaces.
Spare wheel
Space saver fitted as standard.
Range information
Petrol engine options - 1.1-litre (65bhp). Transmission options: five-speed manual gearbox, four-speed automatic gearbox. Trim levels: Classic, Comfort, Style.
Alternative cars
Daihatsu Sirion Roomy and affordable but a little rougher around the edges
Kia Picanto Inexpensive small car with a competitive warranty
Suzuki Splash Impressive spec and compact dimensions
Volkswagen Fox Big inside but three-door only