Renault Laguna Coupe GT 3.0 V6 dCi 235 FAP
October 2008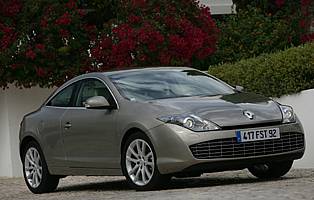 The front end is clearly of Renault stock
Ratings
Overall rating
Value for money
Costs
Space and practicality
Controls and display
Comfort
Car security
Car safety
Likes
Highly attractive styling
Impressive in-gear acceleration
Great handling and cornering stability
Spacious cabin
Gripes
Interior less executive than competitors
Rear looks a little ungainly without diffuser
Auto box less useful for exploiting performance
Four seater only
The trend towards executive coupe versions of D-segment saloon and hatchback models is gathering steam in Europe, and Renault has joined the party with a Coupe model built on its Laguna platform. With a strikingly beautiful design and some technical innovations on offer, it's set to appeal to a growing market of image conscious execs.
Boasting both form and functionality, the executive coupe is a growing sub-sector in the D-Segment. Unlike their more traditionally styled saloon, estate or even hatchback equivalents the Coupe variants tend to be sleek and elegant models aimed at the style conscious driver who wants a practical but attractive vehicle. Renault has built arguably one of the most attractive in the Laguna Coupe, sticking closely to the design concept that attracted much attention at motor shows around Europe.
In order to appeal to its target market the Laguna Coupe features a host of executive toys as well as a highly attractive exterior. A one-touch stop-start button is among the revisions made to appease the demanding customer base, along with Bluetooth phone integration as standard and aluminium interior trim. The option of a premium sound system from Bose is another indication that Renault expects the Laguna Coupe to increase its standing with premium car buyers.
Although the Laguna Coupe will come to the UK market with a choice of four engines - two diesel, two petrol - it's the arrival of the new 3.0-litre V6 diesel unit shortly after that's expected to create the most interest. The high power unit has a tremendous amount of low-down torque making it a formidable tourer.
Renault's 4Control four-wheel steer chassis is also worthy of note. Standard on the upper of the two trim levels, GT, the system uses an electronically controlled actuator to adjust the angle of the rear wheels to improve manoeuvrability at low speed and handling at high speed.
Our verdict on the Renault Laguna Coupe GT 3.0 V6 dCi 235 FAP
As pleasurable to drive as it is to look at, the Laguna Coupe is a well judged entry into the D-segment coupe market. Undercutting many of its rivals in price but offering a very respectable package in terms of performance, styling, equipment and refinement it will appeal to many. The less than premium badge may stand against it, but the car is capable of raising Renault's stock among executive car drivers.
Costs

Running costs should not be anything unusual for a car in the Laguna Coupe's sector. The diesel engine is more economical than its petrol equivalent and the model range significantly undercuts some of its competitors in terms of purchase price.
Space and practicality

Occupants are limited by the seating arrangements to four, but they won't be short of leg, head or elbowroom. The front caters for the executive with storage for glasses, cards and coins. The boot is also of a good size with room for two sets of clubs and the rear seats fold flat automatically for carrying longer items.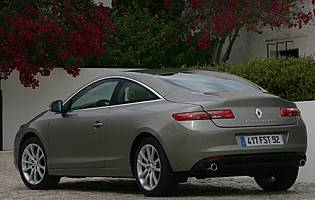 The rear end owes more to Aston Martin
Controls and display

The Laguna Coupe shares a basic control layout with the rest of the Laguna range, meaning it's functional and familiar. Audio controls mounted behind, rather than on, the steering wheel are easier to use and the central location of the navigation controls is also different but effective. The heating controls can be a little fiddly to operate as there are no knobs, only buttons, but the dials are sensible and easy to read.
Comfort

A refined and relaxing vehicle to drive and be driven in, the Laguna Coupe benefits from excellent soundproofing that keeps road and engine noise at bay, as well as a slippery shape to reduce wind noise. The ride is, for the most part, excellent, but can pick up deviations in the road surface and translate them into choppiness. The interior is snug but not cramped with plenty of light ingress and the seats are well sculpted and supportive.
Car security

Using Renault's hands free card the Laguna Coupe requires no conventional key but naturally has remote central locking. RAID anti-intruder device is standard and the model comes with an alarm and immobiliser.
Car safety

Safety is a Renault speciality and the Laguna Coupe doesn't disappoint with a full ESP programme and copious airbags. The 4Control system on the GT adds an additional element of safety with confident and stable handling and seats feature an anti crush feature to protect belongings and feet.
Driver appeal

With huge torque reserves at very low rpm the V6 diesel powered Laguna Coupe offers swift but relaxing progress when combined with the standard automatic gearbox. In GT form the model also benefits from Renault's 4Control four-wheel steer chassis which not only makes the car more manoeuvrable at low speed but also makes it extremely stable when cornering and braking and allows the car to change direction with minimal exertion for the driver or stress on the occupants. With power available so low down in the rev range the car runs through the gears quickly, meaning the transmission can be a little slow to react when driving in a spirited fashion. However, for long distance cruising it's an accomplished machine and surges quickly for overtaking.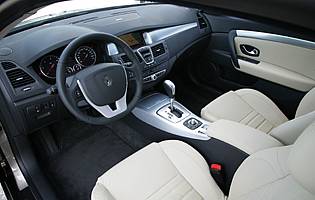 Interiors are neatly trimmed
Family car appeal

The Laguna Coupe is restricted in terms of family appeal by its seating and door layout. For families with two older children it may suit, but families with younger children may find the hatchback or estate better suited to their needs.
First car appeal

The Laguna Coupe is unlikely to fall within the budget of many young drivers and, although very easy to drive, is aimed at the more mature driver with greater experience behind the wheel.
Quality and image

A reputation for less than admirable build quality and reliability has been dealt a solid blow in recent years by a succession of much improved products. The Laguna Coupe builds on the handsome platform of the hatchback to offer a highly attractive car with a sleek and desirable shape. Remarkably similar to the concept car on which it was based, the Laguna Coupe will certainly boast plenty of kerb appeal.
Accessibility

Naturally, the two-door layout makes the Laguna Coupe less accessible than its four-door equivalent but the long doors, easily moved front seats and curvy roof line that bulges above the cabin makes the rear fairly easy to access. The boot door has also been carefully designed to offer decent access and lifts to an impressive angle that makes it less likely for the door to get in the way.
Stereo and ICE (In car entertainment)
For the top-of-the-line GT models, Renault has pulled out all of the stops in working with sound experts Bose to create an optional ten-speaker sound system with first class reproduction. A choice of two sat-nav systems is also available. The basic package is still reasonable though, with Bluetooth connectivity, and MP3 input and audio controls duplicated behind the steering wheel.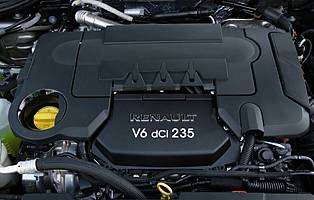 High power diesel engine is a big bonus
Colours and trim
Eight colours are available for the Laguna Coupe, the majority of which are metallic in keeping with the model's executive styling. Inside, there's aluminium trim to compliment the contoured design and neat details such as the curvaceous door handles. Some of the detailing is less impressive, however, such as the ungainly auto gear selector and centre divide that would have benefited from being one-piece. For the exterior a sports kit is optional, but benefits the car a great deal.
Parking
Rear parking sensors are standard, with the option of front sensors on the GT model. Visibility is about average for a coupe model, with blind spots at the rear, but the long rear screen and wrap-around side windows mean these are smaller than they might have been. Renault's 4Control four-wheel steer system makes the car highly manoeuvrable at low speed and lessens the steering lock required for sharp turns - a big help when parking.
Spare wheel
Steel spare with Coupe, tyre inflation kit with Coupe GT.
Range information
Petrol engine options - 2.0-litre (205bhp); 3.5-litre (240bhp). Diesel engine options - 2.0-litre (150bhp); 2.0-litre (180bhp); 3.0-litre (235bhp). Transmission options: six-speed manual gearbox, six-speed automatic gearbox with manual override. Trim levels: Coupe, Coupe GT.
Alternative cars
Peugeot 407 Coupe Equally good looking and silky to drive
Alfa Romeo Brera Beautiful to look at but expensive
Audi A5 Sleek and well equipped but pricey
BMW 3 Series Coupe Less attractive but great to drive
Over 1,200 more car reviews online
All the reports since 1990 are available on this site, just search by make and model below.
Other products & services
Related information
October 2008