Volkswagen Polo 1.4 TSI GTI Review
Successfully mixes fun with functionality
April 2011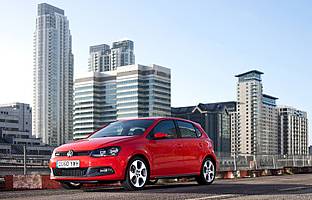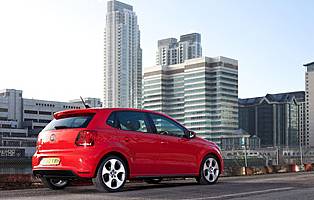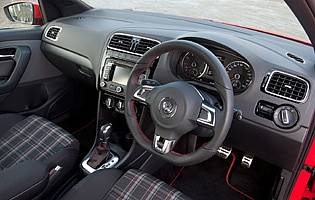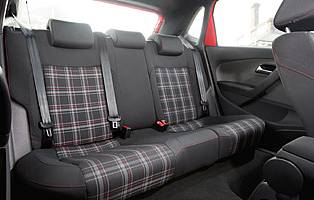 Overall rating

Likes:
Responsive and efficient 1.4-litre engine
Good space in the cabin and boot for a car of its small size
Solid but nimble-feeling chassis - should please keen drivers
Sure footed and safe - standard features include stability control and an electronic differential lock
Gripes:
Only available with a semi-auto DSG gearbox
Could be considered quite pricey for a car of its size
Cabin build quality could be better and feel more expensive
The gearbox's sports mode does little to enhance the driving experience
Faster, cleaner and sharper than its predecessor, this generation of Polo GTI promises to be great to drive and manages to successfully mix fun with frugality and functionality. More grown up and mature in its styling than most rivals, Volkswagen's aim has been to broaden the car's appeal beyond that of the traditional hot hatch buyer.

Changes to this performance Polo over the previous model include a supercharged and turbocharged 1.4 TSI petrol engine and the relocation of the battery from the engine bay to the boot to improve weight distribution. Away from the mechanical changes, this Polo follows the general trend for growing in all the important dimensions.

The Polo GTI boasts a sporty stance and comes with a pair of chrome-tipped exhausts and 17-inch alloy wheels. From the outside it's easy to see that the Polo has inherited a lot of its styling from its bigger brother the Golf GTI, with its honeycomb grill, checked seats and red brake calipers.

Volkswagen's baby hot hatch also shares the same dynamics and practicality as its older sibling. New springs and dampers sharpen responses and give the GTI a 15mm lower ride height than the conventional Polo. Greater grip is assured in all conditions thanks to its sophisticated traction control system.

Mechanically there are significant changes too with a better braking system and suspension revisions. What really deserves praise is the car's turbocharged and supercharged 177bhp 1.4 TSI engine. This little four cylinder engine feels like a much bigger unit than it is. In a nod to the greater focus on green issues, this Polo GTI is 25 per cent more fuel efficient than the model it replaces.


Our verdict on the Volkswagen Polo 1.4 TSI GTI
Volkswagen's Polo GTI is built to please enthusiastic drivers who want to downsize without sacrificing performance. It could have been more daring with its looks to set it aside from its Golf GTI sibling, but improvements under the skin have made this performance Polo feel like a proper GTI, while its chuckable character makes it a lot of fun to drive.