March 2012
Vauxhall Zafira Tourer 1.4T SE
Smooth and streamlined exterior styling is part of Vauxhall's move upmarket
March 2012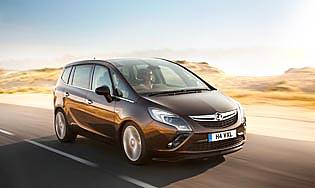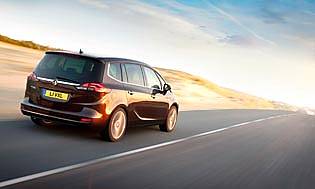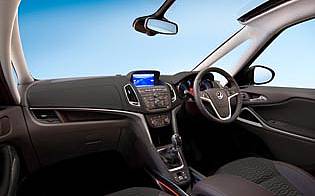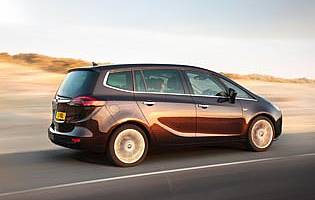 Overall rating

Likes:
New appearance is streamlined and implies a premium look and feel
Cabin flexibility remains a strong attribute
Driving experience is surprisingly car like
Engine downsize programme appears to work
Gripes:
Some optional extras can prove costly
Badge snobs will still turn to the Zafira's German rivals
Don't expect the downsized engines to transform the car into a hot hatch
Sliding rear doors would boost the car's versatility
As a brand Vauxhall has slowly but steadily aimed its sights higher in the marketplace. It may still be a volume car maker, but it wishes to be seen as a maker of more upmarket vehicles through improvements to cabin ambience and the driving experience. This Zafira Tourer promises a more polished take on the hugely popular MPV.
With an exterior that's clearly been influenced by the Ampera hybrid vehicle, the addition of 'Tourer' to the Zafira name promises to lift this compact people carrier above the many in the marketplace that offer five seats and not much else. Borrowing heavily from the Insignia and Astra ranges, this Zafira Tourer boasts a much improved and more premium feel to its cabin.
It's no longer a compact MPV, either. Vauxhall has stretched the car's wheelbase by almost 60mm, which has resulted in some useful extra room for rear seat passengers plus some welcome extra breathing space for those in the car's third row of seats. A full seven seater, this Zafira's cabin retains Vauxhall's innovative Flex7 folding system in an improved form. Also, an optional Lounge Seating function allows occupants to convert the middle second row seat into an oversize divider.
While the car has grown in size its engine line-up has shrunk as Vauxhall bids to reduce fuel consumption and emissions. Petrol power will likely appeal most to urban dwellers, and it's here that small capacity turbo motors will have to prove their worth. Vauxhall's 1.4-litre unit is a prime example of the company's desire to offer a good balance of performance and economy for those can't make diesel add up financially.
One sum that does add up is the seven-into-one trick. So many MPVs large and small claim to accommodate seven people but only a few manage this successfully. The Zafira Tourer is one of those thanks mainly to its clever seating system and, crucially, the spacious cabin. Yes the car is now big enough to be compared to the likes of Ford's successful S-Max, but it remains an agile and engaging car to drive.
Our verdict on the Vauxhall Zafira Tourer 1.4T SE
Moving up a class hasn't harmed the Zafira Tourer's day-to-day appeal one bit. Its cabin might be a little more upmarket but the end result remains a functional and comfortable living space for up to seven people large and small. Its Ampera-inspired streamlined exterior compliments its smooth and refined on-road manner, too.
Costs
With a more generously equipped and technologically advanced engine line-up, you can expect to pay that bit more for the Zafira Tourer. That said, being a Vauxhall, running costs should be manageable, and if you pick the right engine for your needs there shouldn't be any scary moments at the pumps.
Space and practicality
The Zafira's trademark Flex7 seating arrangement has been retained and improved to meet the challenges of increasingly demanding families. It's an easy system to use, and does much to boost the cabin's versatility. The same is true of the optional Lounge Seating facility, which allows you to transform the centre middle row seat into a divider, creating a more upmarket seating arrangement. Oddment storage in the cabin is generous, and there's potential for the car to grow and adapt as your brood matures.
Controls and display
The Zafira Tourer's interior has an upmarket feel, with soft-touch plastics and gently-damped controls. A multifunction steering wheel allows control of the stereo and infotainment functions without the need to take your hands off the wheel, while ventilation controls are simple to use. The central display screen is mounted high up in the facia, making it easy to read without taking your eyes off the road, although the various menus could be more intuitive.
Comfort
With the car's longer wheelbase comes a little more space, which means occupants in the first two rows will struggle to find fault with their accommodation. It's a little cosy in the third row, but this should be viewed more as occasional seating. On the move, wind and tyre noise is minimal.
Car security
Like the rest of its competitors, the Zafira Tourer boasts the usual remote central locking and immobilisor combination, which is as good as it gets unless your willing to pay extra for a fancy alarm or tracking device. At the rear the car's load cover looks sturdy enough to deter casual thieves.
Car safety
Being a family-friendly car, there's no shortage of airbags and associated electronic safety devices for added peace of mind. Isofix mounting points are present, along with a seat occupancy detection system so you can tell who is and isn't buckled up.
Driver appeal
With its hybrid platform plus a mix of Astra and Insignia components, the Zafira Tourer delivers a surprisingly polished drive despite its size. NO MPV will ever topple a conventional family hatchback, but the Zafira doesn't disgrace itself when you travel on a twisty road. The engine line-up is also impressive, with downsized, lower capacity turbocharged petrol motors likely to appeal to urban dwellers and familiar diesel units promising a good mix of refinement and economy.
Family car appeal
This is where the car should excel, and few cars can rival the Zafira for family-friendliness. While it's true that seven-member families are fairly rare, it's common for families to share school run duties. In this context the Zafira offers plenty of space in the cabin and the load area. The cabin materials a re a little more upmarket than before, which might count against it if you're concerned about damage.
First car appeal
First time buyers are unlikely to find the Zafira Tourer appealing when there's the likes of the Corsa or Astra to choose from, however if carrying several passengers is a priority the Zafira is an easy car to drive.
Quality and image
Slowly but steadily moving up the perceived quality ladder with the likes of the Insignia and Astra, Vauxhall's Zafira Tourer is another car offering a well built cabin and polished driving dynamics. Predictably, badge snobs will still likely opt for something sporting a German badge, despite the quality gap narrowing in recent years.
Accessibility
With the increase in appearance of sliding doors on such cars, it's a shame such a feature is missing on the Zafira Tourer. That said, park sensibly and the car's conventional doors don't have to be that much of a problem, and for the vast majority access is fine both on the front and the back. At the rear the Zafira's large tailgate does require a firm pull to close though.
Stereo and ICE (In car entertainment)
Located high up in the car's fascia is a large information screen capable of displaying audio, ventilation and, when fitted, sat-nav information. Sound quality is good but the controls and various menus could be a lot more intuitive. On a positive not, along with Bluetooth and MP3 player connectivity, where fitted, Vauxhall's decision to offer DAB radio is a welcome one.
Colours and trim
In a bid to boost the car's profile, Vauxhall makes the Zafira Tourer available with a wide choice of exterior colours. Luckily for the car's streamlined shape, both bold and somber hues work well. Inside it's a different matter; the largely dark cabin ambience dominates despite the odd flash of bright trim.
Parking
The Zafira Tourer hides its extra length over the regular Zafira well and the car's light and accurate power steering does much to help when it comes to squeezing into tight spaces. The car's lofty driving position helps with all-round visibility, too. Where fitted, parking sensors are a welcome addition.
Spare wheel
Tyre repair kit located under boot floor.
Range information
Petrol engine options - 1.4-litre turbo (140bhp); 1.8-litre (140bhp). Diesel engine options - 2.0-litre (110bhp, 130bhp, 165bhp). Transmission options: five and six-speed manual plus six-speed auto gearbox depending on engine choice. Trim levels: ES, Exclusiv, SRi, SE, Elite,
Alternative cars
Ford S-Max Masterclass in interior packaging and benchmark for on road driving manners
Renault Grand Scenic Spacious cabin is welcome but can match the S-Max for driving appeal
Mazda5 Good all-rounder is let down by average quality interior
Volkswagen Touran Solid and safe and reliable but visually the least exciting one here