Vauxhall Astra Exclusiv Ecoflex 5-door review
Attractive exterior styling
January 2011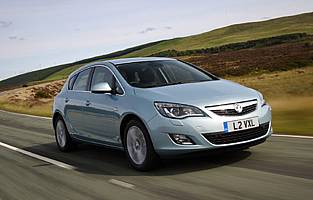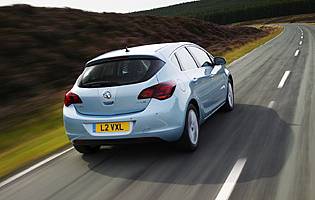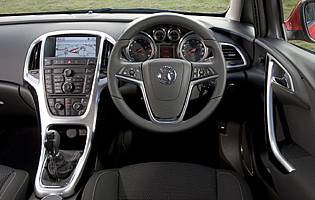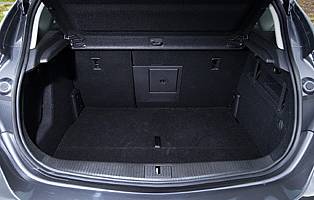 Overall rating

Likes:
Attractive exterior styling
Upmarket interior feel
Decent fuel economy
Competitive ride and handling
Gripes:
Performance sacrificed in favour of economy
Engine noise can permeate cabin
Lack of trip computer is an oversight
Emissions perhaps not low enough
The compact family hatchback Vauxhall Astra is traditionally one of the UK's most popular cars and the new version has made a strong impression since its arrival, returning to its traditional place at or very near the top of the sales charts. The Ecoflex version aims to boost the appeal further with improved fuel economy.
Along with its policy of downsizing engines in favour of smaller capacity turbocharged variants, Vauxhall has been exercising its desire for more economical models through the Ecoflex range. The latest generation Astra has come in for the Ecoflex treatment like the model before it, with a series of revisions designed to improve fuel economy, lessen emissions and reduce running costs.
The Astra Ecoflex model is available across Vauxhall's range of trim levels and uses a 1.3-litre turbocharged diesel engine with 95bhp. Mapped to offer greater efficiency, the engine drives through a five-speed manual transmission with lengthened ratios. In the manner of most eco-focussed models the suspension has also been slightly lowered to improve aerodynamic efficiency and air intakes modified. Low rolling resistance tyres are also employed as is an adjustable flap behind the radiator grille.
Notably, the standard Ecoflex model is not equipped with stop-start technology, although a version that does feature the equipment is available for a premium. Although returning slightly improved fuel consumption, the stop-start Ecoflex does not lessen the Astra's tax liability, although it does offer increased refinement at rest.
As a modified version of the standard Astra package, the Ecoflex model boasts the same contemporary exterior and interior styling and equipment. The Exclusiv trim level includes some neat interior touches such as chrome finished knobs and mood lighting alongside electric front windows and mirrors. The five-door hatchback format is practical and family-friendly, too.
Our verdict on the Vauxhall Astra Exclusiv Ecoflex 5-door
Although slightly lacking in performance compared to some of its eco-specialist rivals, the Astra Ecoflex variant offers a very reasonable rate of return on fuel alongside practicality, comfort and style that competes with the class leaders. There are more economical and faster eco-hatchbacks available, but the Astra is still a competitive all-round package.


Costs
The core appeal of the Astra Ecoflex variants is saving in terms of running costs, and impressive real world fuel economy ought to make this highly achievable. There is of course, a premium to be paid for the Ecoflex variant, although not as much of a premium as for the stop-start equipped version despite them being in the same tax bracket, making the 'standard' Ecoflex model ripe for consideration. Vauxhall's 100,000 mile lifetime warranty also potentially reduces cost of ownership.


Space and practicality
As a compact family car there are enough cabin storage areas for the usual assortment of drinks, mobile phones, maps and other related clutter. Occupant space is also good both fore and aft while the Astra's boot is a good size and should easily swallow the weekly shop or luggage for a holiday. Fold the rear seats forward and there's enough room for bulkier items.


Controls and display
In the main the Astra's controls and displays are excellent. The car's main dials are clear and intuitive, the gearshift and steering slick and communicative respectively. However, at first glance the car's main fascia appears to be a little button-heavy. Over time the various functions become more familiar but there are better solutions out there. Where sat-nav is specified, the night-time screen is almost distractingly bright and, for an eco-focussed car, the lack of trip computer with fuel usage data seems an oversight.


Comfort
With its supportive front seats and adjustable driving position, those in the front should have no need to complain. Wind-up rear windows are a bit of a let down but do save weight and therefore fuel. The engine can be gruff, however, and noise does penetrate the cabin under acceleration. The ride quality is very good, with the slightly lowered suspension continuing to cope well with rough road surfaces.


Car security
Remote central locking via the key fob is expected in this sector and an immobiliser is also fitted. There's no alarm, however. Covered storage in the cabin is adequate and items in the boot are concealed by a sturdy parcel shelf.


Car safety
The Astra comes equipped with ESP as standard and also features driver and front passenger airbags, active-safety front seat head restraints and daytime running lights for extra visibility. A strong safety cell design is also present.


Driver appeal
With a focus on economy, driving appeal has suffered somewhat in the Astra Exclusiv Ecoflex model. At the core is a confidently handling platform, but the 1.3-litre diesel unit offers limited performance and needs to be pushed quite hard to make progress. It's a competent cruiser once up to speed however and is stable and predictable when cornering. Steering feedback is positive and the driving position is good.


Family car appeal
Vauxhall offers an excellent range of family oriented vehicles including the Zafira and smart new Meriva, but the Astra still manages to score highly on family appeal thanks to its ease of use and, in Ecoflex form, family-friendly running costs. Reasonably practical and with five-doors for good access, it's a strong contender for those not requiring MPV capability.


First car appeal
In Ecoflex form the Astra makes a sensible choice, but its price premium may push it out of the range of younger drivers. The smaller Corsa may prove a more affordable choice.


Quality and image
In terms of quality, the Astra performs well. The build is robust and the finishing neat, with good quality materials used throughout the cabin. The Vauxhall badge does not hold quite the same appeal as that of a more exclusive manufacturer, but a modern range of stylish cars has helped in this area.


Accessibility
In five-door hatch form the Astra presents no problems for front seat occupants. The slightly raised seating position is a welcome bonus, while those in the back don't suffer the same hardship as some rivals - access and egress is surprisingly good. At the back, the car's tailgate proves easy to raise and lower.


Stereo and ICE (In car entertainment)
The standard offering delivers a solid performance. Its centrally located display screen is most useful, although the many buttons can prove a little confusing at first. Thankfully the steering wheel mounted controls are more intuitive at first glance. Various inputs (MP3 player, iPod, Bluetooth phone) are available depending on the model, as is an easy to use sat-nav system.


Colours and trim
The contemporary exterior design is not too harshly affected by colour choice and looks good across Vauxhall's range of paint shades - particularly in solid colours such as red, white and black. Interiors are dark but not excessively gloomy. The Exclusiv Ecoflex model comes with steel wheels as standard but alloy wheel upgrades are available.


Parking
Being a car of a moderate size parking shouldn't cause any problems - even for novice drivers. The Astra's steering is pleasingly light at low speeds and all-round visibility is surprisingly good for a car with sizeable window pillars. Parking sensors are not present as standard on the Exclusiv Ecoflex model, but are not missed.


Spare wheel
Spare wheel fitted as standard.


Range information
Petrol engine options - 1.4-litre (87, 100, 140bhp); 1.6-litre (115, 180bhp); 1.8-litre (140bhp). Diesel engine options - 1.3-litre (95bhp); 1.7-litre (110, 125bhp); 2.0-litre (160bhp). Transmission options: five-speed manual gearbox, six-speed manual gearbox. Six-speed automatic gearbox. Trim levels: Expression, ES Exclusiv, SRi, SE, Elite (Ecoflex variants available).