April 2004
Suzuki Grand Vitara XL-7 2.0-litre TD
New styling has improved the Suzuki's looks
April 2004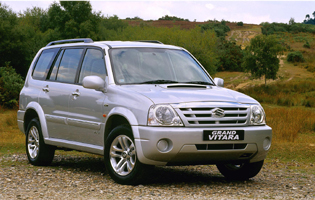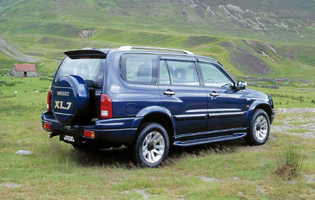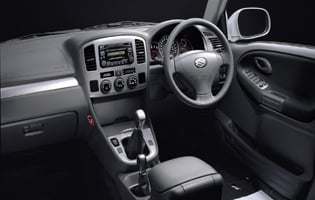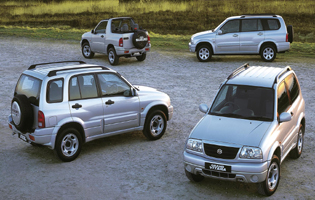 Overall rating

Likes:
An elevated driving position affords good visibility
Well-appointed dashboard is easy to use
Updated front end looks modern and stylish
Boot space is ample with rearmost seats folded down
Gripes:
Economy appearance of many interior fabrics spoils feel
Diesel engine is extremely vocal both at idle and on the move
Notchy gear change and bulbous gear knob devalue driving experience
Lack of front seat adjustability can lead to discomfort on long trips
Soft-roaders' are becoming increasingly popular among family motorists thanks to their practicality and perceived robustness. Suzuki's seven-seater version of the Grand Vitara, the XL-7, is one of the only grass 'n' gravel models to feature an MPV-like seating plan, but are these extra seats usable or are they largely for show, as with so many so called 'seven-seaters'?
Suzuki has been producing small, affordable 4x4s for what seems like forever. The SJ 410 and 413 of the 1980s and 90s were capable little machines, and the Japanese company has carried the philosophy used to create them over to the latest generation of Grand Vitara.
With the XL-7, Suzuki has gone one (well, two actually) better than its main rivals such as the Nissan X-Trail, Honda CR-V and Land Rover Freelander. The Vitara's increased seating capacity is likely to tempt those buyers caught in two minds as to whether to go for an MPV or a 4x4.
Not as car-like on the road as the CR-V or Freelander, the XL-7 does behave in a reasonably civilised manner for a car of this size, whilst at the same time trouncing much of the competition in the rough stuff. The diesel engine is reliable and economical, but despite many attempts at sound deadening in and around the cabin, there remains a large volume of aural intrusion from beneath the bonnet.
The biggest mountain that the XL-7 has to climb is a metaphorical one. The lack of an image and the perceived lack of quality generated by the Suzuki badge makes it all the more difficult for the Japanese offering to challenge the reputation of the Land Rover or the funky styling of the Honda. Can its honest, functional looks and sound build quality chip away at the more established models' success? Will people see beyond the middle of the road image and judge the XL-7 on merit?
Our verdict on the Suzuki Grand Vitara XL-7 2.0-litre TD
As an alternative to similarly priced European and fellow Far Eastern models the XL-7 offers good value for money and levels of reliability. However, the sixth and seventh seats aren't practical for adult passengers and the diesel engine is noisy.
Costs
Purchase costs for the XL-7 fall somewhere in between the competition. Good levels of fuel economy from the 2.0-litre turbo diesel engine and affordable servicing costs should mean that it is reasonably cheap to run. An insurance grouping of 13 will also mean relatively cheap cover for the over 25s.
Space and practicality
As a five seater the XL-7 is almost beyond comparison. Passengers are afforded oodles of head and legroom and there is more than enough room for luggage or shopping atop the folded down rear bench. If a significant spending spree in your local flat-pack furniture store is in the offing, then the second bench can be folded flat freeing up an impressive 1,492 litres of space. However, with all seven seats in place the boot space is reduced dramatically with anything more than a single suitcase or golf bag likely to pose serious problems.
Controls and display
The main fascia instrument panel is neatly laid out in a common sense, no frills manner. Three overlapping chrome-effect dials sit in the instrument binnacle staring at the driver through the three-spoke steering wheel. The dials are illuminated with a white hue at night, which has a calming influence on the interior. All the dials and the knobs for the air conditioning are rotational and nicely weighted making them child's play to get to grips with.
Comfort
There is plenty of head and legroom for the front five passengers, but this isn't the case for anyone sitting on the rear bench. They may have been your friends when they sat down, but after any more than a few minutes that will most definitely change. The driver's seat isn't particularly adjustable and the cushioning is a little rigid, this means that on long journeys outbreaks of 'numb bum' syndrome are common.
Car security
Remote control central locking and an immobiliser are fitted as standard with an alarm remaining a dealer fitted cost option. For all intents and purposes these provisions should be more than enough, as the XL-7 isn't likely to be high up the wish list of joy riders or car thieves.
Car safety
The Suzuki has a solid, robust feel to it. Twin front airbags, ABS and seat belt pre-tensioners are all included as part of the car's standard safety package. However, extra side and curtain airbags aren't even on the options list. The likes of stability and traction controls also fail to make the list, but the Vitara's permanent four-wheel drive should make it a sure-footed machine.
Driver appeal
While the Vitara is reasonably car-like and civilised on the road, it is never going to appeal to enthusiastic drivers. Understandable amounts of body roll and corner wallow remind occupants they are indeed travelling in a 4x4. The diesel offers enough torque (215lb/ft) to make overtaking and motorway manoeuvring distinctly possible, but the XL-7 is no performance car and over enthusiastic drivers could easily find themselves caught out. Should you ever feel the need to venture off-road, the Suzuki will not let you down. Give the Himalayan trek a miss, but muddy fields and dirt tracks will pose no problems.
Family car appeal
This is likely to be the Suzuki's most captive audience. Five of the seats are big enough to comfortably accommodate large children or adults with the two at the back fit only for smaller children. In reality, the most likely scenario is that only the front five seats will be inhabited, with the back used as stowage space for shopping and the like.
First car appeal
The phrase 'not applicable' springs to mind here. This isn't a car for the young, free or the single. It is too big and lacks any sort of street cred whatsoever. Driving it around town isn't terribly easy and group thirteen insurance for anyone under the age of 21 is going to be a bit steep.
Quality and image
Suzuki suffers slightly from the lack of a discernable image. It isn't that they are perceived as being bad, far from it in fact; the Japanese firm has a reputation for reliability and sound construction. But its products are somewhat 'middle of the road,' with conservative styling and budget interior materials doing little to carve out a discernable persona. This lack of image and pretence will likely appeal to the more unassuming motorist, but conversely, will leave many feeling as though their money would have been better spent elsewhere.
Accessibility
Despite the Vitara's elevated road position, gaining access to the first and second row of seats is fairly simple and dignified. Things do get slightly more challenging when the rear bench has to be utilised, though. The second row can be folded forward to allow people to climb over, but for the elderly or immobile this will be all but impossible. A large rear door opening and low floor level make it easy to load and unload stuff into the XL-7's boot.
Stereo and ICE (In car entertainment)
The Suzuki comes with a front loading CD player as standard, which produces a fairly high quality sound up to a point, but there after the four speakers begin to sound slightly tinny and struggle to drown out the noise from the diesel engine. Its RDS radio holds a strong signal and the rotational controls are well weighted and easy to fathom.
Colours and trim
There are no varying trim levels to choose from in either the diesel or V6 petrol models and leather isn't even an option. The fabric used on the seats appears hardwearing, but feels like flannel to the touch. Much of the fascia's plastic appears to from the budget end of the scale and several of the moving parts are slightly flimsy. However, to Suzuki's credit it did avoid falling into the trap that dogs so many European manufacturers: using leather-effect plastic on the dashboard and doors.
Parking
As with all vehicles of this size and length, parking in tight, confined spaces is an arduous task. However, plenty of glass all around, an elevated seating position and optional parking sensors make things a little easier. The XL-7's turning circle leaves much to desired, though, and you may often find yourself taking two or three attempts at one parking manoeuvre.
Spare wheel
Full sized spare wheel mounted on rear door.
Range information
Grand Vitara XL-7 comes with either a 2.0-litre turbo diesel (107bhp) or 2.7-litre, 24-valve V6 petrol (270bhp) engine. Latter available with either five-speed manual or automatic gearbox, whereas former only comes with a five-speed manual transmission.
Alternative cars
Land Rover Freelander Classy British soft-roader is a very popular choice
Toyota RAV4 Japanese grass 'n' graveller is fun to drive and practical
Nissan X-Trail Not as good looking as some competitors, but is better off-road
Honda CR-V Modern looking pseudo-off-roader is perfectly suited to city life