October 2006
Subaru Legacy Sports Tourer 3.0R spec B
Beefy-looking exterior helps the Legacy stand out
October 2006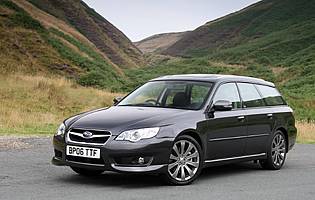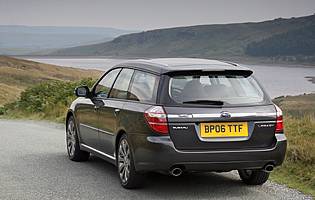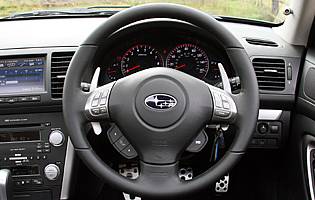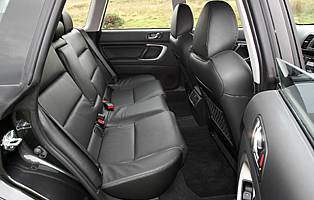 Overall rating

Likes:
Unusual engine layout makes for an unusual but enjoyable driving experience
All-wheel drive makes Legacy a great all-weather family holdall
Interior quality much improved
Distinctive exterior helps it stand out
Gripes:
No diesel option will put off some buyers
Driven enthusiastically, fuel economy will be disappointing
Residual performance and image lags behind German rivals
Emissions levels not tax or company car friendly
It's taken a while for Subaru's Legacy to come of age. But at last it has done so, thanks in part to a welcome boost in cabin quality and performance. This latest model is among the very best cars on the road today, although its maker's subtle approach has ensured that few people know it.
In saloon form the latter-day Legacy makes a decent fist of being a driver-oriented executive car, and the Outback variant offers considerable off-road potential, but it's the Sports Wagon estate model that maximises the vehicle's appeal.
An unexpected bonus is the Legacy's hugely impressive standard of interior fit and finish. It wasn't always like this, but the car now feels like the best-built Subaru ever. Even small details such as the damping of switchgear, the colour matching of different materials or the tactile nature of most surfaces seem to have had thought and effort put into them. This is the result of a gradual improvement process, and ties in with the firm's tweaking of the car's exterior.
Throughout the range, drivers get Subaru's trademark all-wheel-drive system. The recent rise of the sports-oriented estate or 'sportswagon' has meant that the modest Legacy's time has finally come. This concept is further enhanced by the 3.0R variant, complete with rally car-style gearchange paddles for its auto gearbox and dial that allows you to alter the engine's performance characteristics.
Driving thrills aside, the Sports Tourer's huge boot barely seems to make any difference to the Legacy's handling characteristics. Driving the Sports Tourer is tremendous fun, sometimes bordering on the comical - large load luggers aren't really supposed to give the driver a huge grin, are they?
Our verdict on the Subaru Legacy Sports Tourer 3.0R spec B
The Legacy's Achilles' heel is the lack of a diesel option to give it wider appeal. With nothing on the immediate horizon, the car looks destined to remain an undiscovered gem as far as the general public is concerned. It's probably one of the most underrated cars in the marketplace and worthy of comparison with premium petrol estates from the likes of Audi, Volvo and Honda.
Costs
Subaru servicing costs aren't the cheapest, but the marque has a good reputation for building cars that can clock up huge mileages and run for years without requiring major rebuilds. Fuel costs are likely to be higher than average, especially if you push the 3.0R hard, while the relatively high carbon dioxide ratings hurt the Legacy's credentials as a business car.
Space and practicality
It's hard to fault the Legacy Sports Tourer. Passenger accommodation is extremely generous, and this goes for rear seat occupants, too. The car's load bay is particularly good - it's flat, wide and the rear seats can fold to make the available space even larger. Inside, there are enough storage areas to keep a family happy.
Controls and display
It's all simple, clear stuff here - but that's not a criticism. The Legacy's conventional and intuitive layout is rather refreshing. The brittle-feeling plastics around the stereo console have been banished to the bin, although the dial to change the engine's behaviour does stand out as being a little tacky.
Comfort
All seating positions are comfortable, with the overtly sporting variants boasting even more supportive seats. The rear chairs feel particularly spacious thanks to the airy cabin ambience. Other notable features include adjustable shoulder anchorages for the seat belts, climate control and a general absence of engine and road noise when cruising. Sadly, the steering wheel adjusts only for rake, not reach.
Car security
Deadlocks, keyless entry and shielded door locks are all fitted as standard. So is a Thatcham Category 1 alarm package. Given the desirable nature of Subaru's products - even the slow ones - it would be wise to consider fitting a tracking device.
Car safety
Standard safety equipment includes driver and passenger dual-stage airbags, side airbags, Isofix rear child mounts and a cargo security cover. ABS with EBD is included on all models to back up the already impressive levels of grip from the four-wheel drive system.
Driver appeal
Subarus always feel special because of their all-wheel-drive grip and unusual engine configurations, and the flagship 3.0R is no exception. The very fact that the engine encourages you to work it hard enhances the experience. The three-position dial used to change the engine's character is a little gimmicky, as there's nothing wrong with doing it yourself with your right foot. The Legacy's direct personality does mean you lose a little refinement over coarse road surfaces, otherwise it's up their with offerings from Audi and the like.
Family car appeal
There's loads of space, and the Sports Tourer feels robust enough to absorb the punishment dished out by an active family. A good safety package adds to its appeal, even before factoring in four-wheel drive. The car's spacious boot should be able to swallow anything thrown its way, although the leather upholstery would need to be carefully monitored when small children and pets are onboard.
First car appeal
Unless you've passed your test and go marching to a dealer with a pile of cash, the Legacy won't be a good choice. Expensive to run and insure, this potent model will better overlooked for something cheaper. It's very easy to drive though, which won't help to convince an enthusiastic novice to look the other way.
Quality and image
Quality is high and much better than previous generations, but the Legacy's image remains frustratingly low in a crowded market dominated by German offerings. This car deserves to be spoken of in the same breath as the Volvo V70 and Audi A4 Avant, but is still more likely to draw comparisons with the Vauxhall Vectra and Mazda 6.
Accessibility
Previous Subarus have sometimes been ergonomically 'under-designed' as if the company had spent all its efforts on the oily bits. It's easy to concentrate too much on the engineering side, but the basics are also worthy of note: easy access to the front cabin and little in the way of compromise when accessing or exiting the rear. At the back, the car's substantial tailgate proves no hardship to open or close.
Stereo and ICE (In car entertainment)
Subaru includes an impressive-looking radio/CD player as standard, even on entry-level models. Some controls are a little fiddly, but steering wheel mounted controls are also present. Nevertheless it provides good enough sound quality for all but the most demanding audiophile. Satellite navigation is an option.
Colours and trim
Generally, dark colours flatter the Legacy's curvaceous body better than light hues, and promote an upmarket, almost Germanic look. Inside, considerable strides have been to boost quality levels, and it appears to have worked.
Parking
Practice makes perfect with the Tourer, as the car's rear bumper is a long way from the driver. At least rearward visibility is good, and the steering lightens up helpfully. Forward visibility is better, and can be improved with the height adjustable driver's seat.
Spare wheel
Space saver fitted as standard.
Range information
Petrol engines: 2.0 (165bhp); 3.0 (245bhp). Trim levels: R, REn, R spec B (3.0-litre only). Five speed manual transmission on 2.0-litre cars (four-speed auto optional). 3.0-litre cars come with five-speed auto as standard.
Alternative cars
Vauxhall Vectra Estate Capable conventional estate but unremarkable in this company
Audi A4 Avant Can be expensive but is available with four-wheel drive
Volvo V70 Similarly-sized and boasts a better image, but is getting on a bit
Honda Accord Tourer High-quality Japanese alternative. No all-wheel drive but does come with a diesel option