October 2004
Subaru Impreza WRX STi Type-UK
The unmistakable look of Subaru's Impreza
October 2004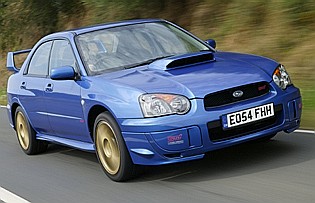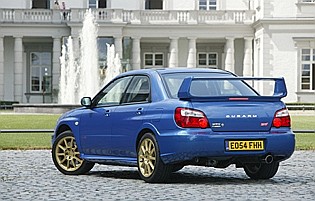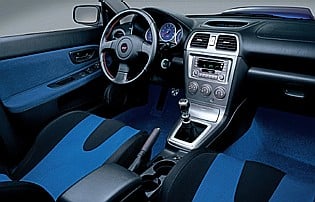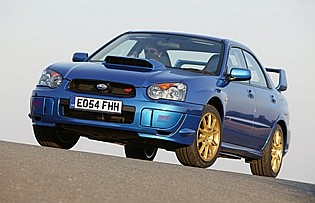 Overall rating

Likes:
Supercar performance at a fraction of the cost
Despite Impreza's prodigious power, it makes a sensible everyday car
Subaru's well-deserved reliability reputation shouldn't be ignored
Subtle improvements in cabin quality are welcome
Gripes:
Car demands serious respect and is not for novice drivers
Extrovert styling can attract unwanted attention on the road
Although a four-door saloon, room in the back is modest at best
Racing-style front seats won't suit those with a fuller figure
For a long time the car to have if you wanted supercar-baiting performance on the cheap. In recent years Subaru's Impreza has had to fend off a determined attack from Mitsubishi's Lancer. Over the years the different Lancer incarnations have become noticeably more outrageous in terms of both styling and performance, leaving the Impreza trailing behind. Subaru's 2005 model year revisions have closed the gap considerably.
Subaru's Impreza has come a long way from the days when it was viewed as a performance oddity among the ranks of hot hatches that defined the meaning of 'affordable performance'. Despite offering a generous slug of power and, more importantly, previously unheard of levels of grip for sensible money, the car's styling and cabin did little to attract buyers in big numbers.
Subaru persevered and in time attracted a loyal following who were able to see past the car's iffy cabin plastics and appreciate its rally-honed dynamics. Recent years have seen the car's exterior become more extrovert and horsepower figures rise to new heights. What hasn't risen substantially is the car's price, which remains something of a bargain when you consider what's being offered.
Four-wheel drive, a responsive turbo motor producing over 200bhp and tuneable to 300-plus and secure but entertaining handling for the price of a top-spec Ford Mondeo is a formula that has ensured a growing number of buyers of late.
The only fly in the Impreza's ointment has been Mitsubishi's Lancer - itself a four-door saloon rally replica. Unlike the Impreza's conservative visuals, the Lancer is the more extrovert looking of the pair and as such has attracted a younger buyer profile.
Subaru's (slightly) more mature approach to performance motoring has given the Impreza a noticeably more forgiving ride than that of the Lancer, and the ability to drive through town without feeling that every 12 year old boy is staring at you with a deep-seated envy. That said, Subaru's flagship STi variant is no slouch and is capable of giving traditional supercar drivers a serious fright - especially in the wet. The 2005 model year revisions have brought the car closer in terms of outright performance to the Lancer, but the Impreza is less of a point-and-squirt machine than the Mitsubishi.
Our verdict on the Subaru Impreza WRX STi Type-UK
The thoroughly revised WRX and STi Imprezas can hold their collective heads high in the face of Mitsubishi's Lancer. Power isn't everything, though, and while the Impreza STi boasts serious horsepower it is also an exceptionally easy car to drive day-to-day. If you had to choose one car for the commute to work and B-road blasts, the high-strung Lancer wouldn't be it. As an all-rounder the Impreza is miles ahead of the competition.
Costs
Make no mistake, the Impreza - in high performance WRX and STi spec - is not a cheap car to run. Used as its maker intended, it's a thirsty beast - especially when run on a diet of super unleaded petrol. Add the car's predictably high insurance loading, regular servicing intervals and the inevitable tyre and brake pad changes and you're going to need a few bob to run the car properly. This is partly offset by the Impreza's modest purchase price, but there's no escaping the fact that, long term, the Impreza demands a firm financial commitment. If you want the look but not the risk (or the performance) there's always the firm's more wallet-friendly GX model.
Space and practicality
Far from being a one trick wonder, the Impreza is a practical saloon. The car's reasonable boot should swallow the weekly shop with ease and the odd trip to the hardware store. Storage space inside the cabin is modest, but no less than you'd expect for a car that's hardly aimed at growing families. Up front two adults will have no problems getting comfortable - figure hugging seats notwithstanding. Rear accommodation is less generous but hardly in the same league as BMW's uncompromising Mini.
Controls and display
What you need is where you'd expect it in the Impreza, which is just as well when you're 'making progress' or having fun at a track day. The car's dials are conventional and clear, and the important bits (steering, gearshift and pedals) are light and easy to operate - although they all offer plenty of feedback where it counts.
Comfort
For a car boasting supercar baiting performance and enough horsepower to satisfy even the most demanding of drivers, driving the enhanced WRX and STi Imprezas at a fraction of their potential doesn't mean that fillings will be dislodged and bones shaken. Unlike the less subtle Lancer, the Impreza's ride is firm but compliant. The STi's seats might not appeal to those of a fuller figure, though, as their rally replica shape grips all too well in all the important places. Seats aside, the driving position is easy to adjust, but does favour drivers who are average or below average height.
Car security
Subaru should be commended for taking security seriously, given the obvious attractiveness of its products. Apart from the usual remote central locking and locking wheel nuts for the alloy wheels, the STi model gets a satellite tracking system to compliment the car's Thatcham category one immobiliser and alarm.
Car safety
The Impreza's potential to go quickly demands that the car has good brakes and, fortunately, it does - especially in STi trim. The car's ABS and electronic brakeforce distribution systems also works well, while on the passive safety front there are front and side airbags and Isofix mounting points in the rear seats.
Driver appeal
Put simply, the Impreza - in WRX, but especially in STi trim - flatters average drivers and will impress those who know how to handle cars of this calibre. It may be easy to park around town, but the flagship STi also has the potential to embarrass supercars costing close to six figures. Power deliver is almost relentless once the car's turbo has spooled up and the steering is akin to that of a go kart - direct, full of feedback and short of lock. The ride is firm but more compliant than a Mitsubishi's, and brakes are more than adequate and full of feel. Chances are, your limits will be reached long before that of the Impreza's. Grip is plentiful in the dry, but the car displays a more frisky edge in the wet, illustrating the fact that its four-wheel drive system functions to enhance performance - not turn it into a super-secure family saloon.
Family car appeal
The Impreza's got four doors and a reasonable boot, so why not consider it as a family motor? In truth, the rear seats are more child than adult-friendly but there are more pros than cons when recommending an Impreza. What you won't get are the cupholders and cavernous cubbyholes that are present in regular hatches and midi-people carriers. While the Impreza is definitely a car for grown-ups, there's no need to dump your go-faster toy in favour of something more practical until the little darlings start complaining about the lack of rear legroom.
First car appeal
Unless you're considering the firm's modest GX variant the general consensus is don't! Too much power and too little experience can make for a dangerous combination. When even experienced drivers express their surprise at the Impreza's abilities it's time to pick something a little less potent - even if you could afford the astronomical insurance premium.
Quality and image
Subaru's image as a purveyor of fast, rally replicas is one that has been carefully groomed for over a decade. The cars attract both young and old buyers, although the former are likely to be disproportionately cash rich and less subtle when showing what their pride and joy is capable of. Most of the behaviour is good natured and tied to a healthy interest in motorsport - especially rallying. Curiously, Subaru's quality attributes are split; mechanically it can do no wrong and routinely tops reliability surveys, while cabin quality has been the company's stumbling block. The latest generation cars have rectified this matter, and the Impreza's cabin is much improved and should finally silence the critics.
Accessibility
There are no complaints on the accessibility front, assuming you're willing to put up with the STi's oversize rally replica front seats, as reaching for the seatbelt requires a greater than average stretch rearward. That aside, the racy Impreza variants pose few problems and the car's boot aperture is a reasonable size. Rear seat occupants get a rough deal, though, as access could be better.
Stereo and ICE (In car entertainment)
You won't find any fancy multimedia solutions as standard in the Impreza. After all, this is a car built for driving. However, what you do get is a perfectly usable CD/radio combo that pumps out a decent sound for when you want to take it easy. Anyone seeking more noise or satellite navigation can choose from a comprehensive range of aftermarket units.
Colours and trim
When considering a car sporting gold wheels and a substantial rear wing, picking holes in its colour scheme somehow seems a trivial exercise. And so it is with the Impreza STi. Blue - as in the Subaru rally team's now infamous livery - seems the most appropriate colour for the Impreza, a fact supported by the countless variants suitably painted already in circulation. Inside, an environment once the butt of many jokes is now much improved. It still doesn't match a Volkswagen, but the extra cloth on the doors and better fascia plastic now make the Impreza feel more like its asking price.
Parking
As compact saloons go, the Impreza is no different from any of its rivals. The car's steering doesn't require a super-human effort and visibility is good. Despite the car's prodigious power, modulating the throttle at low speeds is easy. Only the presence of the STi's sizable rear wing forces you to take it easy when reversing while, like so many all-wheel drive cars, the Impreza's turning circle could be better. Blame the combination of all those driveshafts and the car's sizeable performance tyres for that minor hiccup.
Spare wheel
Full size spare fitted as standard.
Range information
Three engine options - 2.0-litre (125PS) petrol; 2.0-litre (225PS) turbo petrol; 2.0-litre (265PS) turbo petrol. Five-speed manual gearbox standard on GX and WRX, STi gains six-speed gearbox. Trim/performance designators are GX, WRX and WRX STi Type-UK.
Alternative cars
Mitsubishi Lancer Evolution VIII FQ-340 Supercar quick but difficult to drive slowly - not an everyday car
Audi S4 Rapid Audi is impressive, but lacks driver involvement and is pricey
Mercedes C55 AMG Rear-drive Merc sounds great and is no slouch but focuses more on refinement - costly, too
MG ZT 260 Brit rear-driver is great fun, but more hooligan than finely honed B-road missile