May 2004
SsangYong Rexton 270 Xdi
SsangYong's Rexton offers lots of car for not much cash
May 2004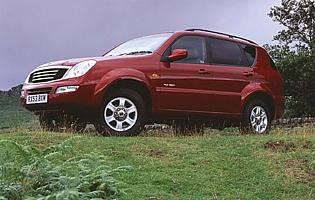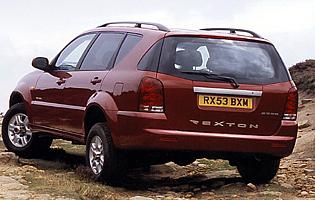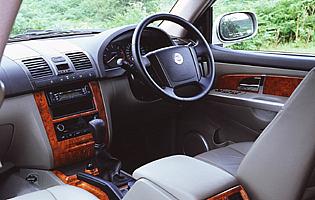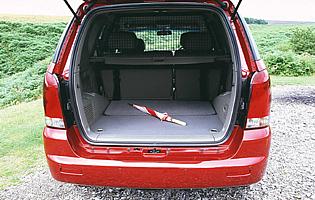 Overall rating

Likes:
Five-speed auto gearbox is one of best around
2.7 turbodiesel feels like it will run and run
Good quality leather interior as standard
Massive load area with rear seats folded
Gripes:
Low-slung rear differential impairs off-road ability
Simply too big for general use about town
Steering feels too light and imprecise
Some flimsy cabin plastics spoil generally good interior
SsangYong may not be the most familiar manufacturer to British motorists, but thanks to the Rexton, the South Korean company is sure to get noticed - not least because this 4x4 is one of the most imposing vehicles on our roads. Dwarfing even other off-roaders, it is not a car for people who like to stay in the background. The Rexton isn't just for show, though. Explore what lies behind the hulking exterior and some pleasant surprises await.
Many of those surprises come wrapped up in a Mercedes-shaped parcel. Both the 2.7-litre turbodiesel engine and the superb 5-speed T-Tronic automatic are sourced from Mercedes. They provide a suitably strong starting point around which SsangYong attaches a capable 4x4 drivetrain with high and low ratio gear settings, a huge hoard of standard equipment and capacious carrying capabilities.
In short, the Rexton offers an awful lot of metal for the money. Happily, it's not a lot of awful metal, for this is a very capable conveyance particularly suited to towing duties. Indeed, anyone who owns a horsebox, caravan or boat trailer is at the top of SsangYong's list of potential buyers.
The Rexton's appeal is by no means unique. The Kia Sorento and Hyundai Terracan offer marginally superior off-road performance owing to their greater ground clearance, but neither of them can match the Rexton's road presence, auto gearbox or kit list - how many other off-roaders boast a full leather interior, climate control with air purifier and 16-inch alloy wheels even on entry-level models yet look down on a BMW X5 - in physical terms at least.
Some of the Rexton's strengths also give rise to its weaknesses. It is simply too large to cope easily with city streets. Finding a parking bay for such a monster is like trying to find the elephant's graveyard. Steering is too light for British tastes and with four-wheel-drive selected, fuel consumption rises alarmingly (in two-wheel-drive mode it is respectable). The relative anonymity of the badge may allow the Rexton to sell at a bargain price but it also robs it of the cachet that many 4x4 buyers are looking for. It's ironic that many Mercedes M-Class owners will turn their noses up at the Rexton; unaware that beneath the rhinoceros exterior is a very capable beast.
Our verdict on the SsangYong Rexton 270 Xdi
As a niche product, the Rexton should prove a success. It is well made, fully equipped and unusual enough to turn heads. The country set will warm to it as a part-time workhorse and part-time people carrier but buyers looking for a basic, no-frills off-roader or premium, all-frills posewagon will look elsewhere. Buy one and you'll certainly be noticed.
Costs
Insurance banding is competitive, presumably because in a collision anything short of a Sherman tank will come off far worse. Joking aside, the Rexton is surprisingly affordable and it bucks the usual trend by having its best engine - the 2.7 - as the smallest in its range. Fuel economy of around 30mpg is respectable in its market segment and the underlying mechanicals feel solid. Despite the expected positive noises from SsangYong, it's likely that the lack of a premium badge will cause second-hand values to be weak when it is time to sell.
Space and practicality
The Rexton has so much space, you might expect to see planets orbiting inside. High, wide and even fairly handsome, and with huge windows, it has one of the least claustrophobic cabins of any car on the road today. With rear seats still in place, there is a large load area. Fold them down and there is genuine pickup or van-rivalling capacity available, certainly enough for a few bales of hay or crates of farm-grown produce.
Controls and display
Potential buyers expecting cheap, flimsy switchgear and crude dial design are in for a pleasant surprise. Though hardly a match for the Range Rovers and Touaregs of the world, the Rexton's controls are clear and even a little sporty. Even the fake wooden surround of the central console isn't as offensive as it might have been. Some of the positioning of the switchgear is slightly awkward - it is easy to inadvertently press buttons or nudge stalks while turning the wheel - but to expect the faultless clarity of a Volvo XC90 would be asking too much at this price.
Comfort
Powered seat adjustment with memory is only available as part of an optional accessory pack, so is probably unnecessary unless the driver of the vehicle will frequently change. It's not difficult to get comfortable behind the wheel and the view from the control seat is amazing. You'll find yourself privy to a whole new world as you peer over walls and hedges that previously blocked the view. Seats are firm - a good thing - and with space so liberally available in all directions, claustrophobia will not be a pressing concern.
Car security
All Rextons have Category One alarm/immobiliser, visible VIN, locking wheel nuts, and window etching - more than some rivals can boast. There's also the fact that it is an extremely noticeable and unusual vehicle, making it an unsuitable target for thieves looking to give it a new identity.
Car safety
Driver, passenger and side airbags are fitted to all models - not bad at all at this price. Another important safety feature is ABS with ESP. Such a large, heavy vehicle generates tremendous momentum so needs an accomplished braking system. The Rexton has one.
Driver appeal
Off-road, the Rexton cuts a decent dash though it exhibits less ground clearance than might be expected because of a protruding rear differential and should steer clear of rocky ruts. On road it is happiest wafting along motorways. When corners are called for it is weakest, with a tendency to roll. That's hardly surprising given its tall sides. In all conditions, the steering feels too light, delivering very little in the way of feedback to the driver. Be warned that activating the low ratio gearbox setting may help you reach inaccessible peaks but it will also cause the fuel tank to empty with alarming speed.
Family car appeal
A country-dwelling family could welcome a Rexton into their lives with open arms. Like a pony, provided you've got enough space available, it should prove to be one of the more enjoyable aspects of country life. Dividing its time between load-lugging, towing and people-carrying duties, the Rexton can turn its hand to pretty much anything and is tough enough to resist the heavy usage associated with family vehicles. Kids are likely to enjoy the elevated view, too.
First car appeal
A SsangYong Rexton is just about as far from an ideal first car as it's possible to imagine. Big, powerful and requiring a high level of competence and confidence from the driver, it's a complete non-starter. On a slightly different note, it might make a reasonable vehicle in which to take some off-road driving lessons from a qualified instructor. It's a useful skill to have even if you never leave tarmac.
Quality and image
One of the most surprising things about the Rexton is that it feels very well constructed. Often Far Eastern offerings with one eye on the American SUV market produce the worst of both worlds - a vehicle with low build quality and appalling driving dynamics. This is not true of the Rexton. Perhaps it's down to the Mercedes elements, but it feels far classier than it has any right to.
Accessibility
Doors are wide-opening and the prospect of the spacious interior almost lures passengers inside. Many people will struggle with the significant step up required to 'mount' the Rexton. Naturally, the step down again is equally vertiginous. The rear door is easy to open if rather heavy and gives access to a veritable warehouse of potential storage space. A separately opening tailgate glass section is an optional extra but is so high up it is probably surplus to most people's requirements.
Stereo and ICE (In car entertainment)
To its credit, SsangYong does fit a CD radio to the Rexton when some makers persist with the next-to-useless cassette player. Sourced from an external supplier, it does not match the rest of the cabin. It is also difficult to operate with numerous small buttons. Sound quality isn't bad (one can almost hear an echo from the rear window) but anyone serious about his or her music will have a bespoke system fitted. Satellite navigation is a cost option
Colours and trim
The Rexton range is split between S (290 model only), SE and SX trim levels. Additionally, vehicles can be specified to seat seven rather than five. The list of optional extras is short but tempting, featuring items such as privacy glass, dual air conditioning and an electric sliding sunroof with integral blind. Leather is standard on SE and SX models. The 290 is only offered in S trim which means cloth seats. All other models come with a hugely impressive list of standard equipment. With a black paint job, the Rexton looks very 'mean' indeed.
Parking
The Rexton can accomplish many tasks with ease, but parking is not one of them. Despite the elevated driving position it is extremely difficult to judge where the car begins and ends. With practice, this becomes marginally easier, but such a huge machine really needs parking sensors, which are certainly a worthwhile item to tick on the options list. If you have a large driveway, you'll be fine. If not, you'll spend all night going round the block looking for a suitable space. Steering is light but the long wheelbase means a vacant space can rarely be bagged at the first attempt.
Spare wheel
This is a proper 4x4 so forget about weedy space savers or cans of repair mousse. A full-size alloy spare is slung under the Rexton's ample rear. Nothing else would safely take such a huge weight and the demands of all-wheel drive.
Range information
Three different engines are available: 2.7 diesel (163bhp), 2.9 diesel (116bhp) and 3.2 petrol (214bhp). Only the 2.7-litre diesels have the option of the five-speed Mercedes T-Tronic automatic which is strongly recommended. They are also vastly more powerful than the larger 2.9, which lacks the strength needed to shift such a sizeable chariot.
Alternative cars
Kia Sorento Looks stylish and modern, great off-road
Hyundai Terracan Big, basic and beefy with unbeatable warranty
Nissan Patrol GR Dated but still marvellous at mud-plugging
Jeep Grand Cherokee Similar looks to Rexton, poor on road