June 2010
Saab 9-5 9-5 Vector SE 2.0 TiD saloon
Bold styling signals an equally bold return to form from Saab
June 2010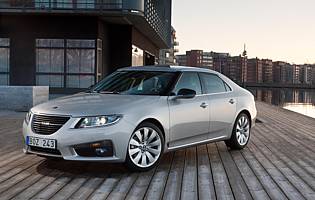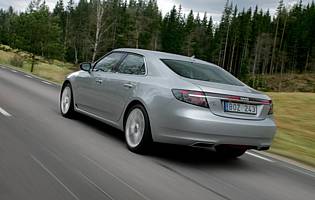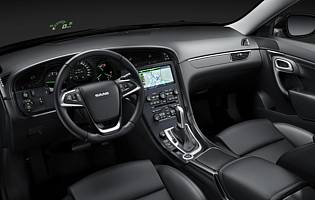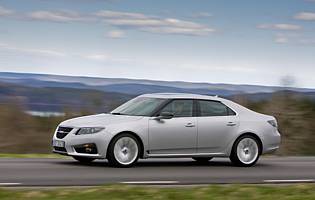 Overall rating

Likes:
Styling typically Saab but updated for the modern era
Comfortable seats are a Saab trademark
Cabin space is first rate - especially rear legroom
Sensible pricing for the mainstream variants should help its sales performance
Gripes:
Simple styling could be viewed as bland by uncharitable critics
Can't match the likes of BMW's 5 Series or Jaguar's XF for sporting character
Clutter-free cabin is welcome but quality of materials chosen could have been better
Auto gearbox option could be more responsive - does little for CO2 performance, too
Marketing research conducted by Saab suggests that its fans and buyers are the most loyal in the business. In recent years they've had to be, what with a lack of genuinely new product from the Swedish car maker in recent years. Along with a change of ownership from General Motors to Dutch firm Spyker, the new model situation has finally changed - the firm's latest 9-5 is the first all new car for over a decade.
Keen to keep the family resemblance of old but move the brand forward and tempt new, younger buyers into the Saab fold, this 9-5 remains a large, bold car. Visually it retains many of the older car's design cues, while it's also grown in size to attract owners of larger and expensive premium cars.
Although free from the shackles of GM, Saab's development of the 9-5 embraced a lot of its old parent's technology. The 9-5's chassis, suspension, engine range and electrics share more than a passing relationship with that of, say Vauxhall's Insignia.
The Swedish firm is keen to stress that much work has gone into making the 9-5 behave as much like a traditional Saab as possible. By and large the hype matches the reality. Not only is the 9-5 bigger than its Vauxhall cousin (the 9-5 straddles the class lines between BMW's 5 and 7 Series), but it also drives with a relaxed demeanor that will be familiar to fans of the previous generation car.
Obviously it's more polished than something a decade and a half old. The petrol and diesel engines are cleaner and more powerful, the cabin is a faithful update of the old 9-5's quirky styling while even without the optional all-wheel drive system the big car is surprisingly agile at speed.
Our verdict on the Saab 9-5 9-5 Vector SE 2.0 TiD saloon
With its bold exterior styling and larger dimensions, Saab has opted for a sideways approach to penetrating the German-dominated executive car class. It figures that if you can't beat the Germans head-on, offer buyers something different. The 9-5 is certainly different, but it's also a rounded and competent car striking a sensible balance between agility and ride comfort. It's also well equipped and available with some sensible engine options.
Costs
For many prospective buyers the entry-level diesel variant will be the default choice. Boasting good fuel economy and emissions numbers, it will make the most sense financially. Competitively priced and well equipped, you'd have to spend more on rival cars for the same experience.
Space and practicality
A big saloon, the 9-5 boasts an exceptionally accommodating cabin. There's plenty of room fore and aft for occupants, plus a decent amount of oddment storage space. At the rear, the car's boot is deep and wide, and there's no annoying load lip to make life difficult.
Controls and display
Always a reassuring element of any Saab, the 9-5 continues the company's trend of offering clear and easy to use controls and displays. The fascia-mounted colour touch screen is a joy to use, while the 'Black Panel' function, which knocks out all but essential information (speedometer) is great for night driving. A new electric parking brake reduces centre console clutter, but the manual gearshift could be more precise.
Comfort
Saab is well known for its plush, supportive seats and this 9-5 continues the trend. Noticeably more supportive than many rival offerings, you feel refreshed and stress-free after a long drive. Exterior sounds - tyre, wind, road - are well suppressed, adding to the car's refined ambience.
Car security
Aside from the usual elements - remote central locking and an immobiliser package - the 9-5 is just like any other car in its class. Keyless ignition is a standard feature, and this can be enhanced with the inclusion of full keyless door access.
Car safety
There's nothing extraordinary to report here, as the 9-5 shares a lot of technology with cars from the Vauxhall and Opel stables. There's a full array of airbags and electronic stability controls to assist you before, during and after a 'moment' on the road. Saab's in-house developed all-wheel drive system does add an extra layer of security - it's intelligent enough to quickly shift power to where it's needed. Alas, it's not offered on the likely best selling diesel variant.
Driver appeal
Less sporting than a 5 Series but more refined and plush than a harder-riding Audi A6, the 9-5 strikes a mature balance between outright performance and luxury. In truth, and in the more popular Vector SE diesel specification, the softer riding Saab copes well with gently undulating roads but lacks the finesse to challenge sportier rivals on genuinely challenging roads. Saab's clever all-wheel drive system works well and adds a welcome extra level of stability.
Family car appeal
With a premium people carrier or sports utility vehicle offering a greater level of space and flexibility, cars like the 9-5 understandably take a back seat. In principle the car would cope well with an undemanding family; it's a roomy car with a big boot and plenty of storage space. In reality the plush upholstery and fixed seating might prove to be limiting factors.
First car appeal
It's unlikely that someone would actively choose the 9-5 as their first car; it's big and would prove costly for a novice to run. It is, however, easy to drive, making it one of the least intimidating of the large executive saloons if you found yourself behind the wheel.
Quality and image
Having enjoyed something of a cult following for many years, the recent lack of new product and low production volumes haven't helped the car maker's image in the eyes of the general public. This 9-5 shows signs of changing this situation, although on a practical level cabin quality has been and remains one crucial step behind the likes of BMW, Audi and Mercedes.
Accessibility
With its generous dimensions it's unlikely that anyone will have a major problem here. Even rear seat occupants are treated well, with the car's above average wheelbase ensuring that there's plenty of legroom once you've navigated the equally generous rear door aperture. The low load lip for the boot opening is also welcome.
Stereo and ICE (In car entertainment)
Dominating the car's central fascia is an extra large (five inch) colour display, which acts as the main focus for controlling ventilation and audio functions. When the sat-nav function is added, the large map and touch screen control puts many rival systems to shame. And with iPod integration, Bluetooth connectivity, rear seat screens and the ability to play multiple sources through wireless headphones all possible, this system is truly flexible.
Colours and trim
With its fuss-free sheet metal, lighter colours work best as darker hues tend to hide the few details present in the 9-5's exterior. In keeping with so many German rivals, the big Saab's cabin is a dark, somber environment. The large swaths of black plastic reinforce the business-like ambience.
Parking
With its parking sensors the 9-5 is no more difficult to park and maneuver than your average family saloon. The light yet accurate steering helps, as do the good-size door mirrors. Rear three-quarter vision when reversing is also acceptable.
Spare wheel
A tyre inflation kit is fitted as standard.
Range information
Petrol engine options - 1.6-litre turbo (180bhp); 2.0-litre turbo (220bhp); 2.8-litre V6 turbo (300bhp). Diesel engine options - 2.0-litre (160bhp, 190bhp). Transmission options: six-speed manual and six-speed auto gearbox depending on model. Trim levels: Vector SE, Aero.
Alternative cars
Mercedes-Benz E-Class Rounded performance boasts rakish looks - proof that Mercedes is back on top form
Skoda Superb Low cost rival is spacious, well built, good to drive and affordable
BMW 5 Series More sporting than rivals, and more costly when extras are added, but remains a popular choice
Jaguar XF Much talked about, highly competent and stylish alternative