June 2014
Renault Clio Renaultsport GT-Line 120 EDC
Bold redesign is boosted by Renaultsport-like style cues
June 2014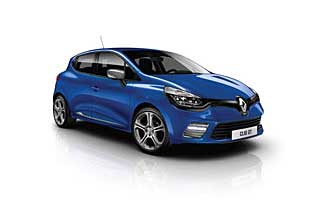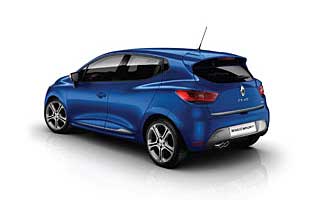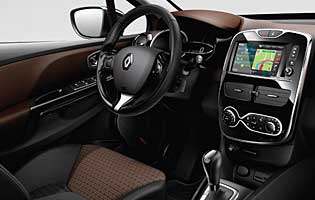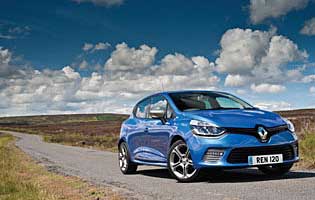 Overall rating

Likes:
Bold exterior redesign is a success
Cabin is easy to use and practical
Turbo engine and semi auto gearbox work well together
Generous levels of standard kit offered
Gripes:
Some hard plastics remain in the cabin
Five-door only bodystyle might disappoint some
Sat-nav function could be more responsive
Standard fit semi auto gearbox not devoid of some niggling quirks
A bold visual refresh was what Renault's Clio needed to re-establish its place in the supermini marketplace, and that's exactly what it got. Factor in the some vibrant colours and generous levels of standard kit and the popular French hatch is back in the game. And if the flagship Renaultsport variant is too hot for your liking, the 'warm' GT-Line car promises a more rounded and affordable performance proposition.
The name might be the same but the gradual evolution of Renault's Clio continues as the French car maker seeks to remain at the top of buyers' shopping lists. As is the case elsewhere in the supermini sector, the Clio has grown slightly and the overall quality ambience has improved significantly.
And as interest in its hot Renaultsport variant also grows, the desire to produce a less focused but no less entertaining model also proved strong. In GT-Line guise Renault hopes it has struck a solid balance between affordability and driver enjoyment.
The GT-Line's 1.2-litre petrol turbo motor might be 80 horsepower shy of the full-on Renaultsport's 200 horsepower tally, but for drivers seeking a rounded car for everyday duties it should prove ample in the real world. A technology transfer from the flagship Clio has resulted in the two cars sharing Renault's new six-speed semi auto direct shift gearbox, though.
What the GT-Line Clio might lacks in terms of outright speed it ably makes up for in terms of the tactile experience. The chunky gearchange paddleshifters, supportive sports seats and purposeful stance ensure that your getting most of the positives with few of the hardcore performance trade-offs.
Our verdict on the Renault Clio Renaultsport GT-Line 120 EDC
If you're seeking most of the thrills of hot hatch motoring but are keen to dodgy the costly downsides such as the running costs, Renault's 'warm' Clio GT-Line might be a worthy candidate. Boasting lower limits to compliment its modest power output, this son of Renaultsport Clio delivers a solid all-round performance with just enough sparkle to please budget-minded keen drivers.
Costs
Don't expect rock bottom running costs from the GT-Line Clio - it's a sporty car that begs to be driven hard and its fuel consumption will reflect this if you're a keen driver. Insurance is another overhead that's likely to be a little higher than average, but unlikely to rival that of the flagship Renaultsport variant. Well equipped on paper, you do get a lot for your money, though.
Space and practicality
The Clio makes the most of its dimensions, which are big for the class, and this translates into decent cabin space. Front seat occupants will have no concerns while those in the rear can enjoy good space for the class - even adults should feel at home in the back. The boot is also generous and oddment storage space in the cabin is well thought out.
Controls and display
From the driver's seat the Clio has a pleasing layout with all the controls logically placed. Renault's trademark steering wheel controls and the supplementary stereo column stalk are welcome additions. For most people the main point of contact will be the central touchscreen, which although clear and intuitive, can prove a little slow to respond at times - especially when in navigation mode.
Comfort
The Clio is quiet for a car in this segment with very little wind, engine or road noise at sensible speeds. This contributes greatly to comfort levels as does the ride quality, which is of a very good standard given the car's sporting pretensions. Seat comfort is also good, both for front and rear passengers, as the chairs offer plenty of support.
Car security
Remote deadlocking and an alarm, as well as useful features such as automatic door locking when the vehicle is on the move, certainly help. Renault's famous 'keycard' remote fob and ignition 'key' allows for keyless entry and push button start - negating the need to fumble around in the dark for a conventional key.
Car safety
The Clio offers a high standard of safety. Naturally ABS is standard, alongside a full compliment of airbags on all versions. Active head restraints have also been included, while the car's stability control system is effective yet shouldn't spoil a keen driver's fun in the right environment.
Driver appeal
In GT-Line trim the car might be a step below the full-blown Renaultsport variant but you can still have plenty of fun. The modest power output is no barrier to excitement, while the ride treads a fine line between being sporty and comfortable. The semi-auto gearbox is an acquired taste; don't rush it when in manual mode and can prove to be a co-operative force when pressing on.
Family car appeal
Smaller families will find the Clio well suited to everyday use. In default five-door guise there is enough rear seat space and boot room for most journeys. Don't expect the GT-Line variant to be as affordable as a regular petrol or diesel model, though. And the ride might be too firm for routine city motoring.
First car appeal
First time car buyers are a big market for the Clio and many will be attracted to its broad range of abilities. They might want to pass on the sporty GT-Line car though and concentrate on a variant with less power and more affordable running costs.
Quality and image
Renault has maintained a good standard of quality with the Clio. The exterior has a solid appearance and inside most of the surfaces feel of good quality and well constructed - much better than in past years.
Accessibility
This generation of Clio is five-door only and access to the cabin requires little effort. The doors front and rear have a wide opening for easy access and, even in the rear, the footwell is generous and the roofline is high enough to avoid contact with the head. Access to the boot is also straightforward with a wide tailgate and modest load lip.
Stereo and ICE (In car entertainment)
Sound quality is good, largely because the Clio is very quiet at speed. The audio unit is easy to operate as most functions are accessed through the car's touchscreen, although this is boosted by the excellent controls repeated on a column stalk.
Colours and trim
Vibrant colour choices mark the Clio out as one of the more stylish superminis on the market. The car's interior is no less bold in execution, quality levels are good and the various trim accents do much to boost the ambience.
Parking
A large glass area is a factor in making the Clio easy to park. The steep rear window makes it simple to judge where the rear of the car is. Light steering and well-placed door mirrors also contribute to the experience.
Spare wheel
Space saver spare fitted beneath boot floor.
Range information
Petrol engine options - 0.9-litre (90bhp); 1.2-litre (75bhp, 120bhp); 2.0-litre (200bhp). Diesel engine options - 1.5-litre (90bhp). Transmission options: five-speed manual gearbox, six-speed semi automatic gearbox. Trim levels: Expression, Expression+, Dynamique Media Nav, Dynamique Media Nav S, Renaultsport GT-Line, Renaultsport.
Alternative cars
Ford Fiesta Popular choice for its looks and driving pleasure
Volkswagen Polo Offers usual high-quality experience but not the most engaging car on the road
Vauxhall Corsa All-rounder offers good specification and value but is showing its age
Peugeot 208 Considerably better than its predecessors and a competent all-rounder