September 2007
Peugeot 308 SE HDi 110 5dr
The Peugeot family resemblance is obvious from the front
September 2007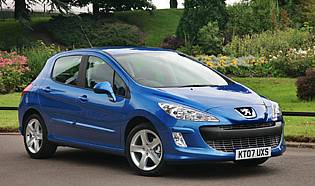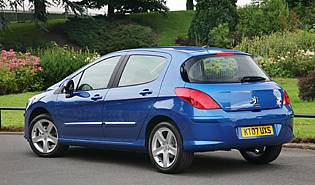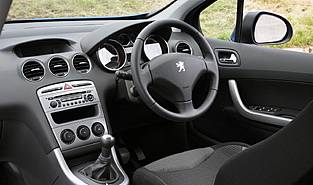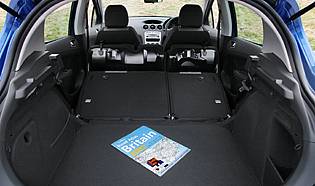 Overall rating

Likes:
Better exterior design than its predecessor - much nicer to look at
Cabin and overall build quality much improved
Diesel options make a lot of sense
Good standard of equipment and cabin comfort
Gripes:
Still some niggling issues with cabin ergonomics
Two different nose design treatments a little unnecessary
Not a dynamic match for Ford's Focus
High loading lip can impact on boot practicality
After a few years playing the conservative game, Peugeot has again found some of the magic that propelled it to the front of keen drivers' shopping lists. The French company's 308 displays a more eager personality and entertaining demeanour than its predecessor, which should please the Peugeot faithful.
Any similarities with Peugeot's 207 are anything but a coincidence when looking at the 308. The family resemblance is striking, and with the 308 sporting two subtly different noses depending on trim level, Peugeot's big to make the car look and feel special appears to have paid off.
The 308 also feels more special thanks to Peugeot's efforts in the quality department. There's a noticeable improvement all-round in the cabin, from the main plastics used to the plush feel of the seats.
Fit and finish is also much improved, and bodes well for the car's long term reliability - not something that could have been said about the 307. In fact, the 308 is a huge step forward in every direction, and this is perfectly demonstrated by the way the car drives.
The 307 caused a lot of disappointment amongst Peugeot faithful; it wasn't exactly the car keen drivers had hoped for. Granted it felt safe and secure, but it was rarely fun. The 308 displays a lot of the sparkle that made the 306 a fun car, although it's bigger and unquestionably feels more mature.
Our verdict on the Peugeot 308 SE HDi 110 5dr
Peugeot fans can breathe a sigh of relief with the 308; it's actually a fun and rewarding car to drive. What's also a pleasant surprise is the build quality, which is streets ahead of its predecessor and good enough to rival some cars from the class above. Factor in a good range of engines and a generous and thoughtful list of equipment, and the 308 is a car that puts Peugeot back on track.
Costs
Priced to compete aggressively with the likes of Ford's Focus and Vauxhall's Astra, the 308 offers plenty of standard equipment and a high quality cabin for the various asking prices. As with so many mainstream products, there are no surprises here. Opting for a diesel should bring the costs down, although servicing should be nothing more than routine and insurance premiums modest.
Space and practicality
Plenty of storage areas exist in the 308, which should make it attractive to both busy company drivers and families. Overall, the cabin is a good size, and there's plenty of knee room in the back for adults. At the rear, the tailgate opens to reveal a flat loadspace. The rear seats fold easily to boost the car's total carrying capacity.
Controls and display
One area where Peugeot has always excelled in is instrumentation. The car's main dials are clear and easy to read, while the main switchgear is intuitive and operates with a quality feel. The steering column-mounted audio controls are a welcome sight, and the optional sat-nav unit's display is large and easy to read.
Comfort
Cabin refinement is excellent in the 308. Road and wind noise has been kept to a pleasing minimum, and the car's seats are supportive and comfortable. There's also plenty of elbowroom for all passengers, while headroom is even more than acceptable in the back despite the sloping roof.
Car security
While not a high value car in general terms, it's good to see central locking and the usual anti-theft protection present. The car's luggage cover appears to be a sturdy item, also. If you want greater peace of mind, it might be worth purchasing a steering lock as a more visible deterrent.
Car safety
With progress comes better safety provision, and the 308 is certainly better than the previous 307. All the current active and passive systems are present, including ABS, brake assist, stability control and airbags for every corner of the car.
Driver appeal
Often criticised for being a little plain and unexciting, the 307 was a let down for many Peugeot fans. The 308 goes a long way to rectifying this. The engine line-up is lively and willing, while the 308's dynamics encourage the driver to have fun. It still lags behind the old 306 benchmark, but the good news is that the 308 is leagues ahead of the 307. Ride quality is very good, even on poorly surfaced urban roads, and the car is hushed at motorway speeds.
Family car appeal
It might not be a conventional people carrier, but the 308's cabin is pretty spacious and there are enough storage areas for most active families. The car's boot is also a good size, which should ensure that a fair bit of shopping and a pushchair will fit without too great a struggle.
First car appeal
There's no reason why the 308 couldn't be someone's first car. It's easy to drive and manoeuvre, and all-round visibility is good. Running costs are unlikely to be high, making it a sound proposition.
Quality and image
Having been in the doldrums of late regarding build quality, it's good to see that Peugeot has bounced back with the 308. The various cabin plastics and overall fit and finish is much improved. However, it might take a while for buyers to fully appreciate this, especially if they have negative memories of the previous 307.
Accessibility
As with so many next generation cars, the 308 is a little bigger all round than its predecessor. As such, the doors on the five-door variant open nice and wide, and the seat height is such that you can just slide in. At the back, the rear doors open to reveal a good size aperture, while the car's boot opens and closes with little effort.
Stereo and ICE (In car entertainment)
The standard issue equipment will be plenty good enough for most people; sound quality is excellent, the display easy to read and the various controls straightforward. The inclusion of steering column-mounted controls is also welcome. Moving up, there's also a fully featured sat-nav, phone and multimedia unit, with a screen mounted on top of the car's fascia.
Colours and trim
Bold colours help flatter the 308's equally bold exterior. This is especially true of the high spec cars with the slightly different frontal treatment. Inside, the main cabin materials are dark in colour, which helps promote a high quality feel. However, light coloured trim helps lift the ambience.
Parking
Parking is pretty straightforward in the 308. The car's power steering offers plenty of assistance and the all-round vision is good. Where fitted, parking sensors certainly help.
Spare wheel
Space saver fitted as standard.
Range information
Petrol engine options - 1.4-litre (95bhp); 1.6-litre (120bhp); 1.6 (150bhp). Diesel engine options - 1.6-litre (90bhp); 1.6-litre (110bhp); 2.0-litre (136bhp). Transmission options: five-speed manual gearbox on all variants, six-speed manual gearbox on 2.0-litre 136bhp diesel. Trim levels: Urban, S, Sport, SE, GT.
Alternative cars
Ford Focus Impressive all-rounder - does everything right
Vauxhall Astra Rakish Astra looks the part and delivers the goods in a refined style
Volkswagen Golf Upmarket Golf is no driver's car but feels solid and dependable
Toyota Auris Evolutionary step up from the Corolla; quality, dependability and refinement are its strong points