June 2009
Peugeot 308 CC SE 1.6 THP 150
Peugeot's 308 CC is a polished performer in every respect
June 2009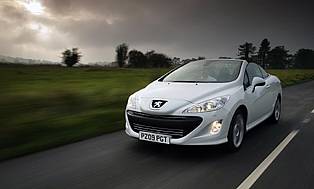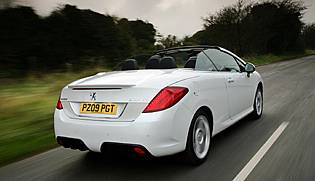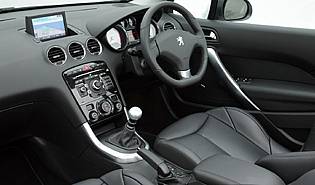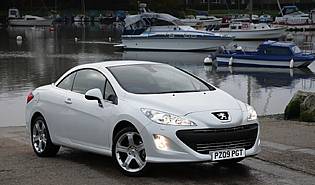 Overall rating

Likes:
Elegant exterior styling
Cabin and overall build quality much improved over 307
Diesel variants are surprisingly refined
Good standard of equipment and cabin comfort
Gripes:
Reverse parking with the roof up could be easier
Like most convertibles, boot space is compromises with the roof down
Access to the rear seats with the roof up can be a challenge
Complicated controls for otherwise useful sat-nav unit
For all its faults Peugeot's 307 CC was a popular car, and one that helped make the folding metal hardtop convertible reach a wide audience. Its predecessor, the 308 CC, moves that game on by a considerable margin in terms of ability and refinement.
Keen to step up the brand's appeal and position individual cars higher up the desirability ladder, Peugeot has done much to enhance its mid-size convertible model. The 308 CC offers much in the way of refinement and ease of use, while building on the success of its smaller 207 CC relative.
In the style department it's clear to see that the 308 CC follows on from the smaller 207 variant. The family nose has grown in proportion to the car's size, while at the rear the elegant styling details do much to convince you that the 308 is a premium car.
The same is true in the cabin and when out on the road. A greater level of sophistication is displayed by the car's chassis and suspension, and the engine line-up perfectly complements the 308's slightly laid back and refined character. Build quality is a quantum leap over older Peugeot's, and odes much to inspire confidence in the car's long term durability.
Of course, the car's roof is the main attraction. Like other recent Peugeots past and present, it's folding metal hardtop operated by a button in the cabin. Boot space suffers a little with it retracted, but it's a small price to pay for a sophisticated and enjoyable top-down experience.
Our verdict on the Peugeot 308 CC SE 1.6 THP 150
More of everything appears to be the best way of describing Peugeot's 308 CC. It's more refined, more enjoyable to drive and more attractive than its predecessor. It's also better built and boasts a cabin dripping with nice, quality touches. For a mainstream - not premium German - offering, the 308 CC is an impressive piece of kit.
Costs
What the extra equipment, ramp up in terms of quality and the overall state of the market, the 308 CC is now positioned as a more luxurious proposition than its predecessor. That said, standard kit levels are generous and the cars are reasonably economical. Servicing should be no more than routine, either.
Space and practicality
Convertibles of any description are rarely a match for a conventional hatchback, however the 308 CC is better than some rivals. Thanks in part to good levels of cabin storage space (some of it covered) and the ability to expand the boot space when the roof is up, there's no reason why it couldn't be your only car. Adults rear seat passengers might disagree if sat for long periods, although children won't have such worries.
Controls and display
There's rarely been any criticism levelled at the quality of Peugeot's instruments and displays, and there's no reason to start with the 308 CC. Everything is intuitive and ergonomically placed, while the main display located high up on the fascia is a nice touch. However, as systems have become more complex, the only issue is with the main unit's control panel. You're faced with many buttons and a less than straightforward menu system.
Comfort
With its bias noticeably more towards comfort than performance, the 308 CC offers occupants pleasant surroundings and a quality cabin. Road and wind noise has been kept to a pleasing minimum, and the car's seats are supportive and comfortable. Rood down and it's the same picture, with wind noise cleverly suppressed - even at speed.
Car security
Although not a high value car in the grand scheme of things, it's good to see central locking and the usual anti-theft protection present. Being a metal- roofed convertible should earn a few extra points with your insurer. The covered storage areas in the cabin also allow for unattended sessions with the roof down without any worry.
Car safety
Pop-up roll bars and head airbags integrated into the seat should ensure plenty of protection if it all goes wrong. And that's on top the usual array of cabin airbags plus anti-lock brakes and electronic stability control.
Driver appeal
Peugeot's 307 CC wasn't loved by the critics - it wasn't the most thrilling drop-top to drive. The 308 is a much improved car, as its boasts a stiffer chassis, more precise steering and a better ride. The engines help, too. For refinement the turbo petrol option is impressive, while opting for diesel lacks many of the usual issues such as noise or vibration.
Family car appeal
It might not be a conventional family mode of transport, but on the odd occasion the 308 would at least get you out of a jam. Children will fit in the rear seats - unlike adults for long journeys - although stashing buggies in the boot might prove a step too far. Better still would be to get a Partner Tepee or 3008 for family duties.
First car appeal
With its easy to use controls and, in lower-spec combinations, affordable price tag, there's no reason why the 308 CC can't be suitable for first time drivers. The only question mark would be over the car's modest rearward visibility with the roof up. Overcome that and it's no different from any other mid-size car.
Quality and image
Successfully and impressively pulling itself out of the doldrums in a few short years, Peugeot's products are now better built than ever. They are also more attractive and enjoyable to drive - the 308 CC being a perfect example. And the firm enjoys a loyal following with its CC range, which has brought folding metal roofs to the masses.
Accessibility
A little bigger than the car it replaced, the 308 CC's cabin is noticeably more accommodating. Access is via one of the car's large and heavy doors - opening them in tight car park spaces can prove tricky. At the back, boot access is straightforward. Again, the lid is heavy as it forms part of the roof folding mechanism.
Stereo and ICE (In car entertainment)
No complaints here, as the regular standard fit unit does a good job. Column-mounted extra controls make altering the volume or changing station safe and easy. Choose to upgrade and the unit's lofty fascia location gives way to a full-blown sat-nav and audio jukebox. The only gripe is the unit's many buttons and long-winded menus.
Colours and trim
There's no question that bold colours help to enhance the 308's equally bold exterior. This is especially true when the car is riding on attractive alloy wheels. Inside, the cabin is a largely dark and sombre affair. Lighter elements help lift the ambience, but the overall impression is a high quality one.
Parking
With the roof up your view aft is a little restricted - making those parking sensors essential. It's a different story with the roof down; visibility is greatly improved and the guesswork removed. The car's steering helps with its ample assistance at low speeds.
Spare wheel
Space saver fitted as standard.
Range information
Petrol engine options - 1.6-litre (120bhp); 1.6 THP auto only (143bhp); 1.6 THP (150bhp). Diesel engine options - 1.6-litre (110bhp); 2.0-litre (140bhp). Transmission options: five-and six-speed manual gearbox depending on variant - four-speed auto for 1.6 THP 143bhp model, six-speed auto a cost option for 1.6 140bhp diesel. Trim levels: Sport, SE, GT.
Alternative cars
Volkswagen Eos More cruiser than street racer, Eos is refined and capable
Audi A3 Cabriolet Smaller than others here but a refined and polished all-rounder
Vauxhall Astra TwinTop Stylish Astra looks the part and is good to drive, too
Ford Focus CC Surprisingly not the class-leader as dynamically only average