July 2015
Peugeot 208 1.2 Puretech 110 Allure
Refreshed nose sets updated 208 apart from its predecessor
July 2015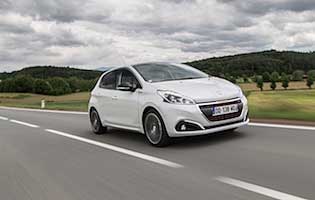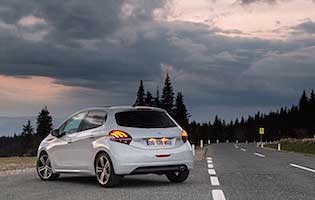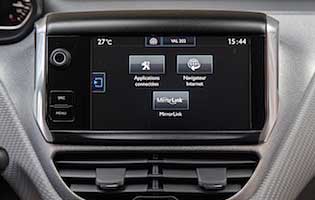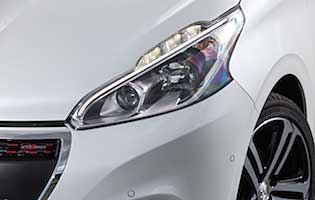 Overall rating

Likes:
Modern and appealing exterior design
Impressive Puretech engine
Small steering wheel may not suit all
Rear visibility slightly compromised by thick rear pillars
Gripes:
Raised instrument position good in theory, debatable in practice
Touchscreen not as accurate or intuitive as hoped
Small steering wheel may not suit all
Rear visibility slightly compromised by thick rear pillars
An important car for Peugeot, the firm's 208 supermini has undergone a modest upgrade to keep it competitive in what is an important market sector for the French car maker. Selected cosmetic and mechanical changes are designed to keep the volume-selling model as close to the top of the sales charts as possible.
Peugeot continues to find success with the 208, and this latest refresh focuses on the further lowering of running costs and, crucially for today's young drivers, boosting the car's appeal among buyers considering more style-conscious models such as Fiat's 500 and the Mini.
Visual changes are subtle to the untrained eye, but the 208 has gained a tweaked nose complete with new headlights, changes to alloy wheel design and an improved range of trim personalisation options. This runs from contrasting upholstery stitching to new exterior paint finishes, exterior mirror and grille design changes.
If reducing running costs are more your thing, Peugeot has improved the 208's engine offerings. A key option in the eyes of both business and private users will likely be the firm's new three-cylinder 'Puretech' 1.2 petrol unit. You sacrifice little in terms of overall performance, but the main attraction is low running costs due to modest emissions and fuel consumption.
One thing that hasn't changed is the 208 driving experience, which remains one of the more enjoyable in this supermini class. Not everyone will warm to Peugeot's decision to use a small steering wheel, but the car proves to be agile, engaging and refined over a wide variety of road surfaces.
Our verdict on the Peugeot 208 1.2 Puretech 110 Allure
Look past the admittedly welcome package of improvements and Peugeot's 208 remains an appealing and convincing choice in a crowded and competitive supermini market. The cosmetic changes help keep the car fresh and the engine updates will be good for your bank balance, while the trim updates put the car on par with rivals such as Fiat's 500 and Renault's Clio on the style front.
Costs
With a wide engine range and a focus on efficiency, running costs for the 208 should be modest. Sub-100g/km CO2 ratings are now commonplace, while the Puretech petrol unit promises impressive real world economy for private buyers.
Space and practicality
The layout of the cabin is good, with a generous glovebox and plenty of other storage areas around the fascia. Front seat occupants fare well, with ample head and legroom available. Rear seat passengers do okay, although legroom isn't great it's only likely to be an issue for adults on long journeys. At the rear the car's boot is a good size in this class and access is straightforward.
Controls and display
The most important element of the 208's layout is Peugeot's decision to go with the instruments sitting higher up and viewed over the steering wheel rather than through the wheel on a conventional car. This has been achieved by fitting a much smaller steering wheel. It takes some getting used to, as the wheel needs to be adjusted to a lower position than might seem natural, and it will be up to the individual to decide if it suits them. Otherwise the controls are well laid-out and easy to understand.
Comfort
Noise levels are well managed, although this does depend somewhat on which engine is chosen and wind noise begins to become obvious at motorway speeds. The typically fluid ride and supportive seats help promote a refined experience, but the car can feel a little too prone to body roll because of seats that lack any real lateral support, allowing lateral body movement to go unchecked.
Car security
All 208 models are fitted with remote central locking with deadlocks as standard as well as a comprehensive anti-theft package. Being a hatchback, the car's rear load cover is sturdy enough to keep out basic attempts to lift it from inside the car.
Car safety
All models come with the usual package of measures, such as ESP and a generous number of airbags as standard. Options for this refreshed car stretch to a reverse parking camera and the increasingly widespread 'city brake' function, which automatically brakes the car at low urban speeds if an obstacle in front of the car is detected.
Driver appeal
The 208 is one of the more entertaining models in the supermini class. This is helped by the surprisingly small steering wheel, which requires more effort on the part of the driver, but delivers fast, accurate responses at the front wheels. As such, the 208 feels eager and responsive, particularly with petrol power. The new 1.2-litre petrol is sufficiently quick in the real world, but more powerful engines promote a more relaxed driving experience.
Family car appeal
Although the three-door version could cope with family life at a push, the five-door model would make a better choice. Bulkier car seats in the rear could leave small children with little overall room, but given the overall dimensions it would stand up to the trials of everyday life for a new family.
First car appeal
The smaller Peugeots have always been ideal cars for new drivers and the 208 is no different. The combination of value, space, style and an easy to drive temperament will put it in contention with the favourites for first car buyers. It's a popular driving school car, too, so young drivers with half an eye on buying a 208 after passing their test could potentially learn in one.
Quality and image
Although not all the 208's cabin plastics would qualify as soft touch, the major contact points are of high quality and the use of chrome-effect and piano black detailing also adds to the cabin ambience. Image-wise Peugeot has generally fared better with its small cars, and this update adds Mini-like personalization that should better attract young buyers to the brand.
Accessibility
In five-door guise front seat occupants fare well and the front door is a more manageable size when in tight parking spaces, while those in the rear don't have to stumble over a folded front seat to gain access to the cabin. At the rear, the tailgate opening is wide although the tail lights do reduce the potential width of the aperture a little.
Stereo and ICE (In car entertainment)
The clarity of the main colour display is impressive and it responds well to inputs, although there are occasions when some thought is required to navigate to a particular option. It's not as intuitive as others you could name. Connecting a smartphone adds another layer of functionality plus downloadable apps are a possibility. Elsewhere, the good audio experience is as before.
Colours and trim
Bright colours suit the revised 208 well, and Peugeot has added appealing new shades for 2015. On the inside the 208 remains largely the same, although bold trim accents and personalization options help lift the cabin ambience. It should be remembered that, while not excessively expensive in their own right, the trim options can mount up to a large bill.
Parking
With its relatively compact dimensions the 208 remains an easy to manoeuvre into small spaces. The thick rear pillar does hamper visibility a little, but rear parking sensors largely eliminate the problem. Some people may feel that the small steering wheel requires more effort than they were expecting to turn lock-to-lock at a standstill.
Spare wheel
Spare wheel fitted as standard.
Range information
Petrol engine options - 1.0-litre (68bhp); 1.2-litre (82bhp, 110bhp); 1.6-litre (120bhp, 156bhp, 200bhp). Diesel engine options - 1.6-litre (75bhp, 100bhp, 120bhp). Transmission options - five and six-speed manual plus six-speed automatic. Trim levels are Access, Active, Allure, GT Line, GTI, GTI Prestige, GTI By Peugeot Sport.
Alternative cars
Ford Fiesta Class leader huge fun to drive, not so cheap to buy
Volkswagen Polo Acceptable driving experience but impressive quality and efficiency
Vauxhall Corsa New model has plenty to offer
Suzuki Swift Alternative choice boasts Spartan interior but is good to drive and own