June 2005
Peugeot 107 Urban 5-door
Funky 107's looks should brighten up any dull city commute
June 2005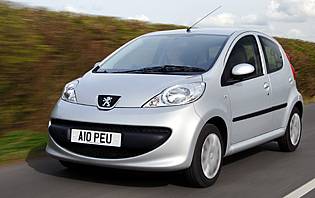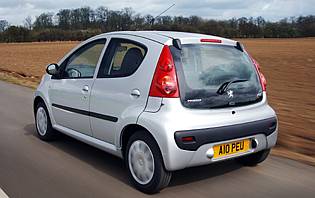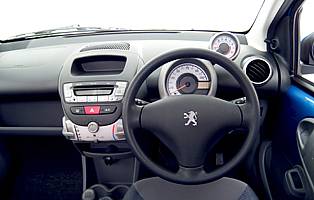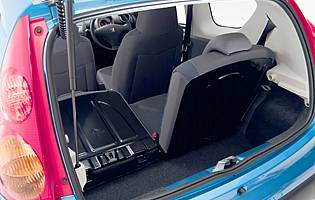 Overall rating

Likes:
Bold styling should help car appeal to younger buyers
Clever use of space makes accommodating four adults possible - just
Fuss-free handling makes driving around town enjoyable
Simple range and few cost options makes choosing a variant easy
Gripes:
Look closely around the cabin and the cost cutting measures are obvious
Only petrol engine on offer could be more refined
Glass tailgate looks good but boot load lip is too high
Near-identical cars from Citroen and Toyota make choosing a winner difficult
Small cars are Peugeot's trademark; the firm's success with the 205 and, more recently, the 206 are proof that the supermini sector is where the French company performs at its best. The 107 is another example of how Peugeot has managed to squeeze a quart into a pint pot. Although small on the outside, it's not short of surprises inside.
Seriously small cars have been left behind in recent years as larger, more luxurious runabouts have found favour. Manufacturers keep telling us that we need more room to spread out in our conveyances, and we've happily gone along with the concept. That is, until we've tried - and failed - to park are swollen superminis in city streets that were more than accommodating only a few years ago.
Urban transport may have grown in size but if you care to look closely, cabin space has rarely increased by similar amounts. What we've got are cars with bulkier crash structures and bloated specification lists. Peugeot, Citroen and Toyota have sought to change this trend with the 107, C1 and Aygo respectively.
Why list three cars? Well, in real terms they're one and the same vehicle, save for tweaks to equipment lists, engine options and (largely front end) styling differences. The pecking order appears to be Citroen at the basic end and Toyota at the top with Peugeot in the middle. In truth there's little between them apart from the obvious: price.
And there's the rub: Peugeot's jolly little 107 is as space efficient as the other two, drives as well and comes with more kit than the Citroen but less than the Toyota. What it all comes down to is looks - some critics say the 107 is more appealing that the Aygo - and the balance between standard kit and list price. Ignore the other two and the 107 is a super little car in its own right, and certainly more fun to drive and own than a basic Ford Fiesta or Vauxhall Corsa.
Our verdict on the Peugeot 107 Urban 5-door
With its quirky, jolly looks and agreeable price tag, Peugeot's 107 is destined to be another important model for the French car maker. The clever use of space, trimmed down range and ability to happily bowl along on motorways mark the 107 out as much more than just a city car. The difficulty will be choosing between the little Pug and its two near-identical Toyota and Citroen siblings.
Costs
7
Space and practicality
Small cars will always be a compromise, but at least with the 107 - and its Citroen and Toyota relatives - offers more than you think thanks to clever interior packaging. The cabin also feels light and airy, leading you to believe there are more cubic centimetres than there really are. So top marks all round for the front part of the cabin. However, five-door city cars never fare well further back, and rear occupant space in the 107 is modest at best. It's fine for children but not for adults on long trips. At least the rear seats split/fold, which compensates for the boot's high load lip.
Controls and display
The 107 is a simple car and the instrument count is, predictably, low. You're greeted by an oversized speedometer mounted directly above the steering wheel. This unit also houses the main warning lights and gauges. One of the few cost options is a rev counter mounted on the speedo at a jaunty angle. Major switchgear is straightforward but not all of it feels up to the same high standard as kit from other Peugeots. This is especially true of the ventilation controls, which feel clunky.
Comfort
Despite the car's short wheelbase, the 107 handles bumps well you rarely experiences a choppy ride. Road noise could be better insulated but for a car costing so little it would be wrong to nitpick. At least you never feel squashed inside the 107. Not in the front, anyway. Leg, elbow and headroom are all fine and the seats are supportive. Head and legroom is less generous in the back, but the accommodation is more suited to occasional use.
Car security
The 107 is very much a win-win sort of car. An incredibly low insurance rating, modest fuel consumption and an inexpensive screen price make the diminutive Peugeot a sensible purchase if money is tight. With few cost options to choose from, the final showroom price will be relatively low, too.
Car safety
Boasting twin front and side airbags as standard, the 107 is possibly better equipped than some older rivals still on the market. The good news continues with a package comprising ABS, electronic brakeforce distribution (EBFD) and Peugeot's cornering stability control (CSC). Inside the cabin you get five, three-point safety belts and two Isofix child seat mounting points for the rear seats. You can even deactivate the front passenger airbag for when you're transporting a rear-facing infant.
Driver appeal
In a world of over assisted steering and over servoed brakes, the 107 is a refreshing change. It's no hot hatch, but around town the driving experience is an enjoyable one. The car's steering feels direct, the gearshift is light and positive and the chassis is supple. Only the engine lets the package down slightly. Although a willing unit, the 1.0-litre engine sounds coarse and noisy when revved around town. Once at a steady speed - like on the motorway - it quietens down markedly.
Family car appeal
Even in five-door form the 107 is unlikely to appeal to a family - at least not as the main car. As a second car or runabout it makes much better sense, though, which is no doubt why it will end up playing the role of urban transport in a multi-car household.
First car appeal
Three or five-door it makes little difference, the 107 should make a great car for the first time driver. It's no ball of fire on the road - which will be a good thing - while the car's simple controls, quirk-free character and lowly insurance rating should help rather than hinder the novice motorist.
Quality and image
After many years of offering cars that looked good but fell short in the quality department, Peugeot has gradually begun to turn things around. The 107 is not one of those cars, though. Unlike the firm's 407, which is full of plush fabrics and soft-feel plastics, the little runabout's cabin comprises plastics that feel hard and sometimes hollow to the touch. At least Peugeot's reputation as a maker of small cars remains intact; the 107 continues the company's fine tradition of inexpensive town cars.
Accessibility
Front seat occupants will fare well in the 107 as the doors open good and wide. Also, the seating position is such that you slide in, not sink down into the cabin. In the five-door 107, rear seat passengers don't get such a good deal. By design the doors don't open as wide and the space behind the front seats is modest at best. And while the car's one-piece glass tailgate is a clever use of resources, the load lip is higher than ideal.
Stereo and ICE (In car entertainment)
It would be cruel to expect an all-signing, all-dancing audio unit in a car of such modest means, but that's almost what you get in the 107. A combined radio/ CD player is standard fit - something that's lacking in some entry-level premium cars. The big unit is conveniently mounted high up in the fascia, and its buttons are large and easy to use. Fittingly for a car at aimed the youth market, the stereo unit is compatible with the MP3 audio format.
Colours and trim
A jaunty-looking car deserves a suitably bright palette of exterior colours, and you won't be left wanting with the 107. Bold hues are the best, as they emphasise the car's various quirky styling highlights. Inside it's not quite the same riot of colour but bright trim accents help lift the cabin's ambience. For a car that's likely to get used hard, at least the seat fabrics and plastics feel especially durable.
Parking
With a car this short, parking shouldn't cause any problems. Size-wise the 107 is a breeze to park, but the tailgate's glass area could be bigger - or the rear window pillars could be slimmer. The slightly elevated driving position helps with the view forward, but the thick front window pillars can get in the way. At least the steering, clutch and gearshift all offer little in the way of resistance.
Spare wheel
Standard spare fitted under boot floor.
Range information
One engine option - 1.0-litre (68bhp) petrol unit. Standard fit is a five-speed manual gearbox. A five-speed '2-Tronic' auto is a cost option. The streamlined range boasts only one trim level - Urban. Both three and five-door bodystyles are available.
Alternative cars
Citroen C1 The cheapest of the Toyota-Peugeot-Citroen trio. Pretty but sparsely equipped
Toyota Aygo The upmarket car of the look-alike trio. Well equipped but not the cheapest
Fiat Panda Conventional five-door hatch is roomy, inexpensive and well equipped for its price
Kia Picanto Surprise hit Picanto is well built, stylish and good value for money