Car Buyers Guide
Nissan Micra 160SR
August 2005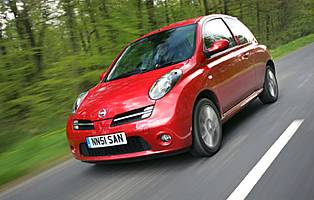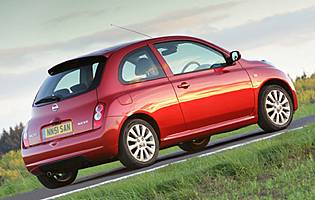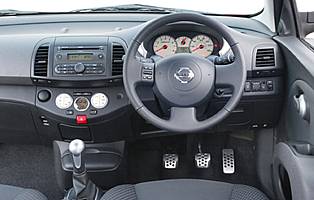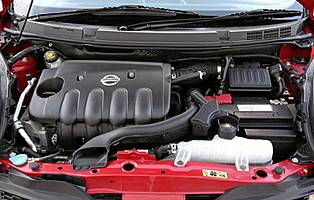 Overall rating

Likes:
Keen engine makes driving enjoyable and provides decent performance
Interior is durable and easy to use yet stylish
Sliding front seats boost practicality levels
Smart pricing, low insurance and economy mean good value
Gripes:
Cute looks may not appeal to all
Clever 'Intelligent Key' system not available on this model
Image not as sporty as rivals
Many may not notice subtle facelift
While the market for high-performance hot hatches is buoyant, the demand for something desirable but less expensive is just as strong. The so-called 'warm' hatch is now a feature on most manufacturers' price lists, and Nissan has its own variant in the form of the Micra 160SR.
Available in three and five door versions the 160SR is clearly a Micra, but revisions to the exterior help to distinguish from lesser models. 16-inch gunmetal alloy wheels as standard benefit its looks as well as handling, while deeper front and rear bumpers plus side skirts and a tailpipe finisher complete the changes. It adds to the basic shape but avoids attracting too much attention.
On the inside there are more changes as well as extra equipment. Automatic lighting and wipers are standard, as are ESP and air conditioning. The 160SR also gets sports seats and aluminium pedals in-keeping with its sporting credentials, while the leather-covered steering wheel is pleasant to hold. While remaining as functional as a regular Micra, the extra details make the 160SR feel more special from behind the wheel.
The changes continue under the skin, with the fitment of a 1.6-litre four-cylinder petrol engine not used before by Nissan. This specially-developed engine uses sophisticated technology to deliver a healthy 108bhp while still providing impressive economy figures. A top speed of 114mph and a 0-60 time of 9.8 seconds means the 160SR is at least as quick as its rivals.
Nissan has changed the Micra's chassis to cope with the extra power, with the bigger tyres backed up by stiffer and lower suspension for increased grip. The steering has also been modified, increasing the weighting for improved feel. The end result is a good balance between handling and ride comfort.
Our verdict on the Nissan Micra 160SR
Although it may not grab as much attention as some of its rivals, the Micra 160SR manages to balance performance and economy, style and discretion, comfort and handling in a well-rounded package. With respectable running costs and the likelihood of good reliability, it should make a very satisfying sporting hatchback to own and to drive.