November 2014
Mitsubishi Shogun LWB 3.2 DI-DC SG4 A/T
New face gives the Shogun a fresher look
November 2014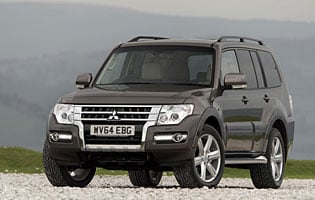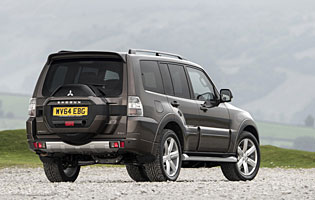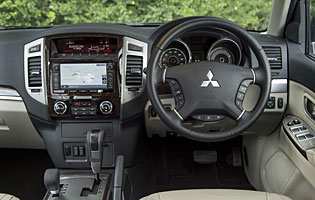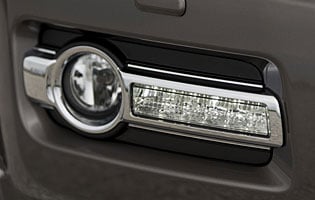 Overall rating

Likes:
Superb off-road performance
Spacious cabin is sturdy too
Good equipment levels across the range
Makes an ideal towing machine
Gripes:
Occasionally poor ride and vague steering
Despite additional sound deadening engine is still relatively noisy
Running costs are relatively high despite diesel engine
Ageing compared to many rivals
The Shogun is one of Mitsubishi's most recognisable cars and has played a huge part in the brand's success in the UK over the years. Rather than moving towards on-road performance as with many of its rivals, the sturdy workhorse has retained its 'proper' off-road credentials. Now it has received some minor updates to coincide with the 2015 model year.
Even 4x4 haters will be familiar with the Shogun's tough, traditional design. It wears virtually all of the features that mark out a genuine off-roader compared to the more recent creation of the soft-roader. It has huge bumpers, wears its spare tyre on the rear and has beefy running boards riding high above the ground. This traditional look is a matter of taste.
The changes for the 2015 model year are relatively modest but are designed to both improve its appearance and also provide a small safety boost. All Shogun models now have Xenon headlights as standard, while the redesigned fog lights also incorporate LED daytime running lights. As well giving the Shogun a fresher face they also contribute to improving visibility day and night.
On the inside the Shogun benefits from additional luxury touches; the entry-level Warrior and Barbarian models gain piano black detailing, with additional wood trim on higher specification versions. Depending on the model there are also new audio systems, additional sound deadening and tyre pressure monitoring as standard.
Mitsubishi says that the single engine option, a 3.2-litre four-cylinder diesel, has been re-tuned to give improved fuel consumption and emissions performance, although due to its size and weight it remains a relatively thirsty car. However it retains fully-selectable four-wheel-drive including a low range gearbox and lockable differentials for serious off-road work.
Our verdict on the Mitsubishi Shogun LWB 3.2 DI-DC SG4 A/T
The Shogun sticks doggedly to the traditional recipe for a large 4x4 and this brings advantages and disadvantages. It is spacious, practical, has an unburstable feel and would take some serious stopping off-road. However it is relatively thirsty and its tough separate chassis means on-road performance is behind the competition. For the right buyer it could make an ideal purchase but there are more civilised alternatives.
Costs
The Shogun undoubtedly provides a lot of car for the money, with plenty of ability and a comprehensive equipment list. However it will be relatively expensive to run compared to more modern competitors.
Space and practicality
Most of the time the Shogun can be regarded as a spacious five-seater with a large boot capable of carrying heavy loads. When additional seating is required, two seats quickly and easily fold out from the boot floor to create a third row of seats, complete with integrated head rests, though three-door models do not contain this feature. The Shogun makes an outstanding towing vehicle thanks to its torquey engine characteristics and four-square stance on the road.
Controls and display
The Shogun's layout is pleasingly straightforward, with two large dials in the instrument pack and the rest of the key controls placed centrally on the dashboard. A proper handbrake and big levers for the automatic transmission and four-wheel-drive system are also a refreshing change from push-button arrangements.
Comfort
Being a passenger in a Shogun is a pleasant experience. Seats are supportive; there is decent legroom and plenty of headroom in all positions. Even the occasional rear seats are rather more comfy than those offered by many rivals, though they are still best suited to shorter journeys for anyone other than children.
Car security
An alarm and a simple keyless entry system are provided on all models. Strengthened glass should resist all but the most determined attempts at forced entry. Buyers should make good use of the tonneau cover in the rear. The higher stance of 4x4s puts them more easily in the eye-line of opportunist thieves, so if anything is left in the back, they are more likely to spot it.
Car safety
All models come with ASTC active stability and traction control, side and curtain airbags, and ABS anti-lock brakes backed up by EBD electronic brakeforce distribution. The separate chassis arrangement makes for a sturdy construction although as a general rule cars with an integrated chassis design tend to perform better in collisions.
Driver appeal
Unless you spend most of your time off-road, the Shogun's basic road manners can become a little wearing over time. The diesel engine is sufficiently quiet at a cruise but when acceleration is demanded it is quite noisy at higher revs. Although the steering system is rack and pinion it's a little vague and can require quite a lot of sawing at the wheel during low-speed manoeuvres. At motorway speeds it is a little more relaxed however, and can cruise in relative comfort.
Family car appeal
Seven seat flexibility and a reassuring sense of solidity and safety mean that the Shogun serves well as a family vehicle. Kids in the back still get a great view out of the windows and the Shogun is tough enough to absorb the knocks that family use will dish out - which are sometimes even worse than a boulder strewn track can provide.
First car appeal
Too large, thirsty and unwieldy to be a first car for anyone who doesn't live on a remote farm. However, the Shogun does make the perfect vehicle in which to learn the valuable skills of off-road driving.
Quality and image
The Shogun gives the impression of being usefully robust with decent build quality and sturdy materials. Although there is leather and wood trim on some variants it doesn't feel as high quality as some rivals however. Its image also builds on this, trading on its toughness, longevity and genuine off-road credentials.
Accessibility
This is a large vehicle, and some will struggle with the definite step up required to access the cabin, with a corresponding step down when exiting. Likewise, keeping the spare wheel mounted on the tailgate makes it heavy, and it generates a lot of momentum when the door is moved.
Stereo and ICE (In car entertainment)
Regardless of specification Shoguns feature aftermarket audio systems rather than dedicated offerings, so they tend to be fairly rich in terms of features but a little fiddly to use. However there are controls mounted on the steering wheel, bypassing the need to use the touchscreen much of the time.
Colours and trim
Although the exterior has been modernised it retains a more traditional look, so sober colours suit it best. On the inside the addition of leather trim and smarter finishes helps to boost the cabin's aura, although there are still some less appealing hard plastics in places.
Parking
The Shogun is a large vehicle and so needs some care when parking, although visibility is good. Higher specification models include a reversing camera, but it is worth bearing in mind that the spare wheel is mounted on the tailgate and must be allowed for when making any manoeuvres.
Spare wheel
Externally mounted full-size spare wheel on tailgate.
Range information
Diesel engine options - 3.2-litre (168bhp). Transmission options: five-speed manual or five-speed auto gearboxes with multi-selectable four wheel drive plus low ratio settings. Trim levels: SG2, Warrior, Barbarian, SG3 and SG4.
Alternative cars
Toyota Land Cruiser A little more refined but still very capable off-road
Land Rover Discovery Classy, more expensive but good on and off-road
Kia Sorento Sturdy, good value and acceptable on-road
Nissan X-Trail More of a soft-roader but still useful in tough conditions