January 2007
Mitsubishi Shogun 3.2 DI-D Elegance 5dr
Smart modern design is at home in town and country
January 2007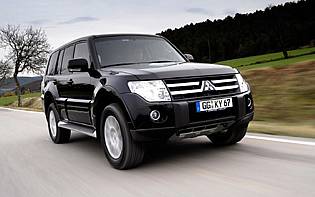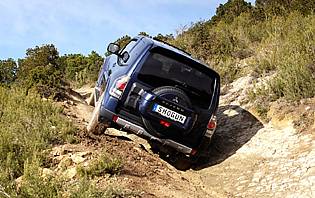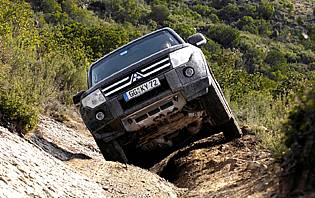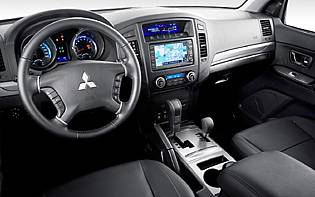 Overall rating

Likes:
Badge carries real clout in 4x4 sector
Unbeatable off-road ability is intact
Effective modern styling treatment
Makes a superb towing vehicle
Gripes:
Steering is vague on-road with large turning circle
Auto models have much worse fuel economy and reduced power
Similar money buys a lot of metal with some key rivals
Not the most easily accessible vehicle
Along with the Land Rover Discovery and Toyota Land Cruiser, the Mitsubishi Shogun is one of the three models that effectively created the modern Sports Utility Vehicle (SUV) sector. These days there are literally dozens of alternative models, but the Shogun's reputation and authenticity keep it among the most compelling of contenders.
This is an extensive reworking of the previous-generation model, with around three quarters of the mechanical components being all new. Even with a completely fresh look, the Shogun still looks like one of the more macho off-roaders, without trying too hard like a Jeep Commander or seeming as out of date as a Nissan Patrol or Isuzu Trooper.
If the outside looks better, the inside feels better. Materials used are far superior to the Shogun of old, which always retained a decidedly agricultural feel. Plastics are durable and black rather than the wishy-washy old grey, and the layout of controls and instruments has been greatly simplified. Of particular note is a new small information screen above the main screen which gives trip information as well as containing an electronic barometer, altimeter and compass. A small touch perhaps, but one likely to appeal to the outdoor types who will form at least part of the audience.
If getting to the back of beyond is what you desire, there's no better vehicle than the Shogun in which to achieve it. None of the Shogun's traditional go-anywhere ability has been sacrificed in the effort to make it more presentable. Active stability and traction control systems are standard across the range, but of even more importance is unburstable build quality and plenty of ground clearance.
The Shogun can be considered at least as capable as a Land Rover Discovery or Toyota Land Cruiser, though there is a price to pay on-road. The steering in two-wheel drive mode feels vague. A wide turning circle can occasionally be problematic, though in general the Shogun copes well with city traffic thanks to its elevated driving position.
Our verdict on the Mitsubishi Shogun 3.2 DI-D Elegance 5dr
Historically the Shogun has recorded a loyalty rate of an astonishing 70 percent among owners. Anyone upgrading to the new Shogun will find it familiar enough to reassure but new enough to impress. It isn't particularly cheap, but Shogun buyers can be confident that they are getting their money's worth.
Costs
Prices have been carried over from the previous generation Shogun, which initially sounds like something of a bargain. However, that was decidedly overpriced by the time it bowed out and the presence of numerous new competitors has forced Mitsubishi to keep pricing realistic. It's still not cheap when compared to Korean alternatives, but resale values on used Shoguns are excellent. Fuel economy is average at best, even though this is a diesel.
Space and practicality
Most of the time the Shogun can be regarded as a spacious five-seater with a large boot capable of carrying heavy loads. When additional seating is required, two seats quickly and easily fold out from the boot floor to create a third row of seats, complete with integrated head rests, though three-door models do not contain this feature. The Shogun makes an outstanding towing vehicle thanks to its torquey engine characteristics and four-square stance on the road. It is able to turn from family vehicle to workhorse in a trice.
Controls and display
The Shogun adopts largely the same dials and controls as the L200 pick-up, with a few extras. All displays are easy to read and operate and are very informative, but lack the visual flair of an Audi or Land Rover. The presence of a combined altimeter, barometer and compass is a nice touch.
Comfort
Being a passenger in a Shogun is a pleasant experience. Seats are supportive; there is decent legroom and plenty of headroom in all positions. Even the occasional rear seats are rather more comfy than those offered by many rivals, though they are still best suited to shorter journeys for anyone other than children.
Car security
An alarm and a simple keyless entry system are provided on all models. Strengthened glass should resist all but the most determined attempts at forced entry. Buyers should make good use of the tonneau cover in the rear. The higher stance of 4x4s puts them more easily in the eye-line of opportunist thieves, so if anything is left in the back, they are more likely to spot it.
Car safety
All models come with ASTC active stability and traction control, side and curtain airbags, and ABS anti-lock brakes backed up by EBD electronic brakeforce distribution. Say what you will about large 4x4s, there's no denying that when you are inside a car like the Shogun you do feel less vulnerable than you do in a hatchback or even a family estate car.
Driver appeal
Nothing will beat a Shogun off-road, as any 4x4 enthusiast will tell you. A few rivals may match it, but none will surpass it and while some manufacturers such as Land Rover achieve this via ever more complex electronics, the Shogun still gives a feeling of straightforward mechanical robustness thanks to its monocoque chassis with built-in ladder frame. On asphalt the five-door is unexceptional with steering that is too light and generally dull responses to driver input. The lighter, shorter three-door model is a bit better.
Family car appeal
Seven seat flexibility and a reassuring sense of solidity and safety mean that the Shogun serves well as a family vehicle. Kids in the back still get a great view out of the windows and the Shogun is tough enough to absorb the knocks that family use will dish out - which are sometimes even worse than a boulder strewn track can provide.
First car appeal
Too large, thirsty and unwieldy to be a first car for anyone who doesn't live on a remote farm. However, the Shogun does make the perfect vehicle in which to learn the valuable skills of off-road driving.
Quality and image
Despite being packed with creature comforts, even top of the range Shogun Diamond models don't quite cut it as luxury vehicles in a world where Range Rover, Porsche and Audi can offer genuine opulence. But the Shogun name continues to command respect, so mid-range models offer the best mixture of utility, comfort and consumer clout.
Accessibility
This is a large vehicle, and some will struggle with the definite step up required to access the cabin, with a corresponding step down when exiting. Likewise, keeping the spare wheel mounted on the tailgate makes it heavy, and it generates a lot of momentum when the door is moved.
Stereo and ICE (In car entertainment)
A single-slot CD radio is standard issue. Mitsubishi's in-house systems aren't particularly noteworthy, so audiophiles may like to upgrade or invest in their own aftermarket unit. But most Shogun buyers tend to be pragmatic, hardworking types so it's hardly necessary to listen to the shipping forecast in hi-definition surround sound.
Colours and trim
Previous generations of Shogun have experimented with some particularly unappealing colours. It's best to keep things simple and the Shogun looks particularly fetching in black, which best shows off some thoughtful detailing around the grille and rear pillar. Likewise inside, where darker tones help to hide dirt. There's still plenty of light in the cabin.
Parking
Parking spaces need to be selected with care. The tailgate with its bulky spare wheel swings open horizontally, so satisfactory access is not always possible when parallel parked or taking up a position in a crowded supermarket car park.
Spare wheel
Externally mounted full-size spare wheel on tailgate.
Range information
Diesel engine option: 3.2 DI-D (168bhp). Transmission options: five-speed manual or five-speed auto gearboxes with multi-selectable four wheel drive plus low ratio settings. Five-door and three-door body styles. Trim levels: Equippe, Warrior, Elegance and Diamond.
Alternative cars
Toyota Land Cruiser Shogun's traditional Far Eastern rival
Land Rover Discovery 3 Widely regarded as the current benchmark 4x4
Kia Sorento Not particularly stylish but great value
Nissan Pathfinder Rugged old-style chassis underpins pleasing looks