March 2008
Mitsubishi Lancer Evolution X FQ-300 GSR SST
Distinctive exterior highlights the Lancer Evolution X's potent character
March 2008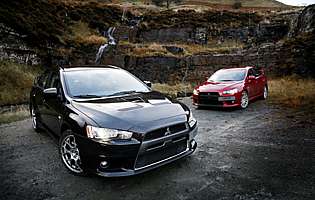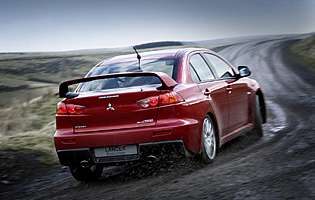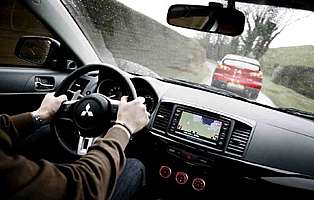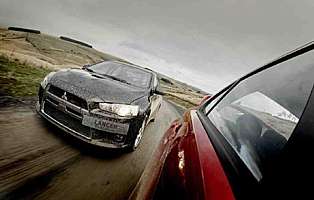 Overall rating

Likes:
An incredibly accessible, affordable performance tool
Practical four-door saloon format
Dual clutch SST 'auto' gearbox makes life easier when driving quickly
Cabin ambience and overall quality improved greatly over predecessor
Gripes:
A costly car to run if regularly driven hard
Some might find it too easy to travel at licence-busting speeds
While good, the info-tainment system has an aftermarket look about it
It's a saloon not a hatch and therefore not as versatile as some five-door rivals
Mitsubishi's Lancer Evolution X is not just the next mildly tweaked Evo in a long line of rally replicas. This all-new model is a little bigger, boasts significant quality upgrades and a clever dual clutch gearbox similar to VW's acclaimed DSG unit. Along with the new exterior styling comes a raft of performance changes to make this car more than just an evolutionary upgrade.
The appetite for modern day rally replicas has changed since Subaru introduced its original Impreza Turbo and Mitsubishi its Lancer equivalent. Prospective buyers are demanding more refinement, a greater level of user friendliness and, predictably, more power. Mitsubishi's Lancer Evolution X promises all these things, but still hopes to attract the purist in search of the drive of their life.
On first impressions, this Lancer looks radically different from the last. It might still be a compact saloon, but the shark-like nose, more modest rear spoiler and slightly bigger footprint all mark a new direction for the car and the Evo brand.
Fans of the older cars might bristle at the news that this model has been designed to be more accessible, less intimidating and more rounded if used as the sole car in a household. No question, the car's ride is more compliant and the throttle response is less spikey. Also, more attention has been put into cabin build quality and the choice of materials - all of which are on a par with the likes of Honda.
Of course, no Lancer Evolution would be complete without supercar-worrying levels of power. Three models make up the Evolution X range: FQ 300, FQ 330 and FQ360, all with power mirroring their badges. For most the 300 will be more than adequate - it's certainly no slouch. It's also the only variant offered with an impressive new dual clutch gearbox, which does without a conventional clutch for faster gearchanges. Once sampled, you're unlikely to want to try anything else
Our verdict on the Mitsubishi Lancer Evolution X FQ-300 GSR SST
Packed full of clever electronics to manage the all-wheel drive system, it's fair to say that the Lancer's limits are way higher than any sane driver - irrespective of talent. With even the basic car able to give a Porsche driver a serious headache in the dry let alone the wet, in the real world the more powerful cars are an extravagant indulgence. Still, as a track day weapon the 330 and 360 variants offer security, grip and performance by the bucket load. That the Evo is also a fully featured saloon with impeccable manners around town makes you wonder if you need to spend much more to get such a rounded package.
Costs
The Evo might boast an attractive asking price, but you've still got to run it. Be aware that, if driven enthusiastically, fuel consumption will be high. Tyres are another costly consumable and, if you plan on attending the odd track day, these two items will put a big dent in your wallet. Unlike in the past, though, servicing should be straightforward and affordable by performance car standards. That just leaves your insurance premium, which will be especially expensive if you're a young driver.
Space and practicality
A little bigger in all the key areas over its predecessor, this Lancer Evo model could easily double as a family saloon. All-important rear cabin space is good, while the car's boot is a respectable size - so long as you pass on the supplementary sound system located in the load area. Cabin storage space is good though, with the experience mirroring that of a conventional compact saloon.
Controls and display
A considerable improvement over the previous model, this Lancer's various controls and displays are intuitive and easy to read. The colour sat-nav screen is of the touch screen variety, while the manual gearshift is short and slick - the SST 'auto' is equally straightforward, as are the steering wheel mounted paddle shifters.
Comfort
For a car boasting a huge depth of talent, at regular speeds the cabin of the Evo is a remarkably civilised place. Noise is at family hatch levels and while the sports seats grip well they don't squeeze occupants. Ride comfort is firm, which is to be expected, but no more so than any other 300-plus horsepower compact sports saloon.
Car security
It's just as well that UK specification cars get a comprehensive anti-theft package - with a car like the Evo you're going to need it, if only for peace of mind and to appease your insurance company. There's also a tracking device present; with many thefts the result of obtaining the keys first and often by force, letting the police track your pride and joy is often the safer option.
Car safety
The benefits of four-wheel drive are well known, and you don't have to be driving in the streaming rain to experience the advantage it offers. The Lancer also comes with all the usual electronic aids which, if you know what you're doing, can be switched off when conditions allow. Factor in the usual array of airbags and you're in safe hands.
Driver appeal
Smooth, sophisticated and easy to drive at regular speeds, the Evo is vice-free. Step up the pace and the car responds instantly - there's no hesitation or turbo lag. Ground can be covered at a licence-threatening pace if required (although a track is a more sensible environment), with the car's clever electronically assisted all-wheel drive system flattering the novice and working with the experienced driver. The car's brakes are hugely powerful and the steering direct and full of feel. Factor in the smooth, predictable and exploitable SST dual clutch gearbox and the package is complete. And this is just the entry-level FQ 300; the more powerful 330 and 360 are supercar quick, no less accessible but sadly lack the SST gearbox.
Family car appeal
For a car that can match Porsches costing twice as much on the road, the Lancer's ability to accommodate a family and their belongings is pretty impressive. Rear seat space is good, while the car's boot is spacious and big enough for the weekly shop. Factor in the advanced entertainment system and you could be in a conventional saloon car. And you are, only a very quick one.
First car appeal
It's difficult to recommend the Lancer to the novice driver for all the obvious reasons: too powerful, too fast, too costly to run. It might be an easy car to drive, but it's also a potent one and is hardly suitable.
Quality and image
The Evo line boasts a huge fan base, and with good reason. Fast, affordable, practical and boasting a direct connection to Mitsubishi's rallying exploits, past Lancers had it all. This Evo X variant is bigger, more refined and its maker now has little to do with world rallying - hopefully such attributes won't be a barrier to future success. What is for sure is the impressive ramp up in terms of refinement, from the cabin to the driving experience.
Accessibility
Bigger than its predecessor, it's easy to get into and out of this Lancer. Even rear seat occupants should have little trouble. At the rear the car's bootlid opens easily to reveal a spacious load area, although the load lip could pose a problem when dealing with heavy items.
Stereo and ICE (In car entertainment)
Standard fit is the usual radio and combined CD player, which performs well. Move to the GSR grade and you get a fully featured colour sat-nav unit plus hard disc system to store music and navigation data on. It all works very well and is worth the extra expense, although the admittedly clear display looks a like brash in such a subdued cabin.
Colours and trim
There is only one colour for the Evo - Mitsubishi's deep red. Granted there are other hues available, but this colour helps make the car look classy and menacing in equal measure. On the inside, the Lancer's cabin is dark but solidly built.
Parking
Despite the saloon profile and the car's rear wing, parking the Evo isn't that bad. Once you're familiar with the car's dimensions it's all rather straightforward. And given the car's performance potential the throttle, brakes and steering don't require much effort at low speeds.
Spare wheel
Temporary inflation system supplied.
Range information
Petrol engine options - all 2.0-litre turbo: FQ-300 (295bhp); FQ-330 (329bhp); FQ-360 (359bhp). Transmission options: five-speed manual gearbox fitted as standard. Six-speed twin clutch SST 'auto' gearbox and option on the FQ-300. Trim levels: GS, GSR.
Alternative cars
Subaru Impreza In WRX STI guise the Impreza is a close rival. It's also now a more practical five-door hatchback
Audi A3 S3 variant boasts all-wheel drive and a turbo engine. More refined but surprisingly potent
Volkswagen Golf R32 hot Golf is also all-wheel drive and very quick. Not as sharp as its Japanese rivals on the road
Renault Megane Hot Renaultsport model is hugely powerful and capable. Front-wheel drive only but impressive hot hatch all-rounder