August 2004
Mitsubishi Lancer Evolution VIII 260
For the money, it's difficult to beat Mitsubishi's Lancer Evo VIII 260
August 2004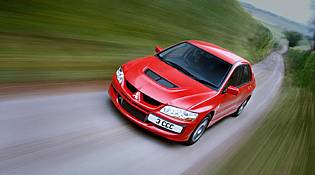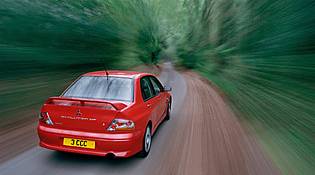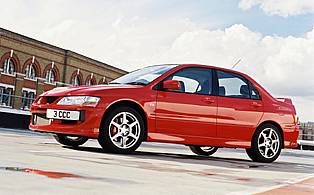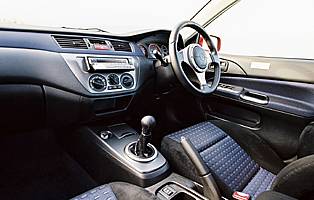 Overall rating

Likes:
Superb bang-per-buck performance proposition
Bodywork addenda is kept to fashionable minimum - Evo 260 thankfully dispenses with the usual garish go-faster bits
Lancer not only fast but practical, thanks to its four-door saloon body
4x4 security makes Lancer an excellent all-weather car
Gripes:
Evo 260's engine note is rough and could prove tiresome on long motorway journeys
Low speed manoeuvrability hampered by poor steering lock
Could prove expensive to run if consistently driven hard
Low price is matched by low-rent stereo option, which detracts from the otherwise good quality interior
In pure bang-for-buck terms, Mitsubishi's Lancer Evolution series is one of the best propositions around. Boasting supercar-baiting performance for a fraction of the cost of a Porsche, Ferrari or Noble, it's no wonder the Lancer is hugely popular with enthusiastic drivers with one eye on their bank balance.
In recent years Mitsubishi has become famous for two things: its Shogun range of off-roaders and its rally-inspired Lancer Evo line-up. Despite the firm's best marketing efforts, all its other cars have largely failed to register with buyers in significant numbers. And of the two more well know sub-brands, it's the Lancer - thanks in part to numerous wins in the World Rally Championship - that's generated the most column inches.
The Lancer's high profile is no accident, though. In the eyes of buyers interested in performance-orientated motoring but who don't have the financial clout to purchase a Porsche or other such vehicle, the Lancer is a gift from above. Boasting, even in entry-level 260 configuration, enough thrust, grip and chassis dexterity to make a 911 driver nervous, it's clear to see why the car has become such an important model for Mitsubishi.
While the attraction may be obvious, it hasn't all been plain sailing for the car maker. In the same way that arch-rivals BMW and Mercedes constantly exchange blows, Subaru has for a long time kept Mitsubishi honest with its equally impressive Impreza. Both cars are compact four-door saloons with rally pedigrees, and in the past the Impreza has been perceived to be the softer, easier to live with car, while the Lancer has exhibited a harder, more competition influenced bias.
In reality there's little to separate the two cars, although previous generations of the Impreza have been saddled with questionable exterior styling, making the more conventional-looking Lancer a less risky proposition. Ultimately the purchasing decision will come down to personal preference, although out of the box the latest Lancer Evo VIII series appears to have the edge in terms of driver involvement and track day appeal.
Our verdict on the Mitsubishi Lancer Evolution VIII 260
As an entry to the world of low cost, high performance motoring, Mitsubishi's Lancer Evolution VIII 260 may be something of a mouthful but there's no denying its ability to leave more expensive machinery behind. The ride may be on the firm side and the engine less than tuneful, but countering such criticisms is the sheer depth and breadth of its ability to entertain when driven enthusiastically. A superb all-weather performance tool, the only danger is that you're more likely to exceed your own abilities before the car's.
Costs
Modest purchase price aside, there will be substantial running costs associated with the car if you intend on making full use of its performance potential. Fuel will be one such expense - hard acceleration and high speed running will cause economy figures to tumble. Tyres will be another, as the Lancer's grippy items will wear quicker than those of a conventional saloon. Also, there's the small matter of insurance, which will be especially high if you are a young or inexperienced driver. Add an even higher loading if you attend any track days - an activity proving popular with owners seeking to legally exploit the car's full potential.
Space and practicality
Surprisingly easy to live with in practical terms, the Lancer does a fine job of impersonating a sensible saloon when the time comes to load up with passengers or shopping. Cabin space is decent all round, with rear seat occupants feeling compromised only when sitting behind anyone tall in the front seats. It would be foolish to expect rear legroom to match limousine standards, but the space available is more than adequate. The car's boot is a good size, making the car a fine alternative to a large family hatch if performance is a high priority. Door pockets are modest in size, but there are cupholders next to the handbrake.
Controls and display
With none of the frivolous controls and slapdash switchgear usually associated with car interiors in evidence in the Lancer, it's clear that the car's main purpose in life is to entertain. After all, the last thing you want is to be distracted when making progress on your favourite B-road. The rotary ventilation controls are easy to understand, as are the door-mounted electric window switches. The instrument dials are also straightforward, although the aftermarket stereo bucks the trend with its fiddly buttons and small display. Thankfully the pedals, handbrake and steering are well-weighted, with the gearlever offering a pleasingly short, sports car-like shift.
Comfort
For a car that is capable of humbling more exotic machinery, the Lancer Evo 260 is a surprisingly comfortable machine. That is, so long as you can fit into its competition-derived front sports seats. While not as extreme as those fitted to the flagship Lancer FQ 340, anyone with a wider than average posterior will feel the pinch quite literally. That aside, achieving a comfortable driving position is straightforward, and rear occupants benefit from a reasonable amount of leg and headroom. The only black mark is against the car's ride, which can be a little too unforgiving on poorly surfaced urban roads. However, what you loose around town you gain on the twisty country roads as pitch and roll is kept to a pleasing minimum - important when high speeds are involved.
Car security
Although it displays a more discreet road presence than its more aggressively-styled Lancer stablemates thanks to a smaller rear spoiler, the Evo 260 remains a distinctive motor car. With that in mind, it's good to see Mitsubishi taking a lead an equipping the car with a number of anti-theft deterrents. Along with the usual remote central locking, immobiliser and alarm, the car comes with locking wheel nuts, 'Mighty Dot' invisible marking and a visible VIN. While optional, the satellite tracking system is highly recommended.
Car safety
As to be expected with a car as potent as the Lancer 260, active safety is good. The car's clever four-wheel drive system boasts a number of traction and stability features, which are bolstered by a sports-biased ABS system. Also, the car boasts powerful all-round disc brakes, which do an impressive job of safely slowing the car repeatedly from high speeds with no noticeable drop in performance. On the passive front, twin front airbags are standard, along with ISOFIX child seat mounting points for the rear bench.
Driver appeal
The Lancer 260 is, without a shadow of a doubt, one of the most enjoyable performance cars available. What the car's engine lacks in terms of sonic charisma it makes up for with an almost never-ending amount of thrust from its two-litre turbocharged motor. Add a snappy five-speed gearshift, direct and communicative steering, mind-boggling levels of grip from the advanced four wheel-drive system and a chassis that will flatter even the most conservative of drivers and you have a recipe to entertain that's hilariously disproportionate the car's asking price. Granted there are faster Evo variants, but they can often feel too quick for the public road and lose their novelty value all too easily. In contrast, a spirited drive in the Evo 260 can feel more rewarding as you're doing more work.
Family car appeal
Anyone with a family and a penchant for fast cars would be foolish to overlook the Lancer 260. It may not have the folding seats and countless cubbyholes of an MPV, but the Lancer's four-door body and decent boot make the car a surprisingly sensible alternative. Family driving holidays might be more costly than in a diesel people carrier and the kids might find the car's firm ride annoying around town, but there are plenty of reasons to recommend the Lancer to anyone complementing the likes of Vauxhall's Zafira GSI.
First car appeal
Mitsubishi's Lancer is about as far removed from the stereotypical learner car than you can get. With that in mind, any novice driver contemplating a purchase would be well advised to go for something less potent instead, even if it is a 'luke warm' GTI hatch. With even experienced drivers commenting that it's difficult to find the limit in modern rally replicas, novices are likely to find the Lancer more than a little intimidating. And that's assuming a first time driver can find an insurer willing to underwrite the sizeable risk.
Quality and image
Mitsubishi's Lancer boasts one of the strongest performance brand images the affordable side of BMW, only not for the reasons that immediately come to mind. It's not for the quality of the car's cabin - which is distinctly average - but for the past victories of its rally car namesake. There's also the small matter of the road car's ability to make even the average driver feel special. Those in the know are often happy to forsake the finer points of cabin detailing for supercar levels of thrust, which is why the Lancer's cabin is no more inviting than that of a budget family hatch. However, there's no question over the integrity of the car's mechanical parts - illustrating perfectly where most of the money has been spent.
Accessibility
As four-door compact saloons go, the Lancer is up there with the best of them. Entry to the front part of the cabin is easy, while access to the rear is easy enough through the smaller door openings unless you are feeling particularly stiff. Although the saloon-shape Lancer will never be able to compete against the hatchback fraternity, the car's boot is a decent size. The load lip, however, could be lower, as hoisting heavy items in and out can become a chore.
Stereo and ICE (In car entertainment)
Something had to give with the Lancer's low cost, high performance formula and it's the audio equipment. Standard fit in the Evo 260 is a disappointingly over-fussy head unit that would look more at home in the fascia of a teenager's modified Vauxhall Nova. At least, given the Lancer's bold street presence, the face panel retracts into the dash ensuring thieves aren't attracted to its otherwise garish design. Anyway, listening to the stereo is likely to be an unwelcome distraction when you're driving the Lancer to a level that requires serious concentration.
Colours and trim
Of the exterior colours available, nothing looks better than Mitsubishi's bright red option. The main colour of the firm's rally team, there's no denying the emotional connection that's generated when you spot a Lancer in its 'proper' colour scheme. That said, if you want to move around largely unnoticed, black is a surprisingly flattering alternative. Inside, the theme is function over form, although the cabin's finish is to a high standard - if you like traditional Japanese dark greys and blacks. The car's figure-hugging sports seats are trimmed in hard wearing but attractive fabrics, and are styled very much with a motorsport theme in mind.
Parking
Parking the Lancer is, on the whole, no different to parking any compact four-door saloon. And, unlike the Evo 260's more powerful cousins, there's no high-rise rear wing to block your view rearwards. For a car boasting such a potent level of performance, low speed manoeuvring is surprisingly devoid of kangaroo-style shunting, and both the clutch and steering are pleasingly light. Only the latter's less than stunning lock-to-lock behaviour will have you cursing if your chosen space is especially tight.
Spare wheel
Space saver fitted as standard.
Range information
One engine option (a two-litre, turbocharged four-cylinder petrol unit), but in four different states of tune - Evo 260 (261bhp); Evo MR FQ-300 (305); Evo MR FQ-320 (326); Evo MR FQ-340 (342). All cars are equipped with a six-speed manual gearbox except the Evo 260, which gets a five-speed unit. There are no specific trim levels, but MR range benefits from a subtle range of upgrades, including improved suspension, tyres and front seats.
Alternative cars
Subaru Impreza The Lancer's long-time adversary is a more refined car at low speeds, but can't match the Mitsubishi for on-the-limit handling poise
Ford Focus RS No longer in production but boasts similar competition car-like handling traits. Only front-wheel drive, though
Audi A3 Sportback 3.2 quattro All-wheel drive Audi is a potent performer for similar money, but is a hatchback and lacks the Lancer's rally-bred personality
Mazda RX-8 Like the Lancer the RX-8 has four doors and boasts a meaningful boot. Unlike the Lancer it's rear wheel-drive and powered by a compact, high-revving rotary engine