July 2007
Mitsubishi i i
Narrow, upright stance ensures that Mitsubishi's city car received plenty of attention
July 2007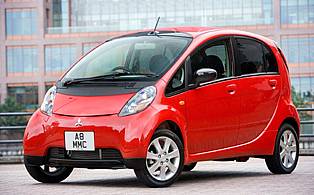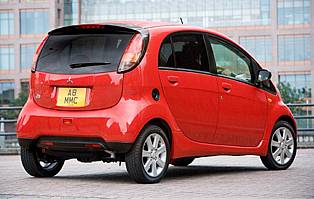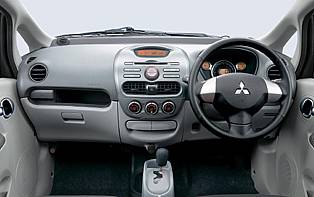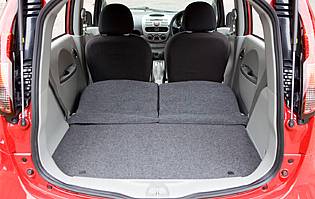 Overall rating

Likes:
Radical styling gifts the car plenty of kerb appeal
Cabin is surprisingly spacious
Feels stable and secure when driven around town
Well equipped and well built
Gripes:
Doesn't like crosswinds - motorway journeys can become tiresome in bad weather
Auto gearbox reluctant to kick down, and a fifth gear would be welcome
Boot floor can become warm thanks to the engine underneath - not good for carrying shopping long distances
Fiddly UK supplied aftermarket immobiliser
Until the arrival of the Smart City Coupe, rival manufacturers rarely considered radical design and packaging. Compromise reigned - even with the Smart - forcing buyers to sometimes choose cars with only two seats, minimal storage space or mediocre performance. Japanese car makers have taken a different route; small, efficient and powerful engines, compact yet space efficient cabins and extrovert styling. Which explains why Mitsubishi's i car looks and behaves the way it does.
Thanks to the convenient coincidence that Japanese and UK cars both have their steering wheels on the right, barriers preventing the former from appearing on the latter's shores are few. As such, individuals and manufacturers can sometimes take calculated risks and import the occasional oddball Japan-only car. If the Honda Element and Nissan Figaro don't sound familiar, maybe in time the i car will.
Mitsubishi took the plunge with the unusual i car, keen to be part of the small car, environmentally aware movement. What arrived in the UK is a four-seat, four-door car boasting a rear-mounted, turbocharged three-cylinder petrol engine driving the rear wheels. It looks like nothing else on the road but is no automotive trinket. An award winner in its native Japan, the car is as practical as it is quirky-looking.
Built to comply with Japan's city-centric K-car regulations, which stipulate maximum external dimensions, engine size and power output, the little Mitsubishi is powered by a 660cc, three-cylinder turbo petrol motor producing 57bhp. The transmission is a four-speed auto gearbox, and the car is rated at a modest 114g/km CO2 emissions. This factor plus the car's modest dimensions is what Mitsubishi hopes will encourage long-term interest.
Contrary to your initial gut feeling, there's little in the way of compromise. There's space for four adults, performance is brisk when one-up (top speed is 84mph and the zero to 62mph sprint takes a respectable 14.9 seconds) and driving it around town is a easy. Away from the city it remains well mannered, although the only complaint is that it doesn't like crosswinds much. And when a car like this comes with electric windows, air-con, twin airbags, height adjustable driver's seats, alloy wheels, remote central locking and Isofix rear child seat mounts, it's difficult to see a downside.
Our verdict on the Mitsubishi i i
Laden with standard equipment - for its size - and boasting brisk performance along with room for four inside, Mitsubishi's i car might look a little odd but its perfectly adept at adjusting to a conventional lifestyle. With rear seats that fold and a footprint small enough to fit in nearly any parking space, it's also a practical car for the urban dweller. Some critics believe Mitsubishi has priced the car too high, but factor in the standard kit, performance and four-seat cabin and it soon becomes a sensible buy.
Costs
For the asking price, the i car makes a considerable amount of sense. The one trim level offered is a generous one, and running costs - servicing, fuel and insurance should be modest. With the car's engine outputting only 114g/km of CO2, excise duty is also very low.
Space and practicality
For a small car, this Mitsubishi offers plenty of space for occupants and their belongings. Aside from the token door bins, which are only good for a very thin map, the car's glovebox will swallow the handbook, a box of tissues and a couple of CD cases. The cubby in front of the gearlever is perfect of a mobile phone or two, while below the ventilation controls there's a pull out change drawer and cupholder. Above the glovebox is another cupholder and located centrally under the fascia is a wide, flat tray - although this isn't the easiest to reach when sitting down. At the rear, the car's boot is a good size and, combined with the folding rear seats, ensures a level of versatility unmatched in this sub-compact sector.
Controls and display
The few controls that litter the i car's cabin are intuitive, and most of the switchgear will be familiar to Mitsubishi fans. The car's compact steering wheel is just the right size, and the column stalks boast a sturdy feel. As per many Japanese domestic market cars, the indicator and wiper stalks are reversed - the former is on the right, not the left. The car's mix of digital and analogue instruments works well, especially the bold digital speed readout. The stubby auto gearlever requires little effort, and the ventilation controls are convenient rotary items.
Comfort
Front seat passengers are blessed with a considerable amount of room, with head and legroom in plentiful supply. Two large adults might occasionally bash elbows, but that's a small gripe considering the i car is on the narrow side. Seats fore and aft are supportive, although they don't initially look terribly inviting, and ride comfort is good thanks to the car's long wheelbase. At the back, rear seat passengers benefit from a decent amount of knee and legroom, as feet can be slid under the front seats for added comfort.
Car security
Historically, Japanese domestic market cars have lacked the security measures that have become common on European variants. The i car is no different, but Mitsubishi UK equips the vehicle with an immobiliser. This feature requires you to press a small key-like metal stub against a contact behind the ignition barrel before you can fire up the engine. It's a routine that will be familiar to Lancer Evolution owners, but it can prove annoying - especially when it's dark. Remote central locking is also standard, with an alarm system a cost option.
Car safety
Mitsubishi's i car meets all the basic criteria but doesn't push any new boundaries. You'll only find twin front airbags in the cabin, but in a bid to raise the car's family appeal there are twin Isofix child seat anchor points in the rear seats. On the mechanical front, you do get anti-lock brakes plus electronic brakeforce distribution.
Driver appeal
Clearly designed for urban motoring, everything about the i car is focussed on making city driving enjoyable. The light power steering helps enormously, while under most circumstances the four-speed auto gearbox is smooth and predictable. The brakes are firm and progressive, and the enthusiastic three-cylinder turbo petrol engine propels the car along at a disproportionately eager pace. Noise is low despite your close proximity to the engine bay and, overall, wind and road noise is at sensible levels. Urban road imperfections are dealt with efficiently thanks to the car's suspension and long wheelbase, and parking is a painless activity. Only on fast roads when encountering crosswinds does the i car feel unsettled - it's a tall, narrow car - and you need to concentrate a bit more.
Family car appeal
Despite the compact Mitsubishi's size, doubling up as family car isn't out of the question. Certainly, if you have a small but growing family the car could cope. You'll have a problem transporting children and pushchairs, though - the i car won't be able to do both. It does come with a pair of Isofix child seat mounting points, ensuring that young children can stay safe when on the move.
First car appeal
If there's one car that's crying out to be labelled a good candidate for novice drivers, this is it. With power steering, good visibility, an auto gearbox, powerful brakes and modest running costs, this Mitsubishi is a winner on paper. Easy to park and drive, the i car makes a lot of sense. There are no real drawbacks to ownership either, thanks to the car's four-seat cabin, decent performance and generous list of standard equipment.
Quality and image
In the UK Mitsubishi has no track record with small, sub-compact cars. It does, however, have a solid reputation for good aftersales service and vehicle durability rates. The looks of the i car alone will help it gain acceptance, and the fact that it is no gimmick and performs well beyond initial expectations will do much to tempt wavering buyers.
Accessibility
Despite the Mitsubishi's small size, it's a proper four-door, four-seater car. As such access to the front seats is straightforward, and helped by the slightly raised seating position. At the rear, the door aperture and access route is surprisingly generous, while headroom won't be a serious issue unless you're way above the norm. At the rear, the car's modest tailgate reveals an equally modest boot space, but thanks to the overall layout it's conveniently at waist height.
Stereo and ICE (In car entertainment)
For the UK, the original Japanese market audio unit gains a frequency converter so it can receive European radio stations. The result is broadly successful, although urban locations dominated by tall buildings can reduce the unit's ability to lock and hold onto certain stations. The integrated single CD player works well, and the audio unit's controls are easy to use. The eye-level LCD display is a welcome bonus. Mitsubishi UK offers of an optional audio unit complete with iPod controller will no doubt tempt many young buyers.
Colours and trim
A modest selection of external colours are available, with bright red the most fitting for a car like this. Black tends to disguise its many quirky styling features, making brighter hues a more appropriate choice. Inside, the mix of light grey plastic - a Mitsubishi tradition - and darker seat fabrics offer a pleasing contrasting colour scheme.
Parking
With the Mitsubishi taking up so little space, it's stands to reason that parking the car won't be a chore. Visibility fore and aft is very good, thanks in part to the slightly raised driving position. Rearwards visibility is helped by the hatchback's near-vertical tailgate design. Factor in a smooth throttle response, light steering, good-size mirrors and slotting into a tight space becomes a strangely satisfying experience.
Spare wheel
Compressor and mousse kit located under the rear seat cushion.
Range information
Petrol engine options - 0.6-litre turbo (57bhp). Transmission: four-speed automatic gearbox as standard. Only one high specification model offered.
Alternative cars
Smart Fourtwo Two-seat only and doesn't possess the smoothest ride around town - cute looks, though
Ford Ka Few-frills Ford is a two-door but four-seater runabout. Cheap, cheerful and solidly built
Peugeot 107 Like Toyota's Aygo and Citroen's C1, affordable, stylish and reasonably conventional
Fiat Panda Conventional compact hatchback is fun to drive, easy to own, cheap to run