Mitsubishi ASX 2.2 Automatic 5
Frugal engines
January 2017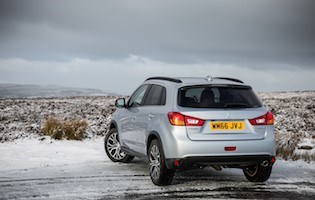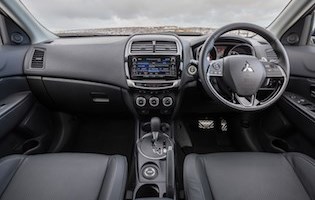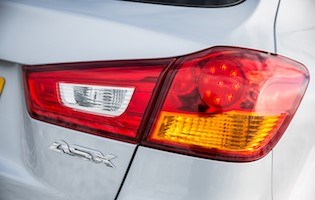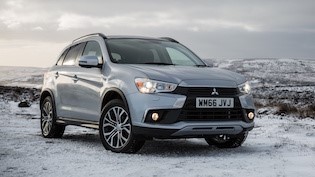 Overall rating

Likes:
Spacious cabin
Well priced
Decent kit levels on mid-range cars
Frugal engines
Gripes:
New front is divisive
Still feels old
Diesels grumble at speed
Automatic transmission is sluggish
The crossover market is a competitive one, and the Mitsubishi ASX has always been too mundane to make a big impression. Now, though, it has been updated with a new front end and an improved cabin. The wholesale changes to the front haven't been replicated elsewhere, but the little SUV does come out the better for its facelift.
At first glance, the ASX looks almost completely different thanks to its new nose. It uses a boxy evolution of the so-called Dynamic Shield styling first seen on the Outlander launched in 2015. It's a divisive look, but there's no denying that it's transformed the ASX's front section.
Behind the nose art, though, it's still the same basic silhouette as before, and there are few immediately apparent changes on the inside. Look closely, though, and you'll see that the plastics have improved slightly, and the whole thing feels a little better constructed than before.
Under the bonnet, customers can choose to have one of three powerplants. The basic 1.6-litre petrol engine is available solely with front-wheel drive, and you'll have to go for diesel power if you want the torque to go to all four wheels. That's no hardship, though, because the diesels are quite frugal – even the flagship 2.2 isn't too thirsty.
On the road, the ASX feels stable and secure, but it isn't what you'd call exciting. Body roll is surprisingly well contained, although there's little feedback from the steering wheel and the diesel powerplants get noisy when pushed. Once you're in the cruise, however, it settles down.
Our verdict on the Mitsubishi ASX 2.2 Automatic 5
The ASX may look new, but don't be fooled. It's an ageing design that's beginning to fall behind the curve. It isn't all doom and gloom, though, because the little Mitsubishi has moved forwards. It's still a relatively well priced and practical proposition, and there's a hint of driver enjoyment to be had if you look in the right places.
---
Costs
ASXs start from £15,999 and for that money you'll get all the essentials, but for goodies such as satellite navigation and Bluetooth you'll need to upgrade. You also get the basic 1.6-litre petrol engine for your money, but going for the more frugal diesels will command a premium. At the top of the range, you could be paying more than £28,000.
Space and practicality
There's 442 litres of space in the back of the ASX, which is competitive for the segment without being hugely impressive. It does, however, have a decent amount of room in the rear, where children will be flush for space and adults will feel perfectly comfortable even on medium-length journeys. Long trips with four six-footers, though, may require a quick stop to stretch tired legs.
Controls and display
The ASX boasts pretty conventional controls, and though it can be had with a range of digital displays, these aren't particularly taxing to get your head around. The graphics aren't that brilliant, but at least they're clear and easy to read. They are starting to show their age, though, which is a touch disappointing.
Comfort
The ASX rides reasonably well, but the body control provided by the suspension comes at the expense of a slightly firm ride over potholes. It's hardly sports car levels of firmness, but it is a little jiggly. On smoother roads such as motorways, however, it's perfectly comfortable, with decent seats making light work of even long trips.
Car security
As you'd expect, the ASX comes with an alarm and immobiliser as standard, as well as central locking, so it's as secure as any of its rivals. It shouldn't be too popular with thieves, though, as they normally opt for high-value premium cars and hot hatchbacks, rather than middle-of-the-road family crossovers. If you're worried, though, you can always fit a tracker.
Car safety
The latest ASX hasn't been tested by Euro NCAP, but its forebear achieved a five-star score when it was checked in 2011. A solid adult protection score of 86 per cent and a decent safety assistance score of 71 per cent helped it on its way to a top rating, although the scores for child and pedestrian protection were a little less impressive.
Driver appeal
You don't always expect SUVs to drive that brilliantly, and the ASX is no exception, but it's actually surprisingly capable when you put your foot down. The body roll is well contained, and though the steering isn't especially feelsome, the ASX is easy to place on the road. Power from the 2.2-litre diesel engine is also good, and though it's hampered slightly by the automatic gearbox, it performs well.
Family car appeal
The ASX offers decent practicality and feels rugged and hardwearing, making it a great family car. It should be able to handle the rough and tumble of family life, and there's enough room for day-to-day items in the boot, although long-distance touring may be best attempted in something a little more capacious.
First car appeal
With rally pedigree and genuine off-road capability, the ASX is worthy of a little street cred, but it's unlikely to be first choice for young, first-time drivers. It is, however, a reasonably affordable alternative to the humdrum hatchbacks so many young drivers find themselves behind the wheel of. It's a relatively safe car, too, which provides peace of mind should the worst happen.
Quality and image
The Mitsubishi badge speaks of 4x4 capability, and though the basic ASX doesn't get all-wheel drive, the car looks the part. The chunky new front gives an impression of strength, and there's decent ground clearance for a car of this size. Quality is improved over the old car, thanks to the use of softer cabin plastics.
Accessibility
The ASX may be relatively tall, but it's no further from the ground than any other crossover of its ilk, and though it will make the boot floor a little high up, it won't be a great issue. It should be easy enough to get into and out of, too, because the seats are roughly at hip height, allowing you to slide in, rather than falling into the seat or clambering up into the cabin.
Stereo and ICE (In car entertainment)
As standard, the ASX gets a basic radio and that's about it, but higher-spec cars benefit from a touchscreen infotainment system with Bluetooth and satellite navigation. It isn't the best system in the world, with clunky ergonomics and so-so graphics, but it does the job and it has reasonable sound quality.
Colours and trim
For the most part, the ASX's colour options are a monochrome dirge of greys, whites and blacks, but there are a couple of less austere colours available. There's a vibrant blue that sits smartly alongside the chrome trim at the front, while there's also a deep ruby red that's also nicely set off by the ASX's brightwork.
Parking
You might expect small SUVs such as the ASX to be more difficult to park than the smaller hatchbacks that so often spawn them, but the ASX is actually fairly benign in a parking situation. Visibility is decent without being amazing, but you can specify a host of parking sensors and a reversing camera to help you out if you're nervous about it.
Spare wheel
Emergency tyre repair kit supplied as standard.
Range information
Petrol engine options: 1.6 (115bhp). Diesel engine options: 1.6 (115bhp); 2.2 (148bhp). Transmission options: Five-speed manual; six-speed manual; six-speed automatic. Trim levels: 2, 3, 4, 5.
---
Alternative cars
Skoda Yeti Getting old, but still an impressive all-rounder.
Jeep Renegade Off-road-focused crossover has character.
Fiat 500X Chic Fiat has substance as well as style.
Honda HR-V Roomy Honda drives well.