October 2009
Mazda CX-7 2.2 D
Restyled front end is clearly Mazda
October 2009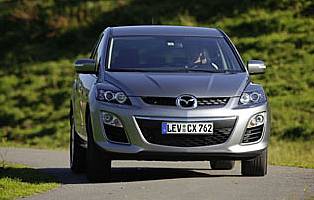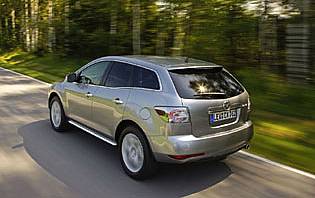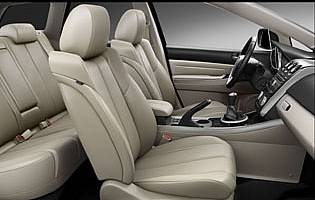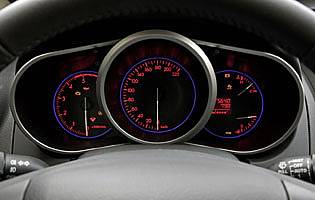 Overall rating

Likes:
Benefits greatly from improved styling
Light controls and cosseting motorway ride
Diesel unit considerably more economical
Spacious and practical interior
Gripes:
Not as sporty as styling suggests
Single high trim level only
Lacking torque low in rev range
Sat-nav screen a little small for multi-functions
A curious combination of sporty coupe styling on an SUV, Mazda's CX-7 crossover is a vehicle occupying a small niche in the UK market. Originally made available in 2007 with a single high specification trim level and with powerful 2.3-litre petrol engine, the new model for the UK has received a facelift and has switched to a 2.2-litre diesel engine.
Mazda's CX-7 was always intended as a niche vehicle in the UK market, but its unique styling combined with powerful, turbocharged, thirsty petrol engine meant it struggled to find UK buyers in its original guise leading to it being discreetly pulled from sale in the UK before the arrival of the new diesel powered version. Replacing the 2.3-litre petrol unit as used in the Mazda3 MPS model with the 170bhp 2.2-litre diesel unit familiar from the Mazda3 and Mazda6 ranges instantly gives the CX-7 a greater appeal in the UK.
Despite a facelift the model retains its distinctive premise of sporty, coupe-like styling on a large SUV body and platform. Tweaks to the trim inside and out have given the model a fresher face, but the flared arches, narrow window-line, rakish windscreen and sloping roof of the original remain. A spacious interior was a hallmark of the previous generation model and the comfort levels have been increased with even more standard equipment on the single high specification trim level UK model.
The 2.2-litre diesel engine brings greater fuel efficiency to the CX-7 and, keen to exploit its greener credential, Mazda has also added an AdBlue urea system to help reduce harmful NOx emissions alongside the already reduced Co2 emissions. A part time four-wheel drive system remains, monitoring the progress of the front wheels sending up to 50 per cent of the diesel unit's impressive torque reserves to the rear wheels if required. This increases stability and traction on road and gives the model limited off-road potential.
Mazda claims to have stiffened the chassis, too, increasing the on road performance but without sacrificing the ride quality. Although more agile than many SUVs, aided by the wide track and sporty stance, the CX-7 is also an accomplished long distance tourer with a cosseting ride. The long ratio sixth gear of the manual transmission reduces rpm at speed on the motorway, helping in this regard.
Our verdict on the Mazda CX-7 2.2 D
In diesel form, the CX-7 makes a great deal more sense. Considerably more economical and with less punitive emissions, the crossover model gains in terms of pragmatic appeal what it loses in performance. Spacious, well equipped and good-looking its adaptable nature makes it an interesting left-of-field choice, even if its pricing places it close to some premium compact SUVS.
Costs
Replacing the 2.3-litre petrol unit with a 2.2-litre diesel has instantly made the CX-7 a more sensible family choice in terms of running costs. Its CO2 emissions and fuel consumption are impressive for a large vehicle, but still higher than many diesel powered family estates, and insurance ratings are likely to stay relatively high. That said, it offers a lot of equipment and proves a very distinctive model for the money making it a much more tempting proposition than the previous version.
Space and practicality
Although a high window-line and transmission tunnel give the impression of less space on the inside, the cabin is roomy for front and rear passengers. The boot is a good size too, with a wide door and the rear seats easily fold flat or split 60/40 for additional luggage space. The boot floor sits level with the bottom of the hatch, meaning it's easy to load bulkier items.
Controls and display
Everything inside the CX-7 feels well planned and solid and that includes the switches, which are all conveniently positioned and straightforward. The dials are shrouded by plastic tunnels which reduce glare and are lit deep orange making them extra visible. The new multi-function steering wheel boasts a raft of controls for the driver, the only downside is the small colour display that struggles when multi-tasking due to diminutive dimensions.
Comfort
Much improved refinement has eliminated the wind noise present on the previous model and, despite the diesel engine, the new CX-7 proves an extremely quiet tourer. The excellent motorway ride is hard to catch out and rarely feels too firm despite being stiffer than most SUVs. Generous interior equipment levels mean front and rear passengers are well catered for and supportive seats with good quality leather are great over long journeys. Cruise control and automatic lights and wipers are standard.
Car security
The CX-7 comes with keyless entry as standard and it also has privacy glass at the rear for added security. A category one Thatcham approved alarm and immobiliser are standard equipment.
Car safety
The part-time four-wheel drive system offers additional traction in treacherous conditions plus improved grip through the corners and the usual electronic aids including ESP, traction control and ABS with EBD are present. Hazard lights flash under heavy braking and there are more than enough airbags to keep parents happy. A new addition is a system that warns of vehicles approaching in the blind-spots; it flashes a warning in the mirrors and works very well.
Driver appeal
The CX-7 remains more agile and responsive than might usually be expected from a soft-roader, but the forgiving motorway ride means there's still an element of large-vehicle body-roll when really pushing on. Steering and controls are tailored for comfort and prove light and enjoyable to use. The 2.2-litre diesel unit is naturally lacking in performance when compared to the 2.3-litre petrol unit it replaces, however it feels sharper than the on-paper figures suggest and is a particularly adept cruiser. The engine itself is lacking in torque low down in the rev-range but performance comes in sharply above 2000rpm.
Family car appeal
The CX-7 is a different take on the family SUV, but it's a family SUV all the same. The space and practicality will appeal to families and its part-time four-wheel drive makes it perfect for adventurous family outings. The 2.2-litre diesel unit makes it a much more suitable choice for the UK driver, boosting its appeal as a left-field family choice.
First car appeal
The CX-7 is targeted at a niche market that's highly unlikely to include young drivers. As a large vehicle it's better suited to more experience drivers and as one of the most expensive vehicles in the Mazda range will not suit many first time car buyer's budgets.
Quality and image
Both build and material quality are impressive in the CX-7 - not as high as from genuine premium manufacturers but running them quite close in many areas. The CX-7 stands up to rougher surfaces well without rattles or squeaks from the interior and shut lines are impressive inside and out. Mazda has improved its reputation for quality with a succession of well-built and reliable products. The CX-7's rarity will also boost its kerb appeal.
Accessibility
Large passenger doors open to a noticeably wide angle and combine with the SUV-like seat height to offer particularly easy access. The new model inherits the old version's specifically designed sills that prevent legs being muddied when leaving the vehicle.
Stereo and ICE (In car entertainment)
As with the previous generation CX-7, a nine-speaker, high quality Bose sound system is standard equipment for all UK CX-7s. MP3 compatibility, a six-disc changer and a system to automatically adjust the sound quality to cancel out cabin noise are included. Bluetooth is also standard, plus there's the option to wirelessly interface with an iPod. Standard sat-nav is a new addition and is controllable via wheel mounted buttons. The 4.5-inch screen is a little compact however, and struggles when multitasking as an info centre.
Colours and trim
The facelifted CX-7 retains many of the bold and distinctive paint choices available for the previous generation car. Its blacked out rear windows, flared arches and large wheels also mean it's among the list of large vehicles that look good in white. A single high specification trim level means leather is standard while a piano black and aluminium effect finish inside looks smart. The exterior also benefits from new lights and additional chromework, giving the model a fresher appeal.
Parking
The curious lack of parking sensors on the otherwise highly specced previous generation CX-7 is countered with the addition of a reversing camera for the new model. It's a bonus as, despite the large door mirrors, rear visibility is hampered by the small rear window and rising side window line. The turning circle is more than adequate, however, and the CX-7 proves no less manoeuvrable than might be expected for a vehicle of its size.
Spare wheel
Space saver fitted as standard under boot floor.
Range information
Diesel engine options - 2.2-litre (170bhp). Transmission options: six-speed manual gearbox with automatic part-time four-wheel drive. Trim levels: Single trim level only
Alternative cars
Nissan Murano Similar styling but thirsty petrol engine only
Audi Q5 Excellent soft-roader range starts at a similar price
Volvo XC60 Stylish and well equipped with more exclusive badge
Hyundai Santa Fe Crisp styling and the option of seven seats