March 2015
Mazda CX-5 SkyAvctiv-D 2.2 150 SE-L Nav
Slightly smoothed styling at the front identifies the updated CX-5
March 2015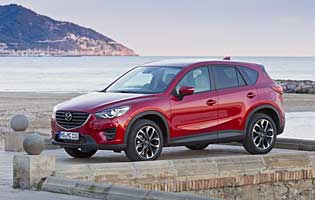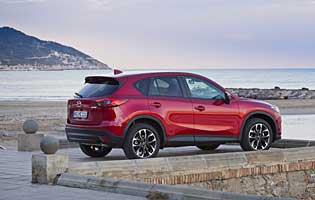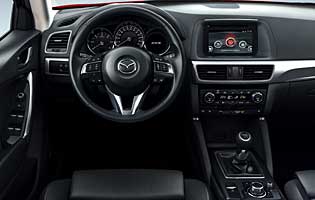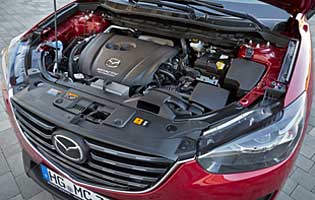 Overall rating

Likes:
Stylish bodywork and bold colours help the CX-5 to stand out from the crowd
Solid interior materials give a sense of longevity
Relaxed engine returns good fuel economy
Intuitive and capable infotainment interface
Gripes:
Despite universally solid feel, some interior materials look cheap
Long-legged drivers can cut rear legroom down quickly
Navigation software can become confused
Luggage load lip is quite high
Just as the CX-5 was the first Mazda to receive what has become the instantly recognisable Kodo family styling, it is the first to receive a mid-life update. The bones beneath the surface are largely the same as the 2012-2014 model, but with some important and very welcome revisions in the cabin.
The CX-5 entered a crowded market against longer-established and more familiar vehicles, and despite many factors in its favour it has not sold as well in the UK as Mazda would like. To try to redress the balance the car's lines have been smoothed a little to take away what was perceived as too obvious a masculine edge to the styling.
A simple choice of one petrol and one diesel engine remains, as before. Both are prime examples of ingenious 21st century engineering in how efficient they are without resorting to downsizing. The diesel is especially remarkable because unlike many rival engines it doesn't require any additives, like AdBlue, for example, to meet the stringent Euro 6 emissions standard.
In terms of size it is larger than its biggest-selling rival, the Nissan Qashqai, and maximises that advantage with ample interior space and luggage capacity. Like most Japanese cars it aims to offer the maximum in practicality and safety along with a relaxed, efficient driving experience. The larger-than-normal capacity engines help to realise the latter.
This is a compact family car with the high driving position and airiness of a 4x4. It is aimed primarily at parents with growing children, for whom a smaller car simply isn't big enough for comfort, but it adds a flowing, simple stylishness that is uncommon in a sector populated by angular, fussy alternatives.
Our verdict on the Mazda CX-5 SkyAvctiv-D 2.2 150 SE-L Nav
The CX-5 maintains its class-leading driving dynamics courtesy of a powerful diesel engine and a gearbox that uses technology from that of the MX-5 sports car. With slight modifications to the controls layout and an increase in standard specification, Europe's best-selling Mazda has become an undeniable contender for the title of best in class. It is not without small flaws but the ownership experience is excellent.
Costs
The diesel models are the cheaper for drivers who cover high mileages, but petrol equivalents are significantly cheaper to buy and run for people who drive mainly in town or the suburbs. Company car users will appreciate the CX-5's low emissions. The increased quota of equipment for this model should help with residual values.
Space and practicality
If you so wish, three adults will fit across the rear bench seat thanks to minimal intrusion from the rear of the centre console where it runs between the front seats. Ultimately, though, it will become cramped, especially for the middle passenger. Up to three children should be happy enough. The boot floor is relatively high but offers a good surface area to spread luggage out on. There is space beneath the boot floor as well, because there is no spare wheel.
Controls and display
A simple three-dial instrument cluster layout is simple but effective, with a small digital screen that can display a variety of trip computer information. The main media and vehicle functions are controlled by a dial on the lower centre console behind the gearstick. It's intuitive and easy to use, even on the move. The remainder of the controls will be a familiar layout to most drivers.
Comfort
There are few changes to the car from its predecessor, so the seats are comfortable front and back, and a well-controlled ride minimises jostling and jolting from the road. Some larger bumps are transferred into the cabin more forcefully as the dampers reach their limits, but the CX-5 generally manages to create a very composed and comfortable environment.
Car security
A typical set of features is present in the CX-5. It has an alarm with internal sensors, an immobiliser and remote central locking, along with locking nuts for the alloy wheels. Mazda has an excellent reputation for building secure cars.
Car safety
Mazda used a very large proportion of high- and ultra-high-tensile steels in the chassis of this car, with a clever load-dispersing structure that channels impact forces away from the passengers and through the car instead. Some of the most advanced active safety systems are not standard on lower models, but by default the CX-5 is among the safest cars in the class.
Driver appeal
This is one of the finest cars of its type to drive. A light, engaging gearbox, natural-feeling steering and a willing choice of engines allow drivers to feel engaged with the experience in a way almost no rivals manage. Only the noticeable body roll quells the enjoyment. In a more relaxed stance the cabin is quiet, suffering only a little wind noise around the door mirrors and delivering good fuel economy when treated gently.
Family car appeal
With the on-road footprint of a compact family hatchback, plenty of space for passengers and luggage and the confidence-inspiring driving position of an SUV, the CX-5 is an ideal family car. The diesel model should be particularly cheap to run, making it good for ever-tightening monthly family budgets. There are child seat mounting points as standard in the CX-5, should parents need them.
First car appeal
While there is no doubt of the Mazda's many qualities, it doesn't fit with the typical needs of a first-time car buyer. It's too expensive, too family-focused and too big to make a sensible or appealing first car. The Mazda2 supermini hatchback would better cater for first-time buyers, and most young or inexperienced drivers would naturally tend look at those instead.
Quality and image
Mazda's reputation for quality is already good but it is growing. The overall finish and feel of the car's many surfaces is excellent, as is panel fit and alignment. Its striking looks, part of Mazda's 'Kodo - Soul of Motion' design theme, help to maintain the image of brand sportiness that older models like the MX-5 and RX-8 have created. It is refreshingly good looking in a sector of the market that is filled with less attractive designs.
Accessibility
Despite its spacious dimensions the doors of the CX-5 are relatively short, so they provide an effective way in and out of the car in all but the tightest of car-side gaps. Rear seat passengers will need to lift their feet up over a small lip on the way out. A large boot is accessed by an easily-lifted tailgate, but the high boot lip makes it more difficult than it might be to get heavy items in and out.
Stereo and ICE (In car entertainment)
The standard stereo is adequate for most people, and can play music via a USB input socket. All models have a touchscreen mounted in the centre console that acts as a media interface either via direct contact or through the perfectly positioned rotary control dial on the centre console. It's even clearer and easier to use than before thanks to the relocation of buttons from the screen to the console.
Colours and trim
Mazda offers a mix of optional metallic hues from the subdued to the boldly classy Soul Red, in which its cars are most often advertised. This red does undoubtedly suit the car best, but it is a more expensive choice than any of the other metallics. The interior trim is tangibly robust right across the cabin, but some of it, like the rubberised centre armrest, looks cheap and utilitarian.
Parking
The speed-sensitive power steering has been left unchanged, so it lightens at low speed and makes it easy to turn the wheel lock-to-lock and complete tight manoeuvres. A high seating position gives an excellent view all around, albeit restricted at the rear corners, making it easier to judge where obstacles are. It's not a narrow car but relatively short doors make it easier to get in and out in tight spaces.
Spare wheel
Emergency tyre repair kit supplied as standard.
Range information
Petrol engine options - 2.0-litre (163bhp). Diesel engine options - 2.2-litre (148bhp, 173bhp). Transmission options: six-speed manual, plus six-speed automatic. Trim levels: SE L, SE L Nav, SE L Lux, SE L Lux Nav, Sport Nav.
Alternative cars
Nissan Qashqai Well thought-out and hugely popular choice
Skoda Yeti Two body styles and many engines give lots of consumer choice
Honda CR-V Larger, more expensive and less dynamically focused, but safe and reliable
Volkswagen Tiguan Easy to acclimatise to, broad spread of engine choices but a conservative choice