Mazda CX-3 Sport Nav
Good range of engines with affordable price
July 2017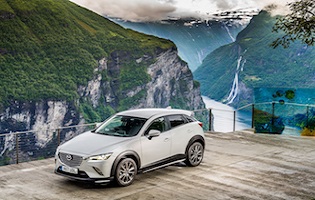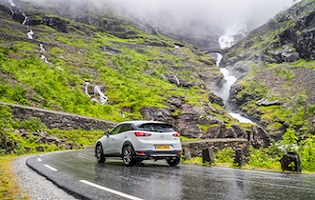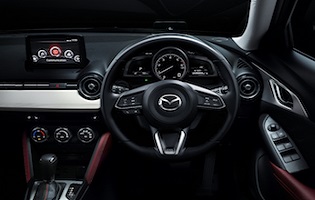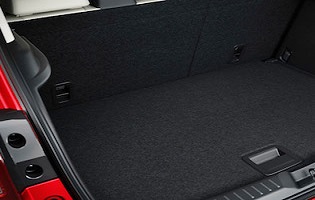 Overall rating

Likes:
Stylish looks hide awkward compact crossover proportions well
Wide price range means it will appeal to wide range of people
Better to drive than anything else in this segment
Good range of economical engines
Gripes:
Less boot space than a comparable hatchback
Rear passenger space is limited
Lacks badge appeal of rivals
Interior feels premium but lacks character
The Mazda CX-3 could rightly call itself a bit of an underdog. Based on the Mazda 2 hatchback, it was introduced to capitalise on the lucrative compact crossover market. It's sold relatively well but it's never dominated the segment, which is a shame because it drives really well and looks good, too.
It's now undergone a mild mid-life refresh – and the emphasis is on mild here. The exterior looks much like it did before, but that's no bad thing because the CX-3 is a very good-looking crossover. With sharp, angular lines it brings smart lines to an often frumpy segment.
Inside it's standard Mazda fare, with soft materials used throughout – it continues the understated premium feeling you get from the exterior. There's a new steering wheel, which is the perfect size, while the gear shifter action is one of the best in the business.
However, there are also plenty of changes you can't see. Cabin refinement has been improved, and while it's one of those things that's difficult to quantify it certainly feels hushed inside. Meanwhile, clever G-Vectoring technology helps to improve handling and reduce body roll, and it works.
New with the facelift is also a top-spec GT Sport model, which means there are a dizzying 13 variations of trim and engine to choose from. The 2.0-litre petrol makes up 80 per cent of UK sales – naturally we got lumped with a diesel on our test drive. Despite lower running costs it should be avoided if possible, purely because it feels pretty gutless and takes some of the enjoyment out of driving.
Our verdict on the Mazda CX-3 Sport Nav
The great thing about being an underdog is that there's scope for so much surprise. We really shouldn't be that shocked at how good the CX-3 is at this point though, and with prices ranging from £18,495 to £22,895 it takes on a lot of rivals – and drives better than all of them. From more budget options like the Renault Captur to premium rivals such as the Audi Q2, the CX-3 is a match for all and well worth a look no matter what your needs.
---
Costs
With its relatively wide price band, the CX-3 can be considered a slightly more expensive alternative to budget options like the Renault Captur, or a compelling premium option with more character than the likes of the Audi Q2. The diesel option comes with the lowest running costs, with a saving of £60 on year-one road tax compared with the petrol. However, if you can stomach that initial hit and the marginal monthly extra for fuel we'd recommend the petrol – the diesel is just a bit too slow to be fun.
Space and practicality
Here's where the CX-3 starts to falter a little. Boot space is about what you'd expect for the segment, but it's smaller than you might find in a similarly priced hatchback. Meanwhile, rear passengers might struggle with leg and headroom, even smaller adults, so if carrying four people is a regular occurrence the CX-3 might not be your cup of tea.
Controls and display
The CX-3 infotainment system is successful for its simplicity. It doesn't try to woo you with fancy graphics that make menu systems difficult to navigate, it just displays the information on a black background that's easy to read. Meanwhile, the central rotary dial is easy to use and is responsive to your inputs. However, the one minor irritant is that if you select a DAB radio station from the extensive list, when you return to the list it goes to the top making you scroll all the way through again.
Comfort
Often SUVs that are based on smaller cars suffer from a poor ride because the suspension has to be stiffened to cope with the weight being higher, but the CX-3 suffers no such issues and rides smoothly even over broken Tarmac. The seats on high trims are also comfortable, though taller drivers might find the lack of reach adjustability on the steering wheel requires a compromised seating position.
Car security
Despite its premium tendencies inside, the CX-3 flies under the radar when out and about, so you don't have to worry about it drawing too much attention when left in a busy car park. However, for added security the crossover comes with a Thatcham category one alarm and immobiliser, as well as remote central locking.
Car safety
The Mazda CX-3 was last tested by Euro NCAP in 2015 and received four stars out of a possible five. It's unlikely that'll change dramatically for the updated model, though it is worth noting that driver assist programmes are becoming more important to ratings so this may knock the score down a little.
Driver appeal
The Mazda's forte is its drivability. At the model's launch in Norway, we got the chance to put the car through its paces on some of the most epic mountain passes Norway has to offer, and at no point did it feel out of its depth. Part of this is down to the new G-Vectoring control, which manages engine firing in a corner to manipulate with the car's centre of gravity. The result is less body roll, and its effects are noticeable, with the CX-3 cornering smoothly even when you're pushing on.
Family car appeal
For a young family you might just get away with CX-3 ownership, but it's fair to say that you'd quickly outgrow it. It's only marginally more spacious than the Mazda 2 supermini and that means that it will quickly fill up with a family's belongings. In fact, the boot would probably struggle to swallow a family's suitcases for an airport run.
First car appeal
The Mazda CX-3 would make an excellent first car thanks to its small footprint and relatively high driving position giving a great view of the road. As for insurance, the more powerful 2.0-litre petrol engine might be a little out of range for new drivers, but otherwise it should be relatively inexpensive to insure.
Quality and image
Although the Mazda name is not traditionally associated with premium products, the brand has been making a clear shift upmarket in recent years, and the CX-3 is no different. This can often result in interiors left in no man's land – not quite premium-feeling but too expensive for the mainstream. Fortunately, the CX-3 suffers no such ailments, with plenty of soft-touch materials used throughout. Add in Mazda's impressive reputation for build quality and reliability, and it's easy to assume the likes of the Audi Q2 and Mercedes-Benz GLA are looking very closely over their shoulders.
Accessibility
The diminutive Mazda is brilliantly packaged so you quickly forget it's based on a supermini. However, one area this does become apparent is accessibility. It's not necessarily bad, but one of the appeals of an SUV is space and the Mazda's door openings are quite small, particularly at the rear.
Stereo and ICE (In car entertainment)
Mazda's infotainment system is up there with the best in the business, benefitting from a simple approach. It's not beautifully designed, but by avoiding over-complicated menus and options it's quick and easy to use. All trim levels get a seven-inch touchscreen display, which can also be controlled by a central rotary dial. DAB radio, integrated Bluetooth and satellite navigation all come as standard.
Colours and trim
The CX-3 wears all of its colours well, particularly in more understated hues, which work well with the car's sharp lines. The Arctic White paint job is the only free finish, but even that looks great on the diminutive SUV. All other colours are £550, while Soul Red Metallic is £670. Inside, the interior feels really well put together, with Mazda's reputation for reliability shining through.
Parking
Despite its SUV styling and practicality, the CX-3's footprint is the same as a supermini because it's based on the Mazda 2. This means that it's really easy to place in a parking space, with even tight multi-storeys providing no challenge. Meanwhile, parking sensors are available on all but the entry-level trim, which helps with reverse parking.
Spare wheel
Emergency tyre repair kit supplied as standard.
Range information
Petrol engine options: 2.0-litre (118bhp), 2.0-litre (148bhp). Diesel engine options: 1.5-litre (104bhp). Transmission options: Six-speed manual transmission, six-speed automatic transmission. Trim levels: SE, SE Nav, SE-L Nav, Sport Nav, GT Sport.
---
Alternative cars