April 2008
Mazda 6 TS2 2.0D Estate
Subtle but distinctive styling is best in brighter colours
April 2008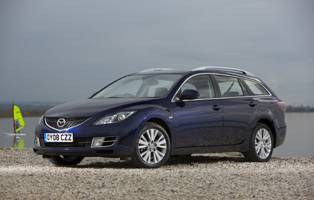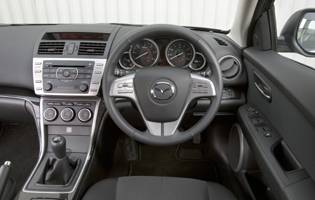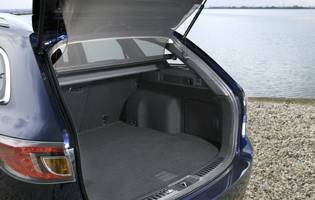 Overall rating

Likes:
Long sixth gear aids cruising
High levels of practicality
Responsive steering and chassis
Admirable commitment to weight saving
Gripes:
Only one diesel option
Crowded buttons on steering wheel
Styling may not be to all tastes
Confusing model range
Following the successful introduction of the new Mazda6 in hatchback form, the range has been expanded with the Estate version. Estate cars are more popular than ever before in the medium sector, and the Mazda6 Estate aims to build on the success of the outgoing model, which was a popular choice for buyers. Mazda predict that 20 per cent of Mazda6 models will be in estate form.
At first glance the Mazda6 Estate differs very little from its hatchback counterpart. The two cars are largely identical forward of the rear doors, although the standard fit roof rails are specified on the Estate. At the rear, the vertical tailgate has been neatly incorporated into the shape and the tapering window line brings an attractive feel to a practical car.
The Mazda6 Estate also benefits from a number of features to enhance its practicality. The tailgate has been designed to offer a wide aperture for easy loading, wrapping around the rear of the car to maximise the loading capacity. As well as split folding rear seats which give a very flat loading area, special attention has been paid to ease of use, with a simple but effective tonneau cover.
Mechanically, the Estate is identical to the hatchback version, offering front-wheel drive and a choice of petrol and diesel power. A key factor in the design of the Mazda6 in all its forms was weight saving and there are many areas throughout the car where the careful selection of materials and intelligent design has helped to keep the overall weight below that of the previous model despite increased dimensions and equipment.
Inside, the Mazda6 Estate aims to push further upmarket, introducing improved specification on all models, a sharper cabin design and higher quality materials. It also aims to offer levels of accommodation for passengers and luggage in comparison with MPVs.
Our verdict on the Mazda 6 TS2 2.0D Estate
The Mazda6 Estate fulfils all the practical requirements expected of it whilst also delivering a fun drive. With good specification levels and impressive value for money, the Mazda6 Estate deserves to succeed against less capable rivals.
Costs
Running costs for the Mazda6 Estate are ruled primarily by engine choice. The 1.8-litre petrol and 2.0-litre diesel offer the lowest costs, but all models benefit from the strict weight saving programme and good aerodynamics.
Space and practicality
This is an area in which the Mazda6 Estate must succeed and attention has clearly been paid to this area. Passengers front and rear have ample head and legroom, while the capacious boot is clearly designed with frequent use in mind. Practical touches such as the tonneau cover and cabin storage show this is a car that is meant to be used.
Controls and display
The layout inside the Mazda6 is generally good, with a strong centre console design and a broad spread of controls and displays. The audio system has some smaller buttons that are a little more difficult to read, but the otherwise clear layout is easy to use.
Comfort
The Mazda6 Estate offers impressive comfort levels for passengers. Noise levels are low, while the ride comfort is very good. Carefully honed suspension deals with the vast majority of bumps and there is little noise or vibration intrusion into the cabin.
Car security
All Mazda6 models come with an approved alarm and immobiliser plus remote central locking with deadlocks. Higher specification models are available with keyless entry, which is a useful extra level of security.
Car safety
All Mazda6 models are packed with a wide range of safety equipment - even the entry level S model has six airbags, stability and traction control, with higher specification versions gaining Xenon headlights and tyre pressure monitoring.
Driver appeal
Considering that the Mazda6, particularly the Estate, is likely to be bought by a wide range of drivers its on-road dynamics are particularly impressive. The ride is composed and effortless, soaking up bumps even when shod with relatively large alloy wheels. Better still is the steering, which is very well weighted and highly responsive but avoids being twitchy or intimidating for the inexperienced driver.
Family car appeal
The Mazda6 Estate makes a viable alternative to MPVs, which may be the default choice for families. There is room for five plus luggage, and the standard roof rails allow for additional items to be carried. The ride quality and general cabin comfort also boost its appeal for family buyers.
First car appeal
Although an easy car to drive, the Mazda6 Estate is unlikely to appeal to first car buyers, who rarely need this much space or can afford the price tag and running costs.
Quality and image
For some time Mazdas have delivered well in the quality stakes, with impressive fit and finish. The Mazda6 raises that bar a little further, with a strong feel-good factor from the driver's seat and reassuring solidity throughout. The image of the Mazda6 is certainly above average, benefiting from the range of new Mazda models including sporty variants.
Accessibility
A key aspect of the Mazda6 Estate's usability is the ease of access. With wide opening doors and the large aperture tailgate opening, loading and unloading passengers is as easy as possible. Clever touches such as the automatic tonneau cover show the thought that has gone in to making the car simple to operate.
Stereo and ICE (In car entertainment)
All Mazda6 Estate models have a CD/tuner set-up that offers above average sound quality and remote steering wheel controls. The optional Bose system is better still, with a high quality output and a powerful amplifier.
Colours and trim
The Mazda6 Estate is well suited to bolder hues that make the most of its subtle styling. The Estate has more metalwork so colour choice is essential. Inside the cabin is dominated by the centre console, which uses silver rather than the common grey and brings a greater sense of light to the dashboard.
Parking
The Mazda6 Estate is no more difficult to park than any other car of this size, with decent all round visibility and smooth controls. Parking sensors available on all models contribute to easy parking.
Spare wheel
Space saver fitted beneath the boot floor.
Range information
Petrol engine options - 1.8-litre (118bhp); 2.0-litre (145bhp); 2.5-litre (168bhp). Diesel option 2.0-litre (137bhp). All except 1.8-litre fitted with six-speed manual as standard, five-speed automatic available on 2.0-litre petrol. Trim levels: S, TS, TS2, Sport, Sport Luxury.
Alternative cars
Ford Mondeo Estate is great to drive, practical and handsome
Vauxhall Vectra Ageing load carrier estate, but with huge boot
Volkswagen Passat Stylish and well built lifestyle estate
Peugeot 407  Strong diesels and distinctive exterior for saloon and estate