August 2005
Mazda 6 2.0 TS Wagon
Stylish looks have put the seal on the Mazda 6's popularity
August 2005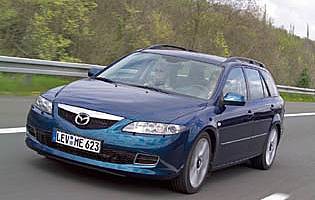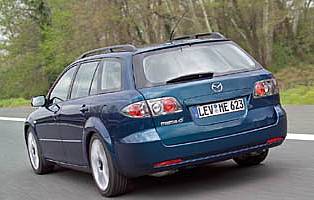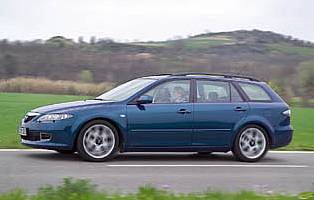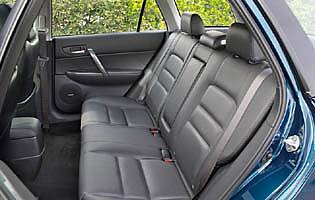 Overall rating

Likes:
Original qualities of 6 all retained post-facelift
New plastics of better quality than old ones
Reputation for mechanical strength and reliability
Among most involving drives in its class
Gripes:
Excellence of estate model yet to register properly in UK
Sat nav looks awkward on dashboard, when specified
Diesel engines too close to each other in performance and economy figures
Easy to catch elbow on front armrests
The car that marked a definite upswing in Mazda's fortunes, the mid-range 6 has been subjected to a mid-life makeover to keep it up to speed with some impressive opponents. Happily, none of what made the Mazda 6 a strong contender itself has been lost in the process.
The upgraded Mazda 6 model range from 2005 looks very similar to the model on sale for the first three years of production - a fact that will be as welcome to existing owners as it will be to potential new buyers. A new grille and revised front and rear lights are the most noticeable elements to receive attention, but even these can easily be missed at a glance. Such restraint is undoubtedly well advised, as a 2004 survey revealed that the car's appearance was the number one reason buyers chose it over its rivals in the major European markets.
Inside, layout remains the same though some new materials are introduced. They have the unmistakeable feel of the plastics used across the Ford Group from the Mondeo to the Volvo V50 and as such are of good quality. The new plastics used for the dashboard are particularly pleasant to the touch and raise interior quality a couple of notches. Incidentally, despite sharing some materials with its Ford Group siblings, the platform on which the Mazda 6 stands is Mazda's own, guaranteeing that it possesses an individual personality when so many other cars feel like exercises in re-badging.
The most significant upgrades are hidden from view. Mazda has improved its existing engines by increasing power and reducing fuel consumption, the two common-rail diesels come with a diesel particulate filter as standard, and two new transmissions are introduced. But all these improvements are incremental rather than radical.
The Mazda 6 remains essentially the same car it was at launch in 2002. It's a great all-round motor without being a boring motor. The hatchback version is overwhelmingly the most popular model in the UK, but the estate remains a hugely underrated vehicle and in many ways is the star of the range. Across Europe - where the saloon is also popular - the estate accounts for almost half of the Mazda 6's sales.
Our verdict on the Mazda 6 2.0 TS Wagon
That the 'new' Mazda 6 is so similar to the 'old' one is testament to a formula that is fundamentally correct. A car that looks smart, drives nicely and is extremely reliable is all most of us ever ask from a vehicle, and the 6 ticks all those boxes.
Costs
It is no coincidence that the Mazda 6 has become a firm favourite among fleet managers. Instead of lumbering their personnel with dull mid-range plodders, they have been able to offer a vehicle with some charisma, an involving drive and a positive perceived image, while simultaneously keeping costs low, reliability high and resale values better than expected. The same criteria should appeal to the private buyer, even if factors such as low carbon dioxide emissions play less of a role in their calculations. The good reputation of the Mazda dealer network should not be underestimated, either.
Space and practicality
The Mazda 6 is large enough for a wide range of uses but not so large as to be a chore to pilot. The ingenious 'Karakuri' system for easy folding of the split rear seat on hatchback and estate models is among the simplest such systems to use, even if it does feel a trifle flimsy in operation. The Karakuri system allows users to simply pull a lever on the side of the luggage compartment that folds the rear seatback flat in one single motion, without having to remove the headrests. Estate models are extremely capacious while retaining their good looks.
Controls and display
Each dial in the driver's instrument panel is now encircled by a chrome-effect moulding which at least is more convincing than is often the case when plastic pretends to be metal. The centre instrument panel has a different look, too - though its shapes and features closely relate to the original design's layout, which in turn was based on the original MX-5's. In general, black mouldings replace former silver mouldings. This elegant dark decor is repeated on the surface of the central tunnel, as a moulding on the dashboard, over the armrests of the door trim and the new inside door handles.
Comfort
A steering wheel that is both height and reach adjustable makes finding a good driving position fairly easy, though seats still do not rise as high as some drivers might prefer. Additional sound insulation, and new wheel and tyre combinations, have enabled Mazda's engineers to reduce noise levels in the cabin somewhat, though an Avensis' noise suppression is still superior.
Car security
As expected, an alarm and immobiliser are fitted as standard. As a whole, the Mazda 6's security package can be rated merely as adequate, not generous. Options available include an alarm system.
Car safety
Standard safety features carried over from the earlier model include front airbags, side airbags in the front seats, and full-length curtain airbags to protect occupant's head and upper torso in case of side impact. A collapsible brake pedal reduces the risk of foot and ankle injuries in case of frontal impact, but it should be noted that the other two pedals are not similarly collapsible. New for the upgraded Mazda 6 is the fitting of a roof console of audible and visual seat belt reminders for rear seat occupants - a safety feature whose benefits are only equalled by its annoyance factor.
Driver appeal
A large part of the Mazda 6's global success is down to the fact that it recaptures the fun-to-drive aspect of all the great Mazdas of the past, a quality that was sadly lacking in some models such as the 626. The chassis feels taut and superbly balanced. Steering is direct and involving and the more powerful variants deserve the application of that much-abused word, 'sporty'. Diesels feel heavier and less nimble but should come into their own when towing, hauling a heavy load or ticking off motorway miles at low cost.
Family car appeal
Like many cars in its class, the Mazda 6's utility as a family vehicle has been slightly superseded by the boom in MPVs and SUVs. Buyers increasingly see these medium-sized vehicles as being more suited to business use than family use. While a comparable people carrier such as Mazda's own Mazda 5 offers a more-family friendly mixture, it possesses little of the style or sense of driving involvement of the 6.
First car appeal
It is possible that a Mazda 6 could become a first car if it is assigned as part of a company car scheme - an area in which Mazda has made huge advances in recent years. However, the company's Mazda 2 or Mazda 3 models would be much more suitable.
Quality and image
Mazda used to be regarded as being toward the cheaper end of the Japanese marques, with perhaps a bit less credibility than Honda, Toyota or even Nissan. That's no longer the case, thanks in no small measure to the 6 itself. When Honda introduced its own Accord shortly after the 6's arrival, many commentators noted the two cars' striking similarities. And since then the introduction of the RX-8, Mazda 3 and new MX-5 have further added kudos to the brand.
Accessibility
Doors open wide, though some may struggle with the relatively low-slung, sporty front seats. Estate and hatch models alike feature easy to operate tailgates. However, there is no separately opening glass section or other more innovative features. What you see is largely what you get with this car.
Stereo and ICE (In car entertainment)
The standard stereo package has received a minor upgrade to include a Radio/CD unit with four speakers. It's a reasonable system that's perfectly adequate for most people, but won't get committed audiophiles particularly excited. Satellite navigation, with quicker start up and faster scrolling than the slightly cumbersome previous-generation system, is offered as a standalone extra cost option, rather than being paired with leather upholstery as before. Again, it's alright without being hugely compelling. Portable systems currently offer better value.
Colours and trim
Two new body colours - Phantom Blue Mica and Tungsten Grey Metallic - have joined the existing six colour line-up. The Mazda 6 looks good in whichever hue is selected, which surely is further evidence of a strong basic design. New designs of 16-inch five-spoke and 17-inch 10-spoke alloy wheels are available depending on model, and the twin exhaust tailpipes on 2.0 and 2.3 petrol models do look rather fetching. Inside, the main console now has a new dark titanium-effect surface that isn't wholly convincing. An extended options list includes electrically adjustable leather seats with position memory function, automatic lighting and screen wiping systems.
Parking
Without parking sensors, the Mazda 6 is no more difficult or easy to park than any of its rivals. Cars of even this medium size are starting to seem large as parking bays and available spaces get smaller, so some skill is needed to judge distances given the relatively long bonnet and saloon-like rear section.
Spare wheel
All models get a space saver spare wheel.
Range information
Five engine options - - two derivatives of a 2.0-litre common-rail diesel (121bhp and 143bhp) and three petrol units, of 1.8 litres (121bhp), 2.0 litres (147bhp) and 2.3 litres (166bhp). Six-speed manual transmissions are standard for all models except the 1.8-litre petrol, which retains the original model's five-speed manual. Models with the 2.0-litre petrol engines are available with five-speed Activematic automatic transmission. Trim levels: is S, TS, TS2, and Sport. Saloon, hatchback and estate body styles available.
Alternative cars
Toyota Avensis Looks slightly awkward but feels as if it will never break down
Honda Accord From mid-range upwards boasts superlative interior quality
Ford Mondeo Ageing effort lacks charisma though comes well equipped
Vauxhall Vectra Worthy, if rather dull. Not the revolution that was promised