July 2008
Mazda Mazda2 1.4D TS2
Striking exterior looks best when in a bright colour
July 2008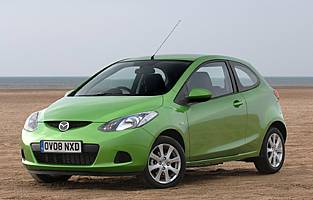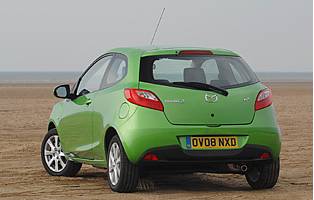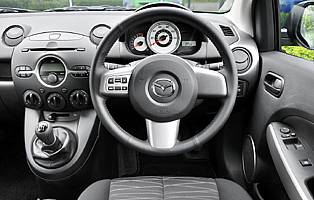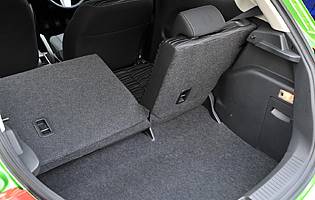 Overall rating

Likes:
Stylish exterior helps car stand out on the road
Nimble and supple ride is a pleasant surprise
Willing and economical engine range
Easy access to rear seats despite being a three-door car
Gripes:
Some cabin plastics are hard to the touch
While car is fun to drive, steering feels remote
Audio unit's display can be hard to read in direct sunlight
Seat fabrics could look and feel a little more upmarket
It's been a while since Mazda produced a genuine three-door compact hatch. The thinking behind the absence is that such a car wouldn't be popular, at least not in Europe. Five-door compact hatches and, in some parts of the world, four-door saloons are the norm. Three-door cars were not seen by Mazda as a priority, until it realised that its Mazda2 was a actually a fun car to drive.
For many in the automotive industry, a three-door model is perceived and promoted as a sporty or performance variant. The Mazda2, in five-door form, has been well received by both the press and public. One common recurring observation has been the car's willing and enjoyable driving character. It might not boast powerful engines, but it can be hustled along to great effect.
Recognising the car's potential, Mazda decided to press ahead with a three-door car - it was never part of the original plan. The resulting product boasts all that is good about the five-door model, and adds a welcome slice of sporty desirability. In profile the three-door Mazda2 looks attractive, while its squat, broad stance is a subtle clue as to the car's potential.
And all this is without the promise of a super-hot performance variant. In fact, with attention increasingly focused on fuel consumption and lowering running costs, the fact that the little Mazda comes with a range of wallet and environmentally-friendly engines is probably more relevant.
European car makers have had it all there own way for some time regarding economy and emissions boasts. Mazda, however, has joined the green club with a 1.4 diesel version recording an impressive 114g/km CO2. And there's no stop-start trickery on board, just solid engineering and the fact that the Mazda2's weight has been kept low from one generation to the next.
Our verdict on the Mazda Mazda2 1.4D TS2
Largely familiar thanks to a slew of awards and positive press reports, the Mazda2 has become something of a hit for the Japanese car maker. Modern styling, impressive build quality inside and out plus fun driving dynamics have all combined to create a stylish and desirable package. And with two less doors the car's sporty, fun character has been brought to the fore.
Costs
By and large the Mazda2 three-door is well equipped, although paying extra for the supplementary safety systems will bump the asking price up a little. Offsetting that, day-to-day running costs should be modest. Be it petrol or diesel, fuel economy should be good. The same is true of the car's tax band, and like with all Mazdas servicing should be of the scheduled type as reliability is one of the brand's strongpoint.
Space and practicality
Like the five-door Mazda2, the three-door variant offers a surprising amount of space. The cabin easily accommodates two large adults up front, while the rear seats are suitable for both children and adults thanks to an impressive amount of legroom. All around the cabin you'll find practical storage areas, and the tailgate opens to reveal practical boot.
Controls and display
In the main the Mazda2's controls and displays are legible and intuitive. The car's main instruments are clear and easy to read, the column stalks and minor controls all within easy reach of both front seat occupants. The car's gearlever is located higher up and closer to hand than in most cars, while the steering is light but accurate.
Comfort
Firm, supportive seats are the most obvious and welcome cabin fittings. There's also plenty of space inside the cabin, with head and legroom more than adequate. Road and wind noise are both minimal when on the move. Rear seat passengers haven't been forgotten, as their living space is a good size also.
Car security
Along with the usual remote central locking and visible VIN, the Mazda2 is fitted with Thatcham approved Category One alarm and immobiliser across the range. Although a welcome move, a low cost and more visible deterrent such as a steering lock could help reduce attacks from the opportunist thief.
Car safety
The car's default specification is reasonable, although side airbags only appear on the TS2 grade and Sport. All the usual traction and stability systems also appear on the options list - the higher value Sport gets these as standard. At least Mazda is keen to promote the car's high EuroNCAP rating which, like the five-door car, is the top rated five stars.
Driver appeal
Light on its feet and surprisingly nimble, the Mazda2 is a fun and rewarding car to drive. And it doesn't have to be at a ridiculously fast pace, either. Light but positive steering and a supple ride are the car's key attributes. Factor in a good choice of engines (one diesel, two petrol) and a slick manual gearbox and you've a fine balance of talents. With the 1.4-litre diesel model boasting low a CO2 rating and petrol-like refinement, it's hard to find fault with the complete package.
Family car appeal
In three-door form the Mazda2 can't quite match its five-door cousin. The less than ideal level of rear seat access will impact on anyone securing children in their own safety seats. That said, as a second car the three-door Mazda would be a sensible choice. Overall boot and cabin space is more than enough - with the former also accessible via the folding rear seat.
First car appeal
There's little doubt that the Mazda2 would make a good first car. Its compact size and modest performance make it ideal for the novice driver. That it's easy to drive and park, plus economical to run should prove attractive.
Quality and image
Image-wise the Mazda2 has established itself as a solid performer. It might not possess the heritage of Ford's Fiesta, but the wealth of positive reviews plus numerous awards should set it up for the future. Also positive is the overall feeling of quality throughout the car. Although a little dark, the cabin feels solid, while the rest of the Mazda2 looks and feels like it would last a long time.
Accessibility
As a three-door car, this Mazda2 is predictably geared towards front seat occupants. As such, access is not a problem; the doors open wide to reveal and lofty seating position. A clever sliding mechanism allows easy access to the rear seats. Of course, those front doors can prove problematic when parking in tight spaces, though.
Stereo and ICE (In car entertainment)
The main audio unit is conveniently located high up on the fascia. The display is flanked by the major controls, with supplementary steering wheel buttons available. The display is a little small, probably due to its circular frame. The main controls are, however, intuitive and easy to use - likewise for the steering wheel buttons where fitted. Overall, sound quality is good, as has come to be expected from recent Mazda models.
Colours and trim
To complement the car's jaunty exterior, bright colours compliment the little Mazda's look. Bright green or red work particularly well, with conventional hues - like silver - less successful. Inside, the car's cabin ambience is dominated by a considerable amount of black plastic, which is a shame considering the car's outgoing exterior.
Parking
Being a small car, the Mazda2 is not difficult to park. The combination of the car's light steering and short wheelbase make manoeuvring into tight spaces straightforward. All-round visibility is good, although the car's beefy rear pillars do take a little getting used to.
Spare wheel
Space saver fitted as standard.
Range information
Petrol engine options - 1.3-litre (75bhp); 1.5-litre (103bhp). Diesel engine options - 1.4-litre (68bhp). Transmission options: five-speed manual gearbox. Trim levels: TS, TS2, Sport.
Alternative cars
Ford Fiesta Fun to drive, affordable and good-looking
Vauxhall Corsa Bigger than you think, yet easy to handle and easy on the eye
Toyota Yaris Sophisticated Yaris is a solid all-rounder
Peugeot 207 Refined 207 delivers an upmarket ambience at an affordable price