June 2005
Lexus RX 400h SE-L
RX400h includes a redesigned front grille and extra air intakes for improved cooling
June 2005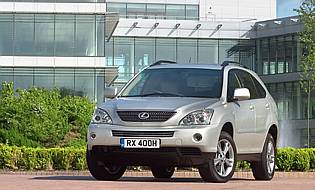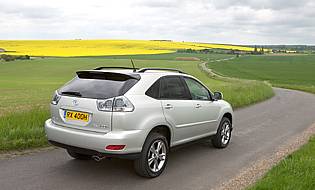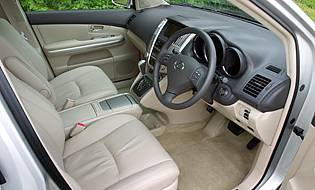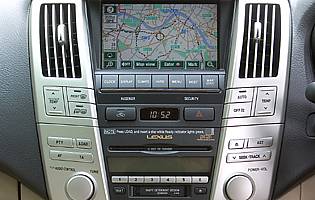 Overall rating

Likes:
Highly impressive performance
Smooth ride and low noise levels add to relaxing nature
Well-finished interior is easy to use and is generously equipped
Hybrid system is effortless and effective
Gripes:
Full acceleration can result in some torque steer
Styling not to all tastes
Clever stability system hides soft suspension
Off-road ability not as good as rivals
By adding a hybrid powertrain to its popular SUV, Lexus is aiming to grab a bigger slice of the premium market and appeal to eco-conscious buyers. But can a car this size win over green buyers?
Lexus has timed the introduction of the RX400h to perfection. As ecological issues are grabbing the headlines, its hybrid-powered 4x4 has been wheeled into the marketplace. There's more to its introduction than fashion however.
The Lexus brand has always offered high-tech innovations in whichever size vehicle it has been applied to, so a complex petrol-electric combination that can cope with four-wheel drive is more about logical product development than jumping on a bandwagon.
Lexus' RX model has been on sale since 2001, and has always offered a comfortable road-biased take on the SUV sector. Less overtly butch than the BMW X5, its styling hints at off-road ability without offending the discerning buyer. Its understated looks have helped it secure a following in this competitive marker.
The true innovation is under the skin however, where a system similar to that found in the hybrid Toyota Prius is employed. In this installation, a six-cylinder petrol engine is combined with two electric motors, one to drive each pair of wheels, allowing two and four-wheel drive whenever conditions demand it.
As well as offering the extra grip, it also permits the car to run in full electric mode, reducing emissions to zero. That gives it a key advantage over other SUVs in this sector.
Our verdict on the Lexus RX 400h SE-L
Compared with its petrol rivals, the RX400h offers a combination of value, performance and economy that is unmatchable. While its off-road ability may not be class leading, in the urban environment it can deliver all that can be demanded of an SUV.
Costs
In isolation the RX400h may seem far from cheap, but compared to rivals it should be far cheaper to run. Impressive fuel economy combined with a high specification and lower initial purchase price add up to good savings. It should be one of the most cost-efficient SUVs to run, as servicing requirements are no greater than that of a standard model.
Space and practicality
A conventional four seat layout makes the most of the car's long wheelbase, leaving plenty of head and legroom. A large glass area allows lots of light into the cabin, increasing the sense of space. A large console between the front seats has room for drinks and assorted oddments, while the rear seat armrest has a similar cubby, adding to a reasonably sized glovebox. The rear load area has luggage retaining hooks and a wide opening, while an electrically operated tailgate on SE and SE-L models is a useful addition.
Controls and display
The trademark Lexus dials are crystal clear and informative, thanks to a simple design. A power gauge replaces the regular rev counter, though the main information display is more useful, allowing you to monitor the operation of the petrol end electric motors. All the major controls are clearly labelled and fall easy to hand, though some may have preferred a conventional handbrake to the US-style foot operated parking brake fitted.
Comfort
This is one the RX400h's strongest suits, with the suspension tuned to deliver a smooth ride. The multi-adjustable electric front seats accommodate all sizes of passenger, with electric lumbar adjustment for added support. Rear passengers are also well accommodated, with supportive seats incorporating a slide and recline feature. Standard fit climate control includes a humidity sensor, helping the cabin to remain icy cold even on a scorching day.
Car security
All Lexus models have a good reputation in terms of security, and the RX400h has a standard fit immobiliser and ultrasonic alarm. Door deadlocking also makes it harder for a thief to intrude.
Car safety
A standard compliment of nine airbags with a reinforced safety cell should see the RX400h perform well in the event of an accident. The batteries are placed in the three sections under the rear seats, keeping them out of harm's way in the vast majority of situations. In terms of active safety, the VDIM stability control system works more efficiently and smoothly than conventional ESP systems, and therefore provides an extra margin in the event of a severe manoeuvre. An electronically controlled brake system also assists in delivering maximum braking force when required.
Driver appeal
Keen drivers may be disappointed with the reactions of the Lexus. Even when driven with enthusiasm it never feels unstable, mainly due to the clever stability system, but at the same time it never feels at ease. In all other conditions however, the RX400h is ideal transport. The impressive performance makes covering large distances effortless, while travelling in electric mode through traffic is painless.
Family car appeal
The Lexus would be a good family car, with plenty of space and a high ride height giving good vision for all passengers. The DVD player in the rear would also occupy children for many hours on long journeys, while its clever hybrid technology may also bring added kudos in the playground.
First car appeal
Thanks to its premium status and high insurance group, the Lexus is probably too expensive as a first car, though new drivers would find it an easy car to pilot. The simple gearbox operation and light steering would cause little trouble, while the reversing aid would make parking much easier for novices.
Quality and image
The Lexus brand is undoubtedly a strong one despite its relative youth in this market, and the RX version is no exception. It gives off a strong feeling of solid construction and good taste, and a few hours spent behind the wheel confirm that. The interior is smart and clearly laid out, making it easy to use. The RX400h is likely to get a further image boost thanks to its hybrid nature, and being seen as a 'green' SUV will make it a unique proposition in this market.
Accessibility
With a high ride height and large doors climbing aboard the Lexus is easy, and only very short passengers would find the seats a stretch to reach. Accessing the rear seats is just as straightforward. Its elevated stance means the boot floor is at a good height for loading and unloading.
Stereo and ICE (In car entertainment)
All versions are well catered for; base and SE models get an eight-speaker dash-mounted CD autochanger with RDS radio, complete with steering wheel controls. Better still, upgrade to the SE-L version and you get an excellent Mark Levinson 11-speaker system, which is powerful and has impressive sound quality. Standard on the SE-L and optional on other models is a DVD player with screens mounted in the rear of the headrests, which is a useful addition,
Colours and trim
The entry models come with cloth trim, but SE and SE-L versions come with leather as standard, in a choice of beige or black. Silver trim inserts come as standard, but a wood pack that covers the steering wheel and gearlever surround is available on the SE-L model. Although the choice of trim options is relatively limited, they are ideally suited to an urban-based SUV.
Parking
Although a large vehicle, the generous door mirrors, decent rear visibility and light power steering make the Lexus easy to park. SE-L models get a Parking Assist Monitor, which uses a rear mounted camera to provide a clear view. It also includes on-screen graphics to indicate where the car will end up, which is a useful addition. This is not available as an option however.
Spare wheel
Full-sized spare on a steel wheel mounted underneath the car below the boot floor.
Range information
One engine option - 3.3-litre petrol engine plus front and rear electric motors with total maximum output of 269bhp. One gearbox option - electronic CVT automatic transmission. Three trim levels available - 400h, SE and SE-L.
Alternative cars
BMW X5 Well-built and good to drive, but expensive
Mercedes M-Class Improved over its predecessor, but big V8 is thirsty
Land Rover Discovery 3 Superior off-road, lots of room and strong image
VW Touareg Competent and well equipped, styling not to all tastes