December 2012
Lexus LS LS 600h L Premium
The Lexus 'spindle' grille adds some real panache to the LS range
December 2012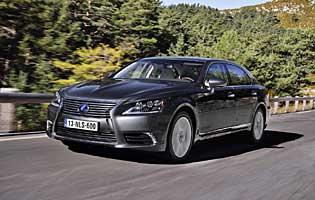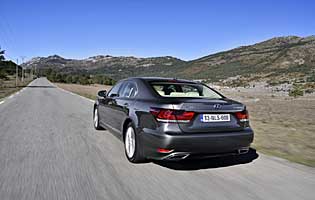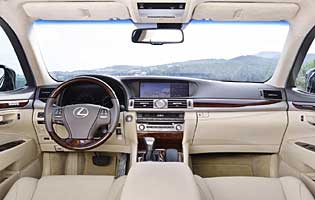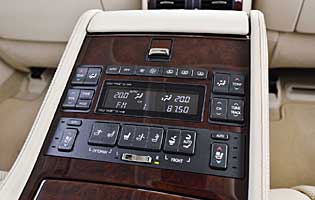 Overall rating

Likes:
Marvellous technological platform with cutting-edge luxuries
Driving experience now has more engagement than before
Unparalleled refinement in this sector matches much more expensive cars
Comfort levels to match or better any potential rival
Gripes:
Some switchgear harks back to old Toyota parts bins
CVT transmission can lead to excessive noise under hard acceleration
Styling uses too many straight lines and lacks outright visual appeal
Although less than before, some boot space is still sacrificed to the hybrid system
The LS is the ultimate expression of Japanese-style refinement, and the hybrid system is Lexus's main technological selling point. Therefore this model is and always has been the ultimate Japanese luxury car, but in the past it has come in for criticism about its lack of driving dynamics and this generation aims to change that.
The V8 petrol engine combined with large electric motors is a match the automotive world is familiar with, since the previous model used the same drivetrain. It provides potential for electric-only running while also packing a hefty punch on demand and fuel economy that would not be possible without the hybrid system. But its key characteristic, and the reason Lexus is very anti-diesel, is its smoothness and refinement.
The LS range is a petrol-only one, chiefly because its biggest market is North America. The inclusion of a hybrid system is intended to broaden the car's appeal, especially in diesel-centric markets, and to demonstrate that luxury cars can also be responsible in terms of their energy consumption. As such, the LS 600h is being pitched at people who would always buy a luxury car, but want something with a fashionable 'green' angle.
With a low drag coefficient and extensive wind-tunnel testing completed, the LS is designed to compete with rival large saloons that use large diesel engines, aiming to match them for fuel economy and emissions while beating them for outright refinement. The 'conversation clarity' in the new LS 600h is 100% at 60mph, meaning at such speeds a driver should never have any trouble hearing every word a passenger speaks at normal volume.
The biggest change regarding the way the new LS drives is in the way the chassis is built. More spot welding, a new manufacturing process and the use of high-tensile steels make the body considerably stiffer than before, which brings a multitude of handling and ride benefits. The suspension has been retuned to complement this and now reacts to bumps as one unit to ensure composed and uniform behaviour throughout the car.
Our verdict on the Lexus LS LS 600h L Premium
Lexus should be admired for taking the tougher route with the LS's drivetrain development. The latest version is not only the most refined and comfortable yet, but it's also a much better car to drive. The extra body stiffness and new suspension tune have transformed the handling, and its wealth of technology is astonishing. The LS can now compete with any of its rivals on any level.
Costs
Despite the car's green credentials, it is an expensive purchase. Pitched against flagship limousines from the likes of Audi and Mercedes, it's in good company price-wise. However, running costs should be more agreeable thanks to the 600h's modest CO2 and fuel consumption figures. When compared to V12 petrol rivals this Lexus performs well, although diesel-engined rivals run the Lexus close. Residual values are expected to be improved over the old model, but no car of this type hangs onto its value particularly well.
Space and practicality
As the only long wheelbase car in the range, the 600h L is blessed with more interior space than its LS 460 counterparts. With an extra 120mm for its wheelbase, the focus is most obviously on rear occupant comfort. There's enough space for two large adults in the back, while front seat occupants have a lot of space to use for their convenience. In the middle of both pairs of seats in the four-seat versions the two occupants are separated by a deep centre console, which offers a considerable amount of storage space. The 600h's boot is smaller than the 460's, but is still adequate.
Controls and display
This generation of LS has adaptive instruments that can change their readout according to whatever driving mode the hybrid system is set to. IN the sedate modes the rev counter becomes a power usage meter, reverting to the traditional tachometer style in the Sport modes. But whatever mode it's in, the instrument cluster remains very clear. Minor controls are sensibly placed, the conventional auto gearlever is straightforward and there's the inclusion of voice control for selected applications to make life easy when you're driving.
Comfort
Redoubled efforts from the Lexus engineers have made the cabin even quieter and more cosseting than ever, with the result an interior that is hushed in all scenarios other than hard acceleration. As you would expect, the seats are large, sumptuous and supportive in the right ways. Complete electric adjustment allows for a multitude of settings, while leg, head and elbowroom fore and aft is excellent. There is the option of a massage function for the rear left-hand seat. A 'Climate Concierge' system uses infra-red scans to monitor all passengers' facial temperatures independently and then uses all the heating and cooling facilities to keep everyone comfortable.
Car security
The LS's modest styling works in its favour in terms of security, drawing less attention than its German rivals. Although you'll likely be able to slip past most people unnoticed, you do get a comprehensive anti-theft and immobiliser package for when the car is left unattended. The LS is also equipped with laminated side glass, which is good for safety and should also make it harder for thieves to gain entry by force.
Car safety
No expense has been spared to ensure that the flagship model of the flagship Lexus range is well covered for safety features. This is reflected in the depth and abilities of the car's safety systems. In essence, the usual features (ABS, traction control) are supplemented by intelligent systems designed to monitor road conditions plus driver alertness and predict and help the driver avoid a collision. For instance, seat belts pre-tension, the power steering assistance increases to help with sudden direction changes and a forward-looking sensor can detect obstacles and alert the driver. Factor in all-wheel drive plus twin front, side, curtain and rear airbags plus knee airbags at the front and you can feel comprehensively protected.
Driver appeal
The 600h is actually slower to 62mph than its smaller V8-only sibling, but on the road it feels much the faster of the two. It's simply that the hybrid's extra mass takes a little longer to get moving and the CVT transmission isn't conducive to fast getaways. But the extra stiffness of this generation's body shines through in tandem with the reworked suspension, making it stable through corners, comfortable at speed and surprisingly enjoyable to drive along winding roads. There are few chinks in the LS's armour here.
Family car appeal
Five seats can be specified at the point of ordering, and Isofix child seat mounts are included. There's no question that the LS could easily double as a family car if space is a requirement, the only question is whether you'd want to use it. Its available interior space is rather more than would be needed and the opulent materials aren't exactly child-friendly. Additionally, the modest boot would struggle with much child-related luggage like pushchairs.
First car appeal
There is little chance of the LS, even in range-topping 600h L Premium trim, being a poster-car for youngsters so the desire for an LS as a first car will be very rare. Regardless of that, there are many obstacles like purchase price, insurance costs, the likelihood of potentially dangerous technological bafflement, and of course the sheer size of the car that would make an LS a suitably bad idea for newly qualified drivers.
Quality and image
Both among owners and those who simply know the brand, Lexus is held in extremely high regard. Seen as the antithesis of the brash, thrusting brands such as Audi and BMW, Lexus is perceived to stand for maturity and dependability, with many reliability surveys across the world confirming the idea. Regular customer surveys also prove that Lexus and its dealers have got it right: after-sales and service quality is routinely praised higher than other luxury brands.
Accessibility
This generation of the LS 600h is only available in long wheelbase 'L' form, which stretches the wheelbase by 12cm and gives rear seat passengers even more room to step into. The doors are relatively long, though, so leaving adequate space either side of the car to allow for this is crucial otherwise passengers will find that it can be a long stretch forward into the seat. At the rear, the car's boot opens and closes electrically, meaning you don't have to struggle.
Stereo and ICE (In car entertainment)
Lexus has a reputation for quiet interior environments and is one of the only companies Mark Levinson is willing to supply his stereo systems to. With 19 speakers and every common commercially-available method of connectivity, from USB input to Bluetooth and even a multi-DVD changer, occupants have many ways to play their favourite music. The in-car entertainment is operated via a huge 12.3-inch display, which can comfortably display sat-nav info on one half and music details on the other.
Colours and trim
The range of available colours is very typical, covering white, black, silver and grey, with red and blue representing the colour options. Pearl white and silver suit the LS 600h's dimensions well, with black giving the long-wheelbase car the look of a sombre and dignified limousine. The interior trim is varied but invariably sumptuous quality, with both glossy lacquered and satin wood finishes. An extraordinary shimamoku wood steering wheel is available as a centrepiece feature.
Parking
The LS is obviously a big car, but it comes with a colour reversing camera - the output is displayed on the main screen. It's always not easy to trust it and care must be taken, but with practice the view does become useful. Of the act of parking itself, the car's steering is light enough at low speed, and the gearbox and throttle are both very smooth in their respective responses. The view to the side is also good, which promotes confidence when in tight spaces.
Spare wheel
Full size spare fitted as standard.
Range information
Petrol engine options: 4.6-litre (382bhp); 5.0-litre (389bhp) with Hybrid Synergy Drive rated at 221bhp - combined power rating of 439bhp. Transmission options: eight-speed automatic transmission (LS 460 only) and eight-step continually variable transmission (CVT) (LS 600h only). Trim levels: Luxury, F Sport, 600h L (long-wheelbase).
Alternative cars
Mercedes-Benz S-Class Viewed as the sector benchmark, the S-Class is loaded with advanced technology
BMW 7 Series Supremely comfortable seats are compromised by a slightly firm ride
Jaguar XJ Divisive styling especially from the rear, great to drive but lacks comparative luxury
Audi A8 Feels very large on the road and boasts excellent stability and comfort