December 2006
Lexus LS 460 SE-L
LS460 is large but not truly striking
December 2006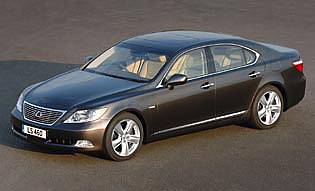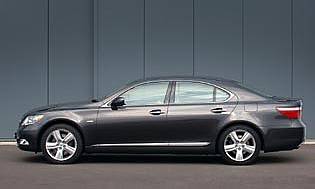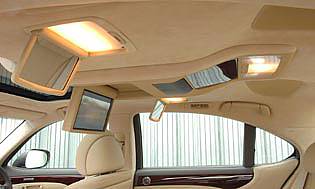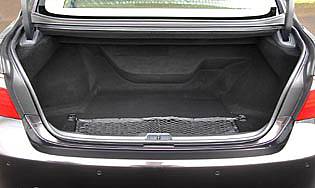 Overall rating

Likes:
Rear seats among most comfortable in its class
Array of impressive safety technologies
Very quiet at motorway speeds
Good value when specification is taken into account
Gripes:
Boot is very small for such a large car
Less fun to drive than might be imagined
Doesn't look as sharp as smaller GS
Could be hit by environmental legislation
The LS is the flagship model for Japanese firm Lexus and a competitor for the Mercedes-Benz S-Class, BMW 7 Series, Jaguar XJ and even some Bentleys. As such it is big, powerful, beautifully built, luxuriously equipped, and more technically advanced than would have seemed possible just a few years ago.
Now that Lexus is a familiar brand, there's no longer any surprise in discovering that this Japanese luxury saloon is just as impeccably put together as its German counterparts and even outdoes them for technological innovation. Indeed, so expected is Lexus's rendition of executive luxury assume that one might assume every car ever made must be fitted with an eight speed automatic gearbox, a 4.6-litre V8 engine, a 19 speaker Mark Levinson stereo system and safety features that employ everything from stereoscopic video cameras to radar and multiple exterior sensors.
Yet because the Lexus formula is now so familiar, even with these features, the LS460 lacks something - character. It somehow manages to be slightly less than the sum of its considerable parts, a car about which it is possible to talk for hours on end without any real sense of involvement. Performance figures are impressive, but this does not feel like a keen-edged grand tourer or saloon with coupe leanings. It's still very much an executive limousine, albeit one with fairly responsive driving characteristics.
The interior exhibits Lexus's immaculate attention to detail in fit and finish and the amount of on-board equipment beats all its rivals hand down. However, some of the colour schemes used have a whiff of the 1980s about them and a few of the plastic buttons on the dashboard are rather more Toyota than Lexus. This is an essentially conservative car at a time when some rivals are being a bit more adventurous.
Cabin space is excellent, particularly for the rear seat passengers who will frequently be the owners of chauffeur driven cars. Cleverly, the designers chose to create two large rear seats with an occasional position between them that can be used but will usually be occupied by the extensive rear entertainment and air conditioning controls.
Our verdict on the Lexus LS 460 SE-L
The LS continues to provide the wealthy who nevertheless object to paying over the odds with a thoughtful alternative purchase. It is supremely comfortable, comprehensively equipped and showcases important new safety technology, yet it fails to turn heads and raise heart rates precisely because of its clinical excellence.
Costs
Given that Lexus built its reputation offering luxury cars that undercut the other premium marques while matching them on quality, perhaps the one surprise is that some LS 460s are actually more expensive than their rivals. But once like-for-like options are added, the Lexus still comes out cheaper by several thousand pounds.
Space and practicality
The cabin is extremely spacious, thanks to Lexus's decision to make this a car for four rather than five. Rear seats even tilt slightly. In contrast the boot with the rear air conditioning unit installed is actually smaller than a Ford Focus hatchback's.
Controls and display
The car's dials and switches lack the minor but significant sense of drama of some rivals. The sheer number of warning lights, menus and sub-menus on various displays is bewildering. Alternative treatments, such as BMW's iDrive may be far from perfect, but at least they create a less cluttered dashboard.
Comfort
Comfort levels are among the best of any car currently on sale. Seats and controls are multi-adjustable and can warm or cool your body to order. Ride remains silky smooth regardless of whether you select the Comfort or Sport suspension settings and silence reigns. Sadly that includes the engine note, which is rarely heard.
Car security
Lexus regularly comes out on top in respected security tests, and when you look at the array of security features the LS has, it's hardly surprising. As well as the expected sophisticated alarm and sensor, a tilt detector can sense if the car is being lifted or tilted. Laminated windows are standard and even the door closing system is specially shielded against attack.
Car safety
Lexus is rightly proud of the safety features the LS460 offers, but be aware that not all of them come as standard and form part of an Advanced Safety Pack that detects obstacles in the road ahead, monitors the driver to check that he or she is being attentive and can even stop you veering out of your lane.
Driver appeal
On paper the LS460 looks rapid, and indeed it is when pushed hard. But it's not at all involving to drive, mainly because the array of electronics between the driver and the wheels completely removes any sense of feel. Driving the LS460 is a curiously disembodied sort of experience.
Family car appeal
This is a car for adults, not children. For a start, toddlers are probably the only people capable of disassembling - or at least defacing - a Lexus interior. If you do need to carry kids, pray that the rear DVD system stops their sticky fingers ruining the lovely leather upholstery.
First car appeal
Ninety-nine percent of first time drivers simply couldn't afford the LS460. The one percent that can would probably consider it not nearly flash enough.
Quality and image
This is the cream of the Lexus crop, so quality can't be bettered. The engineers even listen to the individual cylinders with a stethoscope to make sure they sound just right. Cabin build quality it impressive, as is exterior construction - panel gaps are pleasingly tight. Sadly, for all the car's technology, the Lexus brand remains in the shadow of the more prosperous European marques. Perversely, the roles are reversed in the car's home market of North America.
Accessibility
A chauffeur should have no problem holding the door wide enough for even the fattest of fat cats to gain entry, and there's no need to slam the door afterward thanks to Automatic Door Closing. The boot also features a slow and graceful automatic closing mechanism.
Stereo and ICE (In car entertainment)
Even entry-level models include DVD satellite navigation, Bluetooth connectivity and a 10-speaker sound system, but the real star is the 19-speaker Mark Levinson premium hi-fi with CD autochanger that is standard on SE and SE-L models. It's an awesome system.
Colours and trim
All LS460 models are opulently appointed but it really is worth paying a little extra to achieve SE grade or above, as that's where many of the hi-tech gadgets and luxury features come as standard. Speccing most rivals to the same level from the options list would run up a much bigger bill.
Parking
If you fear parking such a sizeable car, help is on hand - and it's not just a beeping sensor. The LS scans the road as you drive along and always knows where the last suitable parking space was, then will help you to slot into it by applying the steering while you control the throttle and brake.
Spare wheel
Full size alloy wheel as standard.
Range information
Engine option: 4.6-litre (375bhp) V8 petrol unit. Transmission is an eight-speed automatic transmission as standard. Available in three grades: LS460, 460 SE and 460 SE-L. Long and short wheelbases available.
Alternative cars
Mercedes-Benz S-Class Only rival the Lexus has for technology
BMW 7 Series Big BMW is less compelling than smaller ones
Jaguar XJ Conventional exterior hides lightweight construction
Volkswagen Phaeton Little-seen flagship VW suffers huge depreciation