December 2012
Dacia Sandero Laureate TCe 90
Chunky styling provides lots of road presence and a practical feel
December 2012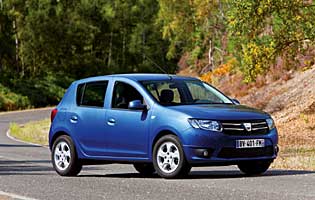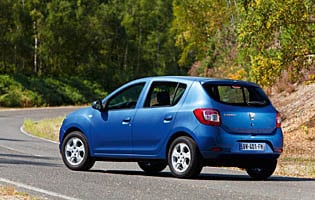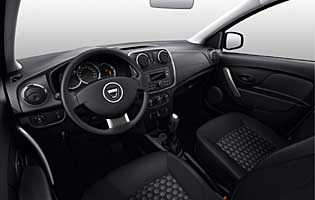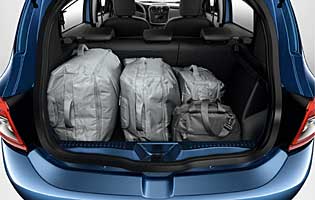 Overall rating

Likes:
Smart, chunky looks give the car good road presence
Small but economical range of engines fit the car's purpose perfectly
European reports suggest reliability well ahead of expectations
Large boot and impressive interior space offer class-leading practicality
Gripes:
Truly cheap models offer no luxuries or creature comforts whatsoever
Manufacturing quality and finish fall behind some rivals
No automatic gearbox option for those with limited driving licences
Relatively imprecise gearbox action is utilitarian at best
The Dacia Sandero is a common sight on the continent, but with even car manufacturers' budgets strained there needed to be a certain element of success and brand recognition before the company could risk the investment of building right-hand drive models. It's a no-frills, uncompromisingly simple hatchback that aims to provide maximum car for minimum cost.
The Sandero is a typical five-door B-segment car by its dimensions, being a similar length and width to most of the common names in the UK supermini market. It's designed to make the most of its available space, and as such comes with an unusually large boot for the class along with plentiful space in the cabin.
It differs from the norm slightly in its approach to equipment. There is an entry-level model offered for a considerably lower price than any of its rivals, but it lacks any meaningful technology at all apart from active safety systems. Higher models have lots of basic, practical equipment but certain items like alloy wheels are always optional.
The Sandero sits in a competitive market sector and price is its main gambit. It undercuts similarly-specified rivals even in the upper reaches of the range, although by then things are closer. By using tried and tested parts from previous Renault and Dacia models and sharing components across models, costs are kept as low as possible to the customer's benefit.
Two of its three engine options, however, are straight from the latest Renault batch albeit without the finer efficiency-boosting technology. The 0.9-litre turbocharged petrol is the pick of the bunch, and there is very respectable fuel economy to be had within the range. Cheap finance packages are to be offered to make the Sandero as light on the pocket as possible.
Our verdict on the Dacia Sandero Laureate TCe 90
The Sandero is a value proposition that does everything it needs to perfectly well, with the added benefit of up-to-date engine technology. As prices rise it begins to step on the toes of more capable Korean and American opposition that are subject to haggling, but for those looking for a simple, practical new car with a warranty and the promise of zero-fuss motoring, the Sandero fills a unique niche.
Costs
For what you get on paper the Sandero Laureate is fantastic value, offering plenty of useful equipment with no unnecessary extras for a price comfortably beneath that of its rivals. Specifying options like alloy wheels, metallic paint and option packs will see the price rise closer to those of rivals, though. Residual values can only be guessed at as the car - and the brand - is launched, while the company car user has the economical turbocharged petrol and the low CO2 diesel model to consider.
Space and practicality
Although the Sandero is shorter than several of its truly mainstream rivals it conceals a thoroughly impressive amount of space. A particular highlight is the boot, which is big and broad enough to store much more luggage than you would expect to fit into a B-segment car. There is a not insignificant boot lip which doesn't help, but practicality is definitely a strong suit for the Sandero. Two cupholders and open-faced storage trays are useful for everyday oddments.
Controls and display
To save costs the displays in the petrol and diesel models are exactly the same, so there is no red zone on the rev counter. The dials are clear and simple in the best traditions of the car but they won't win any style awards. There is a central display on this model through which the satellite navigation and selected other systems can be controlled. It's not a large screen but its graphics are clean and fresh, helping to compensate for a slight shortfall in screen resolution compared to some other systems.
Comfort
With a relatively small footprint on the road to deal with, the Sandero's budget suspension makes a decent fist of maintaining a comfortable ride. It sometimes allows jiggly vibrations to run through the cabin, but it does a better job than might be expected of it especially in the lighter, petrol-engined versions. Wind noise is an issue at speeds much higher than 50mph, with swirling, gusting sounds usually very obvious around the wing mirrors, windscreen and A-pillars.
Car security
Security equipment is not as prevalent on the spec sheet as safety kit is. Basic models don't benefit from the remote central locking and automatically-activating door locks that are fitted to this Laureate model, making do instead with traditional independent door locks. An alarm can be specified as part of an options pack that helps to protect the car and keep it in good condition.
Car safety
Although the Sandero achieves only three stars in the Euro NCAP crash tests, it is only the truly high-tech equipment that it lacks. As standard all UK Sanderos come fitted with ABS and Emergency Brake Assist, traction and stability control, and dual front and front side airbags. The car is available in Europe without some of this as standard, which is why the Euro NCAP score is lower than it might otherwise be.
Driver appeal
No one buying a Sandero will be looking for the last word in chassis dynamics or ride quality. In truth the ride is often unsettled, if perfectly adequate, and there is a noticeable amount of body roll as the relatively soft suspension bears cornering loads. The turbocharged 898cc petrol engine is very good though, with useful pulling power through the rev range and an affable, user-friendly character. The gearbox is quite imprecise, which is rarely too big a factor but is occasionally annoying.
Family car appeal
With Ford now calling the Fiesta a family car, the Sandero has the right to claim just as much versatility if not more. Families will love the price, the simplicity, the forecast reliability and the spacious cabin and boot. Isofix child seat mounts are also standard, while the front passenger airbag can be deactivated. The petrol engines in particular are also well suited to sub-50mph urban and suburban journeys typical of family life.
First car appeal
In certain ways it's tough to think of a single car better suited as a first buy. It's compact, cheap to buy and repair if necessary, economical and cheap to tax, good looking, simple and unintimidating for parking and urban driving. Parents contributing to the cost might also look kindly on the lack of gadgets in the cheapest model, which will help inexperienced drivers avoid becoming distracted.
Quality and image
Dacia is a brand sold and marketed chiefly on price, and as such is never going to vying for prestige honours with the likes of Toyota, let alone Audi or BMW. However, Dacia does have the reverse prestige of being unashamedly focused on simplicity and value, which many people will find very honest and appealing. The build quality of the car is questionable, with inconsistent panel gaps an example, but reliability from older European models is reportedly excellent.
Accessibility
The Sandero comes as a five-door only, partially to keep costs down but also to ensure maximum practicality as far as access goes. The doors are of a typical size for the segment and taller rear passengers might find it a little bit of a squeeze, but front seat occupants have nothing to worry about. The boot lid is quite light and easy to lift and close, while the boot aperture is wide and evenly shaped; ideal for loading luggage.
Stereo and ICE (In car entertainment)
This Laureate model is fitted as standard with a low-power CD/radio unit and speakers in the front of the cabin, but it does have useful USB and auxiliary input sockets. It can be upgraded with speakers in the back, Bluetooth and fingertip controls, making it admirably well equipped to meet the needs of a modern driver. The operation is based on traditional principles of buttons and dials and is very intuitive.
Colours and trim
A basic selection of colours is available spanning black, white, silver, red and blue. The cheapest model is only available in white, and in both higher trim levels the other colours, which are all metallic, attract an extra charge. Red and blue suit the Sandero best, giving it more character and flattering its shape. The interior trim is relatively basic even in the more expensive models, with hard plastics and low-grade leather, but the overall look is actually quite pleasing.
Parking
The Sandero is built on older, more traditional principles than many of its rivals, and as such that means all-round visibility is among the very best in the class. It is slim enough to make parking in bay spaces easy, and short enough to encourage confident parallel parking. Rear parking sensors are optional extras on this model and will help to steady the nerves of drivers for whom parking is difficult.
Spare wheel
Emergency tyre repair kit supplied; space-saver spare wheel optional.
Range information
Diesel engine options - 1.5-litre (89bhp). Transmission options: five-speed manual gearbox only. Trim levels: Access, Ambiance, Laureate.
Alternative cars
Kia Rio Well specified and solidly built, the Rio is also stylish and efficient
Ford Fiesta Best-in-class behind the wheel with advanced new technology
Chevrolet Aveo Great looking and charming with a selection of traditional engines
Hyundai i20 Reliable, well built and well specified, but comparatively expensive