Citroen C5 2.0 HDi VTR review
Revised exterior detailing looks modern and contemporary
October 2004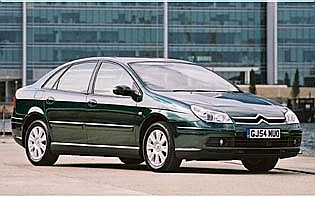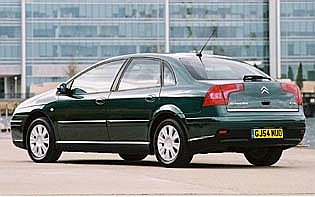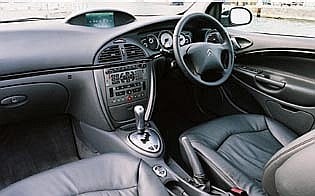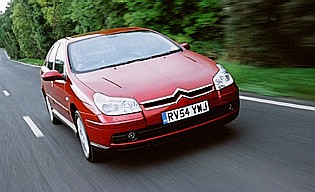 Overall rating

Likes:
Revised exterior detailing looks modern and contemporary
Comfortable seats make long distance cruising a pleasure
Lane Departure Warning System in seats could save lives
Hydractive 3 Suspension makes for a rattle-free ride
Gripes:
Lack of feel through steering wheel reduces driver involvement
Side-view is still a bit dumpy and lacking in individual style
Rear seats aren't as spacious as exterior appearance suggests
Too much technical wizardry that could be expensive to repair
As far as large, family hatchbacks go, the British public tends to go for either of the two default cars: the Vauxhall Vectra or Ford Mondeo. Does the latest incarnation of Citroen's C5 do enough to entice buyers away from these two motoring institutions?
In the world of the large family hatchback the biggest buyers tend not to be families, funnily enough. Mass fleet buyers and travelling salesmen have had more to do with the segment's purple patch than anyone else.
With that in mind, it is hardly surprising to learn that all cars in this segment are judged primarily on their ability to scoff hundreds of motorway miles each week without protest or discomfort. The C5 lives up to this expectation fairly well, as it has a comfortable cabin and all the gadgets required to make long journeys as painless as possible.
The first generation C5 was a good all rounder but a tad on the frumpy side. The latest incarnation, however, has a far sharper, more modern look that is every bit as contemporary as anything else in its class. Whether or not it is going to tempt people away from their Mondeos and Vectras, though, is another issue entirely.
Our verdict on the Citroen C5 2.0 HDi VTR
Citroen's C5 is an attractive executive car with plenty of gizmos to keep the techno-junkies satisfied. A good cruiser, but lacks any real feel.
Costs
Not particularly expensive to buy and well equipped, the C5 is a good value package. This fact is borne out by the car's popularity with fleet buyers. Residual values may be a bit of an issue though, as the Citroen is likely to lose much of its value over the first two or three years. Diesel engines are frugal and even the petrol units return upwards of 39mpg on the extra urban cycle. Most models fall into insurance groupings below group 10, with the exception of the 3.0-litre V6 petrol, which is a lofty group 14E.
Space and practicality
With the rear seats folded, both the hatchback and the estate offer up a decent amount of lugging space (1,315 and 1,658 to the roofline respectively). There is a fairly large glovebox and several conveniently placed cubbies dotted around the cabin. Two 12-volt sockets allude to the fact that Citroen sees many of the car's potential drivers as business types covering a lot of miles. You could have your mobile phone and laptop on charge on the way to your meeting.
Controls and display
The instrument binnacle is a classy affair, with chrome-effect surround and two-tone dials. Everything is logically laid out and easy to read. The central control console with the stereo and air conditioning buttons is a bit cluttered, though. There are around 65 buttons on an area of grey plastic no larger than a piece of A5 paper, which can be confusing to say the least. Steering wheel mounted controls for some of the gadgets do make things a little easier.
Comfort
Front passengers are treated to plunge pool-like footwells (which, for some reason, are illuminated) and large, comfortable seat bases. The steering wheel adjusts for rake and reach meaning that all drivers should be able to find a driving position that suits them. Laminated windows reduce the intrusion of wind, road and tyre noise commendably, and in general the C5's cabin is a relaxing and peaceful place to be.
Car security
All models from the base up receive a fairly comprehensive security package. An alarm, transponder immobiliser, high security locks, remote control central locking, child locks and automatic door locking above 5mph should be enough to keep the Citroen and its occupants secure. It is hardly likely to be an object of desire for thieves, though.
Car safety
Nearly all of the safety devices at Citroen's disposal make it into the car as standard fitment. ABS, EBA, ESP, twin front adaptive, front lateral and side window airbags, a front passenger airbag cut-off device, five three-point seatbelts, seatbelt pretensioners, ISOFIX child seat anchors and automatic hazard lights make for a very family friendly car. Only the Lane Departure warning and low tyre pressure warning systems remain on the options list.
Driver appeal
Despite the best efforts of the Hydractive 3 suspension system, the C5 is far from a jack-of-all-trades. Its ability to waft along motorways and trunk roads in a comfortable, accomplished manner fails to translate into any sort of poise when it comes to bendy B-roads and country lanes. Even with the suspension at its lowest setting the C5 fails to deliver any feedback or feel to the driver.
Family car appeal
The C5 has a little less passenger room in the back than its seemingly long wheelbase and high roofline would suggest. Kids will still fit comfortably enough, but full-sized adults may struggle. The boot on the hatchback is fairly generous with 471-litres of luggage space. For those with need of more space, however, the estate has an additional 100-litres of stowage and marginally more headroom for rear seat passengers.
First car appeal
A huge majority of C5 buyers will come from the fleet and business world. Companies will buy large numbers of them at a time and dish them out to their reps and salesmen. A number of family buyers are also likely to be tempted, but it is seriously doubtful that any 17-year-olds will be turned on by the car's motorway-munching ability or fuel economy.
Quality and image
Second generation C5s are much classier-looking than their mark one counterparts. A slick corporate grille and large, transparent light clusters afford it the air of a more expensive vehicle. Citroens perform fairly well in reliability studies, so there is no reason to think that the C5 will be an exception to the rule. A far as image is concerned, fellow French firm Renault enjoys a 'cooler' public persona, but Citroen's forays into the hot hatch market have secured it a fair amount of kudos over the years.
Accessibility
Large door apertures and low slung, wide seat bases make gaining access to the C5's cabin straightforward and contortion-free. The rear seats are similarly easy to mount. Three adults will be a squeeze on the rear bench, but two big un's or three little un's will find things perfectly comfortable.
Stereo and ICE (In car entertainment)
Standard across the entire range is a six-speaker CD/radio stereo system with steering wheel-mounted controls. These volume and forward/back buttons on the wheel are always a good idea, as is the speed sensitive volume control. An MP3 player and six-disc changer can be fitted to VTR and Exclusive models from the options list. Navi Drive packs can also be purchased at extra cost and feature satellite navigation and an in-car phone. Whether you really require sat nav or not is for you to decide, but the fact that these extras cost the equivalent of ten per cent of the car's list price will deter many.
Colours and trim
The C5's generous proportions are certainly best suited to darker shades of green, red and black. The lighter colours on offer, such as Arctic Steel, Polar White and Icelandic Grey, do nothing for the big hatchback's contours and lines. Conversely, lighter shades work better on the interior trim. Bourbon Velour, Matinal Alcantara and Matinal Leather all add an airy, light feel to the car's interior that the darker Tramontane Leather trim does not.
Parking
Exclusive models benefit from the parking assistance pack, which includes front and rear parking sensors, automatic retractable wing mirrors and an auto-dipping rear view mirror. VTR buyers can choose the latter from the options list, but it isn't available with base LX models. Estate models in particular are much easier to park with the bleeping gadgets, as the distance between tailgate and bollard is rather difficult to judge. The steering is light, though, which evens things up a little.
Spare wheel
A full sized spare wheel is fitted as standard on all models.
Range information
Six engine options - three petrol and three diesels. Petrol units: 1.8-litre, 16-valve (117bhp); 2.0-litre 16-valve (143bhp) and 3.0-litre V6 (210bhp). Diesels: 1.6-litre HDi 16-valve (110bhp); 2.0-litre HDi 16-valve (138bhp) and 2.2-litre HDi 16-valve (136bhp). 1.8 and 2.0-litre petrol units and the 1.6-litre HDi feature a five-speed manual transmission (2.0-litre HDi gets a six-speed manual). 2.0-litre petrol and 2.2-litre HDi gain a four-speed auto box. Trim designators are: LX (base), VTR and Exclusive (top of the range).