Citroen C5 1.6 HDI VTR estate review
Facelifted C5 looks more modern and svelte thanks in part to its reshaped nose
September 2005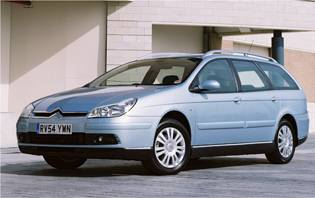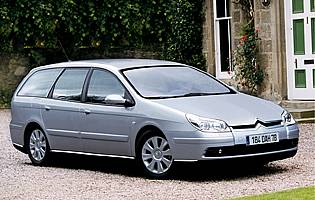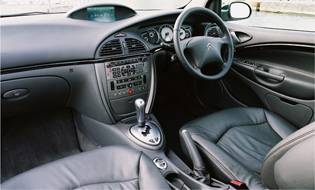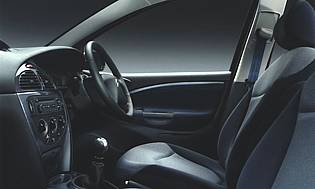 Overall rating

Likes:
Facelifted C5 looks more modern and svelte thanks in part to its reshaped nose
Excellent long distance cruiser; boasts good range with diesel engines
Sizeable boot makes this estate a rival for more prestigious motors
Hydractive 3 suspension takes all manner of bumps in its stride
Gripes:
Centre console audio/ventilation controls are fiddly and not intuitive
Doesn't like cornering quickly - can pitch and roll if not driven smoothly
Aggressive dealer discounting could harm residual values
Despite revisions, exterior design splits opinion
Mid size family estate cars don't come much bigger than Citroen's C5. While it can't match the firm's long forgotten CX wagon, the C5 is difficult to miss when on the road. Citroen has staked the car's success on a combination of attractive pricing, generous levels of space, a plush ride and unusual - but typically Citroen-esque - styling.
You buy something like the C5 estate because you need the extra space and versatility over a conventional hatchback or saloon. And so it is that the C5 offers these attributes in spades, which should come as no surprise when you catch sight of the car in profile.
The C5 is a big car, but that goes with the territory. It's far from barge-like to drive, although the combination of Citroen's infamous Hydractive suspension and a bias towards comfort means the C5 cannot compete with the likes of Ford's more sporty Mondeo on the road.
What the C5 does better than the Mondeo is cosset passengers. Long distances are the C5's speciality, making the car ideal for the mile-munching company car driver. Combined with one of the French firm's excellent diesels the C5 makes sound financial sense, too. Impressive fuel economy and low CO2 figures together help to ensure low running costs and modest tax bills.
Overall, Citroen's C5 is an acquired taste. Its revised styling won't please everyone but it's suitably rakish to endear it to Citroen fans. The car's real world highlights - huge load space, comfortable ride, generous levels of standard equipment, aggressive pricing - should please those looking to pay a little for a lot of car.
Our verdict on the Citroen C5 1.6 HDI VTR estate
Look past the thorny issue of modest residuals - a factor affecting many in this sector - and the C5 makes sense if you're buying with your head. Visually different from the competition, Citroen has used various technologies to enhance the ownership experience instead of saddling the car with mere gimmicks. Whether you have a family, small business or are a canny fleet user, the C5 deserves more than a cursory second glance when appraising Fords, Vauxhalls and the like.
Costs
Affordable to buy in the first instance - especially if you factor in Citroen dealers' aggressive discounting policies - and boasting modest running costs, the C5 makes a sound case for itself in a competitive market. Well equipped and available with a selection of frugal diesel engines, the C5 makes sense for both the private and business driver. The only black mark are residuals, which are modest at best thanks in part to those new car discounts and the C5's sometimes less than sparkling image.
Space and practicality
A big car, the C5 won't disappoint if you need to transport large items on a regular basis. The tailgate opens nice and wide, rear ride height can be independently adjusted to aid loading and unloading and the boot is devoid of space-eating intrusions. The rear seats split and fold to transform the C5 into a serious load-lugger. Under the boot floor there's space to hide small valuables, the car's glovebox is a meaningful size and the door bins will swallow more than just maps and sweets.
Controls and display
The C5's main dials are large and clear, and the column stalks require no change to your driving behaviour. The radio and trip computer display is mounted high and conveniently in the driver's line of sight. However, the numerous buttons on the centre console require your concentration to be broken. The layout could be better, as multiple key presses are needed even for frequently used functions. The optional sat-nav, complete with colour screen, is impressive, while the steering wheel and driver's seat offer a wide range of adjustment.
Comfort
With the C5 set up to cosset occupants through its soft ride, people are likely to find the big Citroen a comfortable place to spend time in - especially on long journeys. The car's seats are broad yet supportive, while the VTR's sports seats are nothing like the uncompromising items found in upmarket German cars. Head, leg and elbow room is generous up front, with rear space a notch above average.
Car security
Nothing is left to chance in the C5, although it has to be said that it's hardly a prime target given its image. An immobiliser, alarm, remote control central locking automatic door locking above 5mph all figure on the specification sheet.
Car safety
After value for money Citroen's other focus is on safety, and no car is left wanting in that department. ABS, EBA, ESP, twin front and side window airbags, a front passenger airbag cut-off device and Isofix child seat anchors should reassure most buyers. Automatic headlamps and wipers, a lane departure warning system and tyre pressure monitors are also available.
Driver appeal
The C5 is more cruiser than B-road bruiser, which means you're better off taking it easy in the corners and enjoying the car's plush motorway ride instead. Unlike Citroens from the past, the C5's steering isn't completely devoid of feel, while engine choice plays a big part in the car's behaviour. For best results opt for one of the diesel units, as mid range acceleration and economy betters that of the petrol units.
Family car appeal
If people carriers don't float your boat, something the size of a C5 could be a suitable substitute. Space in the rear for growing children is more than adequate, while the estate variant's boot easily accommodates everything from the weekly shop to pushchairs and all the stuff associated with holidays. Isofix anchor points are present, as are numerous airbags, although the C5 does lack the many storage and seating options of a compact MPV.
First car appeal
The C5 is unlikely to appeal to the first time buyer for a couple of reasons. First up the Citroen is a big car and could prove intimidating for novices. Also, it's not the most exciting car to drive quickly - you'd be better off with the firm's C2 or C4. Overall it's a car that's more likely to appeal to mature buyers and those with families or small businesses.
Quality and image
While first generation C5s suffered because the frontal styling was not universally accepted, this version does improve matters. Niggling quality issues have also been improved upon. In terms of image, the C5 hasn't managed to endear itself in the same way that Ford's Mondeo has over the years. The C5 is an acquired taste, be it the styling or the way it drives. However, generous discounting, high levels of standard kit, good diesel engines and a spacious boot have all swayed more pragmatic buyers.
Accessibility
Where it counts - at the rear - the tailgate is split to aid access, with the glass screen opening separately. And, as the car has all-round self-levelling suspension, the rear ride height can be changed via a button in the load area, all of which complements the already generously wide and deep boot. Up front, occupants will have little difficulty accessing and exiting the cabin; doors open wide and the seats are not mounted too low.
Stereo and ICE (In car entertainment)
Generous standard equipment runs to a six-speaker CD/radio stereo system with steering column-mounted controls. A separate stalk controls the unit's basic functions, which makes driving easier and safer. An MP3 player and six-disc changer can be fitted to VTR and Exclusive models, while Citroen's Navi Drive combined sat-nav and phone package is another option. It's not cheap but does work well and includes a clear, colour screen mounted at eye level.
Colours and trim
When it comes to the C5, lighter colours are more 'slimming'. Being on the big size, darker hues tend not to flatter the Citroen's sizeable curves. The various chrome flashes on the VTR do much to lift the car, and help give it a more premium feel. Inside it's a little more sober, as dark cabin materials dominate. However, a slivery grey gear or carbon-effect lever surround adds a welcome dash of colour. The seat fabrics lean more towards durability than elegance, though.
Parking
Although a big car, the C5 estate is easy to manoeuvre thanks to light power steering and big side mirrors. Only the Exclusive gets parking sensors as standard, but they are recommended as it's not easy to see where the bonnet ends and the car's rear bumper does stick out a bit.
Spare wheel
A full sized spare wheel is fitted as standard on all models.
Range information
Petrol engines: 1.8-litre, 16-valve (115bhp); 2.0-litre 16-valve (141bhp) and 3.0-litre V6 (207bhp). Diesel engines: 1.6-litre HDi 16-valve (110bhp); 2.0-litre HDi 16-valve (136bhp) and 2.2-litre HDi 16-valve (134bhp). 1.8 and 2.0-litre petrol units plus the 1.6-litre HDi feature a five-speed manual transmission (2.0-litre HDi gets a six-speed manual). 2.0-litre petrol and 2.2-litre HDi gain a four-speed auto box - latter is auto only. Trim levels: LX (base), Design, VTR and Exclusive (top of the range).