March 2015
BMW X6 X6M
Subtle performance bodykit sets X6M apart from its sensible stablemates
March 2015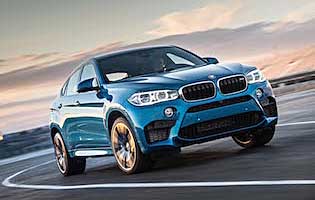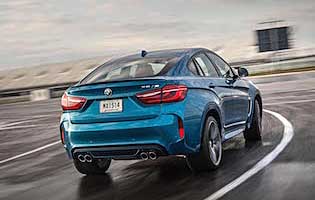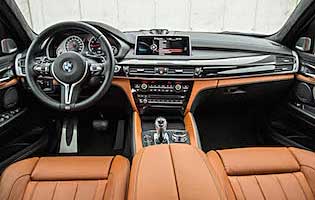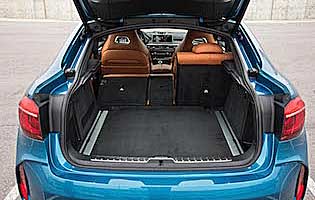 Overall rating

Likes:
Brutal straightline performance will please keen drivers
Retains most of the X6's core appeal for day-to-day use
Visually less aggressive-looking than some rivals
Reasonable running costs considering the X6M's performance
Gripes:
Overall design and concept can divide opinion
Not quite the precision instrument its 'M' badge might suggest
Similarly powerful X5M offers greater levels of space and flexibility
With just a few choice options the asking price can become considerable
From launch BMW's X6 has raised a few eyebrows. As if large, premium lifestyle SUV haven't already polarized opinion, the X6's hatchback-style profile is hardly in-keeping with the practical, versatile stereotype. In fact, the X6 is more about looks and image than versatility. And if that's not already a challenging proposition, the high performance X6M variant adds Porsche 91 Turbo levels of performance to the mix.
It's fair to say that BMW's X6 range of premium SUVs won't appeal to everyone. Yet, if you study the car's sales figures, you'll find that it's a surprisingly popular model on the global stage. Image-led cars such as the X6 often do well in emerging markets and locations where the price of petrol is low. Diesel variants are also available and also prove popular in more established markets such as Western Europe.
You don't gain much space-wise by opting for an X6 over the more practical and spacious X5, but the former's more streamlined profile is certainly less bulky looking than the conventional boxy SUV template. This perceived performance angle is largely just that, but BMW's decision to add an M division high power variant seeks to challenge the view that big 4x4s can't be fun.
In a similar vein to Porsche's Cayenne Turbo, the X6M promises to deliver genuine supercar performance without prospective owners having to compromise on day-to-day practicality. Certainly, the big 4.4-litre V8 is suitably potent on paper, while its zero to 62mph sprint time of 4.2 seconds is impressive given the car's size.
As you would expect, the X6M benefits from a substantial changes to its brakes and suspension to cope with the extra power. The result is a surprisingly agile car, and one that confidently stops from high speeds with little drama. And it can do this while carrying a full compliment of adults in relative comfort, although the sloping roofline can impact headroom for some adults
Our verdict on the BMW X6 X6M
Rumours of the demise of the premium SUV class of cars has been greatly exaggerated. Cars like BMW's X6 might be at the niche end of the scale, but its focus on image and fastback profile have attracted many buyers who might have baulked at a traditionally styled SUV. And for buyers unimpressed by the more aggressive-looking Porsche Cayenne, the high performance X6M's road presence is more subtle, although its sledgehammer power delivery is anything but.
Costs
Premium SUVs aren't cheap to buy or run. Ad a performance element and the costs soon rise. Even if you're sparing with the options you can break the six-figure barrier with the X6M, while fuel is likely to be your main outlay. The car's high VED rating and likely insurance premium are other costs worth bearing in mind.
Space and practicality
Opting for an X6 over the more upright-looking X5 does result in some trade-offs in the pursuit of a more streamlined exterior. Front seat occupants won't be troubled but those in the back lose out a little in terms of headroom. Thankfully boot space remains more than acceptable, as does the environment for those up front as the experience is akin to that of the X5.
Controls and display
The layout of the X6M is excellent, combining the familiar BMW themes of good quality and logical layout with intuitive controls. The once much-maligned i-Drive controller is no longer likely to confuse as it's a completely different beast now, but a little familiarisation with the various infotainment and navigation features will to maximise enjoyment of the feature-packed system.
Comfort
Predictably the X6M gains a pair of supportive sports front seats to compliment its performance potential and keep occupants from moving around too much. The result is a firm but supportive experience. The car's ride is also firmer than normal, and while this can be fine tuned by the driver depending on road conditions, rear seat occupants might feel uncomfortable on long journeys.
Car security
An approved alarm and immobiliser system with remote central locking is fitted as standard to the X6M, along with the convenience of keyless entry and start. Given the value and status of the X6M don't be surprised if your insurance company requests that you fit a tracking device. Privacy glass, covered cabin oddment storage and a sturdy rear load cover are more obvious and welcome inclusions.
Car safety
The X6M is like any other X6 in terms of the basic safety provision when it comes to airbags, electronic stability control and the like. Factor in all-wheel drive and it's a good all-weather car. Keen drivers will be pleased to hear that the various electronic aids can be turned down or off if you want to fully exploit the car's abilities on, say, a track.
Driver appeal
For some the prospect of such a powerful SUV might seem excessive. However, an equal number will be attracted to the car's practical nature and the prospect of combining this with its high power character. The X6M is a very quick car, although its size does mean you can't throw it around like you would a Porsche Boxster. Thankfully its brakes are more than capable, and feedback through the steering wheel and seat ensure that you're always kept in the loop regarding how the car is behaving.
Family car appeal
Despite the appeal of a premium SUV, families would be better off choosing the more versatile X5 - and there's no need to compromise performance as an 'M' model is offered. Stick with the X6M and issues over rear head room will become obvious over time, while the shallower boot space - thanks to the sloping roof design - could impact on its load-lugging potential.
First car appeal
In standard guise you might be able to make a case for X6 ownership but that fades when attention turns to the X6M. It's an easy car to drive slowly, but its Porsche 911-like performance and increased running costs will surely prove too much for most people.
Quality and image
BMW has upped its game in recent years and it the X6M is another good example of a premium cabin complete with premium materials. The X6's looks and image continue to split opinion, although that doesn't appear to have harmed sales. Thankfully, despite the X6M's performance potential, it's tastefully styled on the outside.
Accessibility
The upside to an SUV of this size is the ease at which you can access the cabin. The ride height of the X6 requires occupants of an average height to climb up slightly, but the doors open sufficiently wide to avoid this being much of an issue. The power-operated tailgate makes life easy for loading big or heavy items.
Stereo and ICE (In car entertainment)
As the flagship performance variant, the X6M comes with all the essential features premium audio features and the sound quality is excellent. The car's high-resolution colour display offers a good trade-of for more fashionable touchscreens, while the now familiar i-Drive controller is surprisingly intuitive despite the wealth of functions available to the driver.
Colours and trim
The unusual nature of the X6's shape means it's quite sensitive to colour choice, with darker hues blending with the black cladding around the sills and lighter colours contrasting. Inside the cabin can be made significantly lighter or darker depending on the choice of fabric hue, with the leather options offering a wider choice of colours.
Parking
Make no mistake, the X6 is a big car. The standard fitment of parking sensors front and rear is a great help in reducing effort. While the reversing camera is a great help, especially as rear vision from the driver's seat isn't that great despite the lofty seating position.
Spare wheel
Emergency tyre mobility kit comes as standard
Range information
Petrol engine options - 50i (450bhp); X6M (575bhp). Diesel engine options - 30d (258bhp); 40d (313bhp); M50d (381bhp). Transmission options: eight-speed automatic gearbox. Trim levels: SE, M Sport, M.
Alternative cars
Porsche Cayenne Turbo variant delivers an impressive, rounded experience
Range Rover Sport SVR model is no slouch but focus remains on refinement and off-road ability
Audi Q7 High quality all-rounder but not a car for keen drivers
Mercedes-Benz M-Class Polished and refined with AMG variant capable of surprising you