December 2013
BMW i3 Range Extender
The i3's instantly recognisable front end is still distinctively BMW
December 2013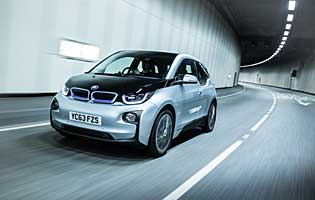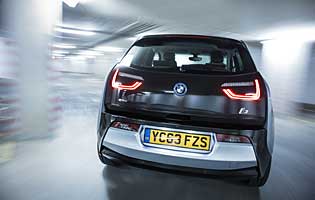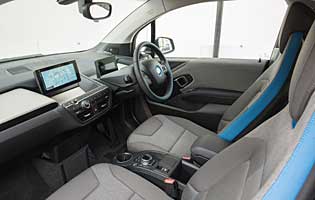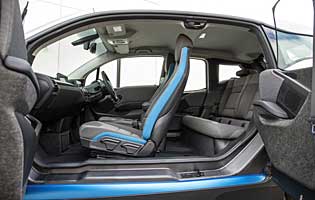 Overall rating

Likes:
Silent running and complete flexibility in electric driving mode
Impressive electric-only range bolstered by range-extending engine
Powerful acceleration on demand, especially at typical urban speeds
Comfortable front seats help present a premium impression
Gripes:
Significant price hike over all-electric i3
Lightweight, recycled dashboard materials look cheap and unfinished
Poor visibility towards rear corners thanks to wide C-pillars
Ride quality much too firm and jarring around town
The eagle-eyed will have noticed that BMW has been marketing its i sub-brand for a long time, building up consumer awareness until the time was ripe to launch one of the two currently planned cars. That time has arrived and so has the i3 city car, which can be bought in either all-electric or range extender guises.
BMW has had a mammoth task on its hands with the i3. The main difficulty has been in developing a drivetrain that fits with the company's fun-to-drive ethos as well as being energy-efficient and reliable. Equally important is the fabled range anxiety, which the Range Extender version of the i3 aims to overcome - for a fee.
At the time of its launch it has precious few direct rivals, with Vauxhall's Ampera much larger than the i3 and the supermini-size Renault Zoe having no range extender model. It means that this, more expensive version of the i3 can be launched as an entirely new style of mobility solution aimed squarely at urban users.
Featuring a rear-mounted small-capacity two-cylinder petrol engine adapted from its normal use in a BMW motorbike, linked to a tiny fuel tank nearby, the i3 Range Extender has about double the effective range of the all-electric model, and in the absence of a recharging station it can be refuelled at any normal filling station.
It's this crossover capability that explains why BMW expects to sell more of this model than of the cheaper electric-only i3, and since they both share the same batteries and final drive system buyers of the range extender get all the same zero emissions benefits, not to mention the same torque-rich driving characteristics.
Our verdict on the BMW i3 Range Extender
There are good reasons why buyers would choose this pricier version of the i3. Companies looking to lower their carbon footprint and take advantage of tax breaks linked to electric cars will be first on the waiting list, with early-adopters looking for the latest technology right behind them. Ultimately the i3 is far from what some existing BMW owners might expect, but it's excellent in its own, new way.
Costs
Running costs must be considered among the i3's most compelling qualities, with free road tax for the foreseeable future, incredibly low fuel bills and exemption from all currently operating congestion charges like those in London. Companies will find significant tax-related advantages from running the i3, as well as reduced expenses claims from those driving it, thanks to the clever drivetrain. Residual values are tough to predict and depend on how the mainstream adoption of electric-only cars progresses.
Space and practicality
While the i3 is not a big car there's a surprising amount of room in the boot, and general everyday use in town will pose few problems in terms of luggage space. A small weekly family shop will also fit into the boot without fuss. The cabin features a series of storage solutions that collectively improve the everyday practicality of the car, but the glove box would ideally be bigger.
Controls and display
With a unique set of dials and instruments that give electric vehicle-appropriate readouts, the i3's dashboard is both striking and functional. Some of the data is displayed on the large central screen, including media information and the sat-nav readout, while other handy data is shown on the part-digital instrument cluster. A little blue and red detailing helps to boost the design further, but not at the cost of legibility or user-friendliness.
Comfort
Almost no internal combustion-engined car can compete with the interior refinement of an electric car at low speeds. The complete absence of any background hum or any vibrations through the pedals or steering wheel makes a much bigger difference than many potential customers might imagine, although when using the two-cylinder petrol engine there is an oddly out-of-place drone from behind the rear seats. The front seats are large, supportive and comfortable, while the rear seats are adequate.
Car security
BMW rarely goes into any detail about its security systems to avoid giving clues away to would-be thieves, but as well as its standard alarm and immobiliser the i3's greatest theft deterrent is perhaps its relative scarcity. Combined with its eye-catching, instantly recognisable looks it would not be an easy car to steal and escape unnoticed. A comprehensive immobiliser is designed to prevent theft without the correct key, anyway.
Car safety
The i3 failed to achieve the maximum five-star Euro NCAP safety rating, with a below-par score for child protection despite an advanced carbon fibre passenger safety cell. Although it does have a respectable complement of airbags it lacks some of the more advanced safety features of its BMW stablemates, but the firm chose to leave it that way for weight- and budget-related reasons.
Driver appeal
This is undoubtedly the i3's strongest suit, with a dual personality that enables drivers to have their cake and eat it. It's quiet, smooth and responsive around town, whispering its way through traffic with ease, but at need it offers acceleration significant enough to leave even high-performance cars behind up to urban speeds. On the other hand, the ride on its unique large and narrow tyres is quite poor, and in town it's especially noticeable. It needs to be softer to truly excel.
Family car appeal
The i3 could just about function as a family car for those with young children, although its boot size does prove to be the limiting factor when it comes to carrying pushchairs and larger accessories. Two ISOfix child seat mounts are installed in the rear of the car, and the front passenger side airbag can be switched off to make it safe to carry babies in rear-facing car seats. Its low running costs could also appeal to families.
First car appeal
Ignoring the prohibitively expensive purchase price, the i3 makes a superb first car option. It's compact, uncommonly easy to manoeuvre around town and has generally good visibility, as well as having the ability to be driven with one pedal alone, since the regenerative braking will bring the car to a standstill independently of the brake pedal. It's an incredibly user-friendly model to drive, and tech-savvy young drivers might relish the range extender model's advanced drivetrain management options.
Quality and image
BMW is one of the German 'big three', and in recent years has closely challenged Audi for overall sales supremacy in the UK. British buyers love the brand's image and that will in part transfer over to the i3. However, inside the car the plastics and dashboard trim materials are simply not up to the normal BMW standard, having been produced from recycled materials to be lightweight as the first priority. Its slightly coarse, unattractive finish may not help win customers.
Accessibility
The i3 is a relatively short car, so its appropriateness for carrying multiple passengers will always be limited by its proportions alone. This reality is further enforced by small rear doors, which despite the lack of a B-pillar still don't offer rear passengers much space. Another irritation is that the rear doors cannot be opened without opening the front doors first, rendering them as something of an afterthought. For two people, using the front doors, access is as good as could be hoped, but the rear lets the i3 down.
Stereo and ICE (In car entertainment)
A large, centrally-mounted screen is standard on the i3, because its integrated sat-nav is essential for helping users find electric charging points. It's also good news for stereo fans because music and radio playback are managed through the car's intuitive iDrive control interface. The lack of weight or bulk at the speaker mounting points does affect sound quality but an upgraded system is available that makes more of the i3's acoustics.
Colours and trim
The i3 is a new prospect for BMW and needs to project a new image. Nonetheless the makers have chosen a relatively familiar colour palette that dips into the more exotic colour shades offered on other models. The bronzed orange finish looks particularly good, but silver is unusually flattering too. The interior trim is a different story, with plush leather seats contrasting sharply against recycled, eco-friendly and lightweight dashboard materials that are uncharacteristically ugly.
Parking
Since the i3 is built primarily for the city, it's essential that it's a natural at all types of parking. In its favour is a particularly tight turning circle thanks to its exceptionally narrow wheels and tyres, which makes both bay parking and parallel-type manouevres considerably easier than they might be. The car also comes with parking sensors at the rear to help prevent low-speed bumps. The variable-assistance steering lightens usefully at low speed, too.
Spare wheel
Emergency tyre repair kit supplied as standard.
Range information
Electric options: motor only (168bhp); motor with 0.65-litre petrol range-extending engine (168bhp). Transmission options: single-speed automatic-style transmission only. Trim levels: BEV (Battery Electric Vehicle), REX (Range Extender).
Alternative cars
Volkswagen Polo Relatively upmarket supermini has good engines and affordable running costs
Hyundai i10 Sized to provide a mix of urban agility and practicality, the i10 feels spot-on in town
Ford Fiesta The everyman's supermini is affordable and offers low-emission options
Fiat 500 If making a style impact is important the 500 is as effective as ever